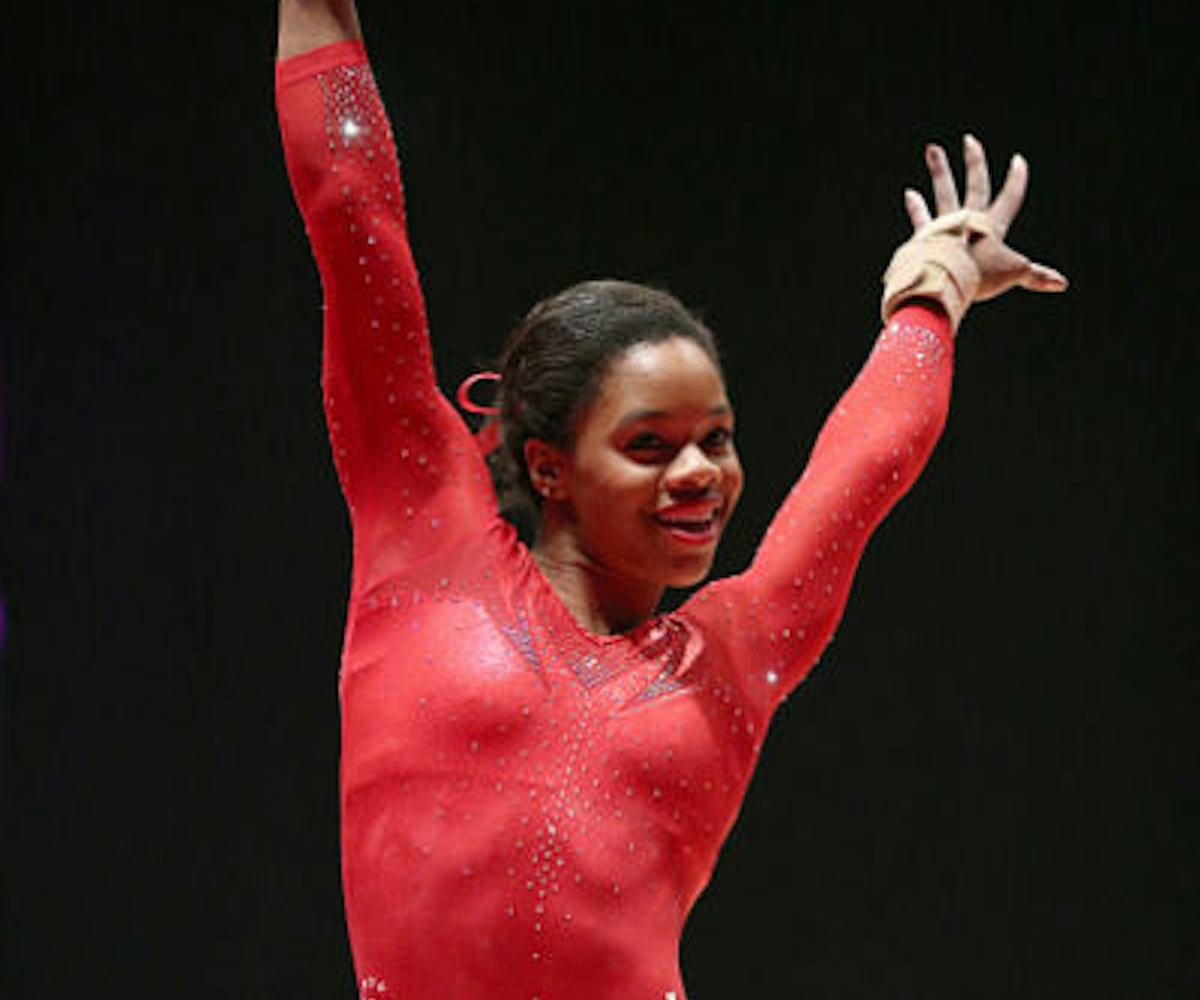 Photo by The Asahi Shimbun/Getty Images
8@8: Your Morning Scoop
Olympic gymnast Gabby Douglas now has her own emoji line
Today is...
National Iced Tea Day!
News of the Day:
+ Olympic gymnast Gabby Douglas made history at the 2012 Summer Olympics, wowing everyone with her uneven bar routine and spunky personality. Now you can add her spunk into everyday conversations with her new emoji line, Gabbymoji, that she released on Twitter yesterday. Just like Kim K and Justin Beiber, Douglas created a personalized line of GIFs, showing her doing some typical gymnast moves with her loveable smile, just in time for the 2016 Summer Games.
+ Rising London R&B artist Mabel killed her vibey 2016 remix of Destiny's Child "Say My Name" at the Great Escape Festival in Brighton, England, this May. By fusing her soulful voice and confident performance to a strong beat and synthetic mix, she definitely did Queen Bey justice. 
+ Japanese-born artist Mitski just announced her new album, Puberty 2, which will be available for purchase on June 17. Mitski told The Fader that her sense of balance and proportion in art differs because of her Japanese heritage; she made a point to incorporate that throughout her new album with choppy sections of isolated vocals and heavy beats. You can stream her album before the release here.
+ What happens when Walmart and Hostess team up? Magical things, of course. The two have just announced that they've brought a deep-fried version of Twinkies (yes, that's right. Deep. Fried. Twinkies.) exclusively to Walmart. You can snatch them up in the frozen aisle.
+ CHVRCHES once again collaborated with lead singer of Paramore, Hayley Williams. Williams worked with the group last year to perform the song "Bury it" at a Nashville show, but now they've released the studio-recorded version with a fun lyric video. 
Deal of the Day:
Phoebe Dahl's Spring/Summer 16 collection of Faircloth & Supply will be released today. The brand sports a one-for-one business model, so for every article of clothing sold, they will pay to put one Nepali girl through school, protecting her from the high risk of sex trafficking and exposure to HIV in Nepal. So far the brand has put more than 5,000 girls through school. You can view the new collection here.
Advice of the Day:
"For a modern woman, it is important to be supported and that there is equality in every aspect, and that it's not two halves that make a whole—it's two wholes that make a whole." —Katy Perry
GIF of the Day: