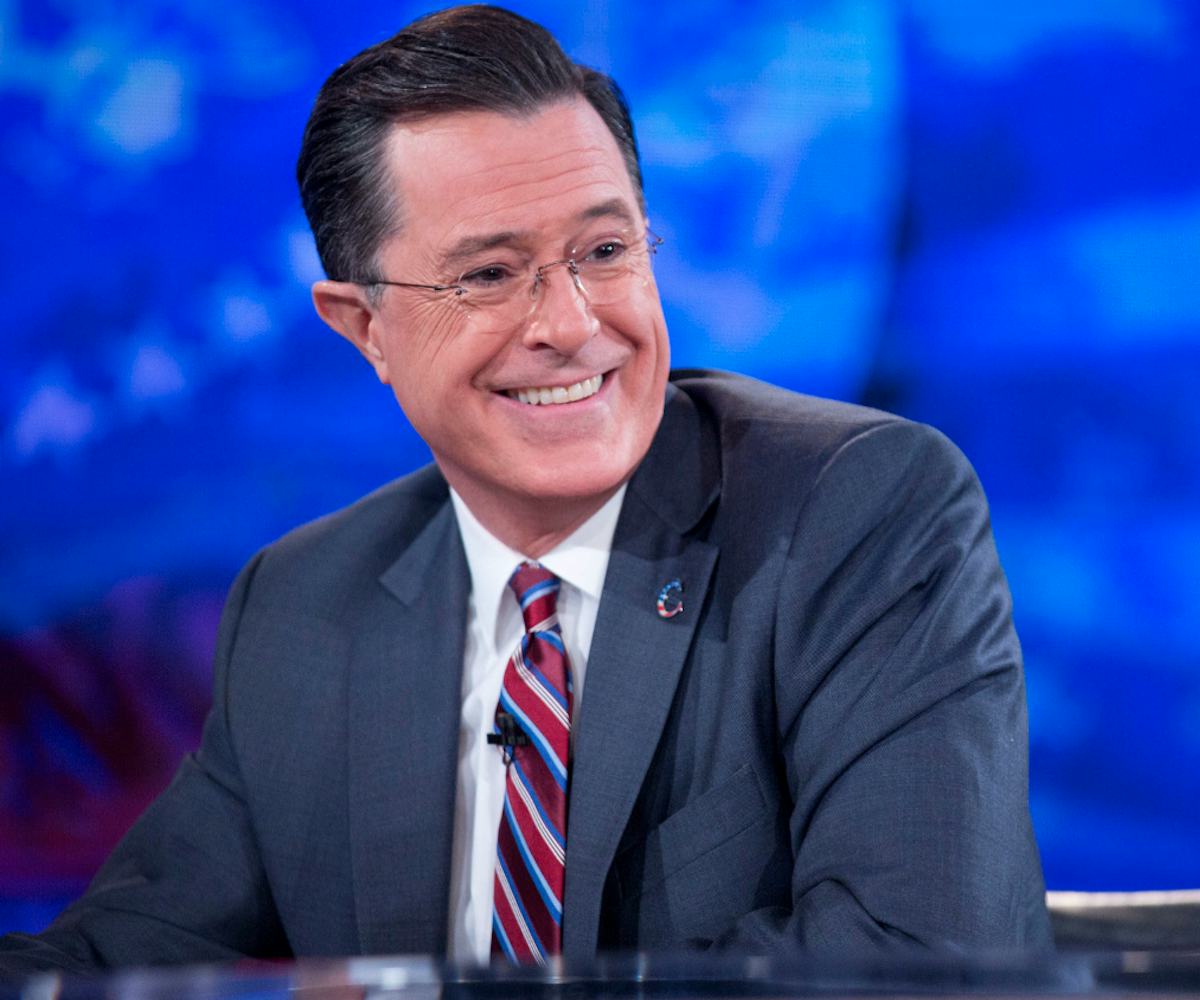 8 Iconic Moments in 'Colbert Report' History
After nine years, Comedy Central will air the final episode of The Colbert Report tonight.
more
It's sad news for fans of the show, but it comes at the right time. After around 1,450 episodes, the show's mission is complete: there's simply no more conservative wind bags left to poke fun at anymore. The world has been saved.
Stephen Colbert will live on, of course, when he takes on his new role as the host of The Late Show, aka the guy we constantly compare to David Letterman forever. But we may be seeing the last of "Stephen Colbert." In honor of his passing, we looked back through all 43,500 minutes of The Colbert Report to air to date in order to compile a list of some of our favorite moments.
TruthinessLike all the greats, Colbert set the tone for his signature style right from the get-go. On the first episode, Colbert introduced the world to "Truthiness", the concept that would come to define his character's loose allegiance to the real world. "I don't trust books," he said. "They're all fact, no heart."
We're a divided nation, he said, "between those who think with their head, and those who know with their heart." "Anyone can read the news to you," he said. "I promise to feel the news at you." That's just what he did.
The Colbert ReportGet More: Colbert Report Full Episodes,The Colbert Report on Facebook,Video Archive
Truthiness to Power
When Colbert was tapped to host the White House Correspondent's Dinner in 2006, it was unclear whether or not he'd appear as himself, or his character. The Bush administration probably really wish it was the former, after what was widely seen as an evisceration of both the president, and the media.
Riffing on Bush's 32% approval rating at the time, he joked, "We know that polls are just a collection of statistics that reflect what people are thinking in reality. And reality has a well-known liberal bias..." As for the press, he said, after listing off a series of controversies that year, including globarl warming, and weapons of mass destruction in Iraq, "We Americans didn't want to know, and you had the courtesy not to try to find out."
Rarely have we seen such a perfect example of literally speaking truth to power.
Cancel Colbert
In March of 2014, the social media team who handles the #ColbertReport Twitter account sent out a tweet that, minus the context of the show, was seized upon as racist by the internet's social justice police. The ensuing hubbub lead to the #CancelColbert hashtag becoming a whole thing. Colbert handled it with characteristic aplomb and came back on top. "It was close," he joked. "We almost lost me.... The dark forces trying to silence my message of core conservative principles mixed with youth-friendly product placement have been thwarted," he said.
The Colbert ReportGet More: Colbert Report Full Episodes,The Colbert Report on Facebook,Video Archive
Presidential Run
Blending the meta-fictional line between his show's conceit and the real world of politics, Colbert launched his Indecision 2008 campaign in the run up to that year's election by entering himself in the South Carolina Democratic presidential primary. "I defy any other candidate to pander more to South Carolina," he said.
The Colbert ReportGet More: Colbert Report Full Episodes,The Colbert Report on Facebook,Video Archive
Gamer Gate
Taking on an issue with even more important, definitely serious and credible stakes than the presidency, Colbert addressed this year's thousand-tentacled nightmare #gamergate in a discussion with games critic and feminist Anita Sarkeesian. "Let's call this what it is. You and the other Feminiazis in the gamer world are coming for our balls to snip them off, put them in a little felt purse, and take them way so we have to play your non-violent games."
Wedding BellsIn 2013 a government shutdown stymied the wedding plans of couples throughout the country who were set to be married at various national parks and memorials. Making good on his promise to provide all shuttered government services, Colbert brought on one such couple to perform their marriage himself, with a helping hand from Many Patinkin, Audra McDonald, and best man Smokey the Bear.
The Colbert ReportGet More: Colbert Report Full Episodes,The Colbert Report on Facebook,Video Archive
Victory Tour
Plenty of comedians have traveled to war zones to perform for the troops, but none have filmed a full episode of a television show there. That's what Colbert did in 2009 when he brought The Colbert Report on the road for a week to Camp Victory in Iraq for "Operation Iraqi Stephen: Going Commando." He was the only one man enough to finally declare victory in Iraq, he said.
The Colbert ReportGet More: Colbert Report Full Episodes,The Colbert Report on Facebook,Video Archive
Papa Bear
The snake finally ate its own tale when Colbert and Bill O'Reilly did home and away appearances on each other's programs. Colbert told O'Reilly he'd been waiting his entire life for this. Like a judo master, Colbert used O'Reilly's own strikes against him. "It's tough for me to be you," he joked, later summing up O'Reilly's entire schtick succinctly: "You know what I hate about people who criticize you? They criticize what you say, but they never give you credit for how loud you say it.''
Text by Luke O'Neil @lukeoneil47