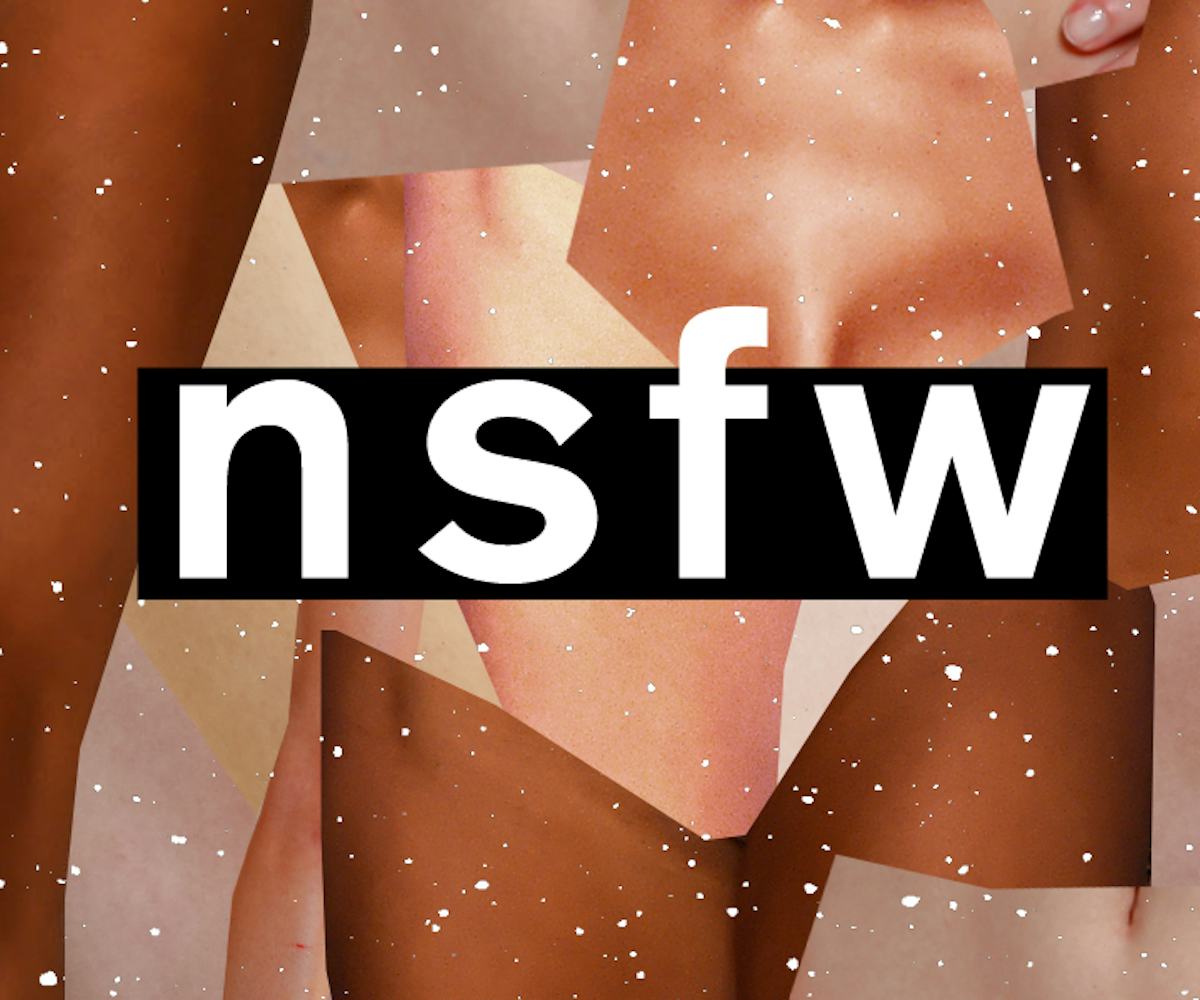 2014: the year in nsfw
for mature audiences only.
At the end of every year, we like to take the time to reflect on the events that defined the past 12 months, from the award-winning films that dominated theaters to the Vines that had us laughing at our phones, the news stories that populated our homepages to the gossip that was revealed in our tabloids. But, for now, we think it's important to reflect on things of a different nature—the seediest, steamiest, and weirdest moments of the last 365 days. So we've rounded up the biggest, boldest NSFW moments that have been forever burned into our brains, whether we wanted them to be or not. Take a look at the good, the bad, and the ugly in order to relive 2014's weirdest and wildest memories.
Rihanna's CFDA Outfit
photo via getty images
When Rihanna showed up to the CFDA Awards wearing an entirely sheer gown made of crystals, two things happened: First, the long-going partnership between Swarovski and the CFDA was firmly cemented and secondly, the internet was wildly divided. On one hand, rolling up nipples-out on a carpet shared by Anna Wintour looking absolutely fierce (and instantly iconic). But then internet commenters critics argued that she looked "trashy" and didn't need to show up places naked. Guess which side of the conversation we fell on? Just guess. 
The Three-Breasted Woman
photo via WTSP
As an homage to Total Recall (maybe) and in an effort to "make herself unattractive to men," Jasmine Tridevil claimed to have gotten a third breast implant. An interesting, albeit highly impossible (there isn't quite enough skin to facilitate a breast of that size in the center of one's chest) proposition, it appears that this weirdness was too good to be true. It has since been debunked.
"Anaconda"
Nicki Minaj had a great deal of fun teasing out "Anaconda." When she dropped the single cover on Instagram, collective jaws dropped. The cover featured Nicki's in(famous) derriere covered by a mere string, aimed right at the viewer in all of its glory. It wasn't just sexy, it was explicit.
But Nicki Minaj is explicit, and seeing her own her sexuality is kind of what she is about, respectability politics be damned. Pearl-clutchers, Miss Onika Maraj might not be the rapper for you.
Chelsea Handler
photo via instagram
Pointing out the inherent inequality on social networks like Instagram, Chelsea Handler took to recreating a topless photo of Putin with her own topless pic. Immediately, Instagram took her post down, but Chelsea retaliated by reposting and calling the site out. As for Instagram, it maintains that they have community guidelines for a reason. Hrm.
Free The Nipple
photo via twitter
Going even further to fight the power of nip censorship, Lina Esco directed and starred in Free The Nipple, a film intending to use nipples as "a Trojan horse to talk about equality." A movement was born from Esco's vision, even leading people like Scout Willis to join in voicing (and showing) their support for the bare-all cause. It is legal, after all.
Vogue Discovers Butts
photo via Vogue
Vogue, that bastion of high culture, discovered that women actually have rear-ends, fannies, badonkadonks, booties, and even butts. What is shocking is not the proclamation itself, but the fact that it is made in 2014. Because the butt has been celebrated globally, in many iterations, since sentient humans began to make art. Twitter, fortunately, reacted appropriately, hypothesizing the next things that Vogue might discover. 
Nymphomaniac
Never one to shy away from the unconventional (or unexpected), Danish filmmaker Lars Von Trier stirred up quite a bit of intrigue with his latest cinematic venture, Nymphomaniac—a two volume, four-hour art film that explores sexual attraction, experiences, and addiction (in vivid detail) of nine key characters. Even if you didn't see the broody feature, chances are the posters alone caught your eye. Needless to say, full-frontals came in full force. 
The Kim K. Paper Cover
photo via Paper
Um, enough said.
The Celebrity Phone Hack
photo via getty images
While a lot of the things on this list were funny, cheeky, or totally-over-the-top, the celebrity phone hack of 2014 pointed out a couple of things. First off, it gave us the sudden revelation that people are sexual beings behind closed doors (!!!), which is apparently troubling and/or shocking. (A real conversation overheard this year: "I didn't think Jennifer Lawrence was that kind of girl." "What kind, the kind who has sex and doesn't feel bad about it?" Ugh.) Secondly, it showed a disgusting breach of privacy and indicated that parts of the public feels like it can have access to celebrity's bodies without their consent. It was an ugly moment, and not because anyone got naked, but because of the horrible feelings of shame and invasion heaped upon the victims.  
A Plus-Size Model Joins Pirelli
photo courtesy of pirelli
The Pirelli Calendar is a true fashion staple, having had nearly every model and every photographer contribute to it, at some point. And, throughout its history, it has featured an awful lot of diversity. Yet, this year was the first time a model who identified as plus-sized was snapped by the high-end calendar. Candice Huffine joined gals like Adriana Lima, Gigi Hadid, and Isabelli Fontana to create one helluva sexy shoot. And she might be one of our favorites.