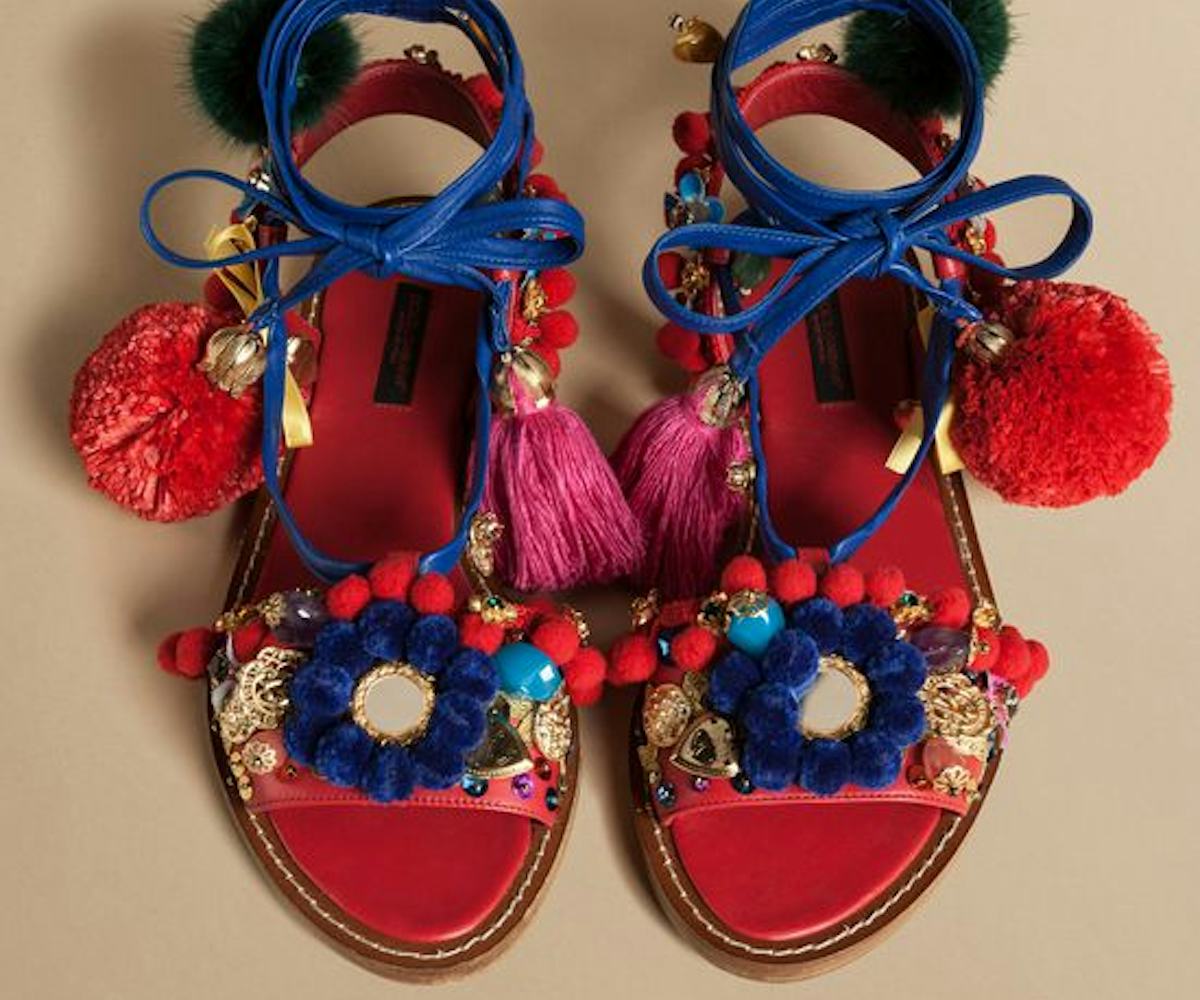 Photo courtesy of Dolce & Gabanna
Dolce & Gabbana Took A Misstep With This Sandal
When Dolce & Gabbana launched its hijab line back in January, the Italian brand seemed like it was on the right track in terms of making cultural progress. But things can change quickly as witnessed this week, just two months after, when the fashion house has been red flagged for the name of one of its shoes from the Spring 2016 collection; it's called the "slave sandal" and is currently available to pre-order for $2,395.
Between Domenico Dolce and Stefano Gabbana, we're not sure who thought that this was an appropriate name for a shoe—or any fashion accessory for that matter. Nothing about the word "slave" is tasteful, and it really doesn't make any sense to try to sell the word like it's something luxurious. The pom-pom and jewel covered sandals are super cute, but we can't imagine anyone wanting to step on the toes of such controversy in these flats.
Retailer sites like Saks Fifth Avenue are currently carrying the shoe, but the word "slave," for obvious, has been omitted from the product's name. This is not the first time that Dolce & Gabbana has been slapped with racist accusations—the brand was called out for using blackamoor imagery in their Spring 2013 collection. (They defended their choice by explaining the historical and cultural context behind the accessory.) We know that Black History Month is over, but really?
There really isn't an explanation that can justify this strange occurrence, but hopefully the brand will release an apologetic statement this time. Being racially insensitive is not a cute look, Dolce & Gabbana. It's downright disrespectful. Here's a description of the shoe, (which doesn't mention the word "slave" anywhere):
The Bianca flat sandal with a 5 mm heel features an upper in napa leather with front and rear straps, and ankle ties with pompoms. The shoe features "Sicilian Cartwheel" appliques such as multicolored pom-poms, mirrors, gold passementerie, crystals, and metal filigree elements. The shoe has a matching satin insole with logo label and a customized leather sole. The shoes are presented in a red satin dust bag inside an exclusive "Sicilian Cartwheel" print box.