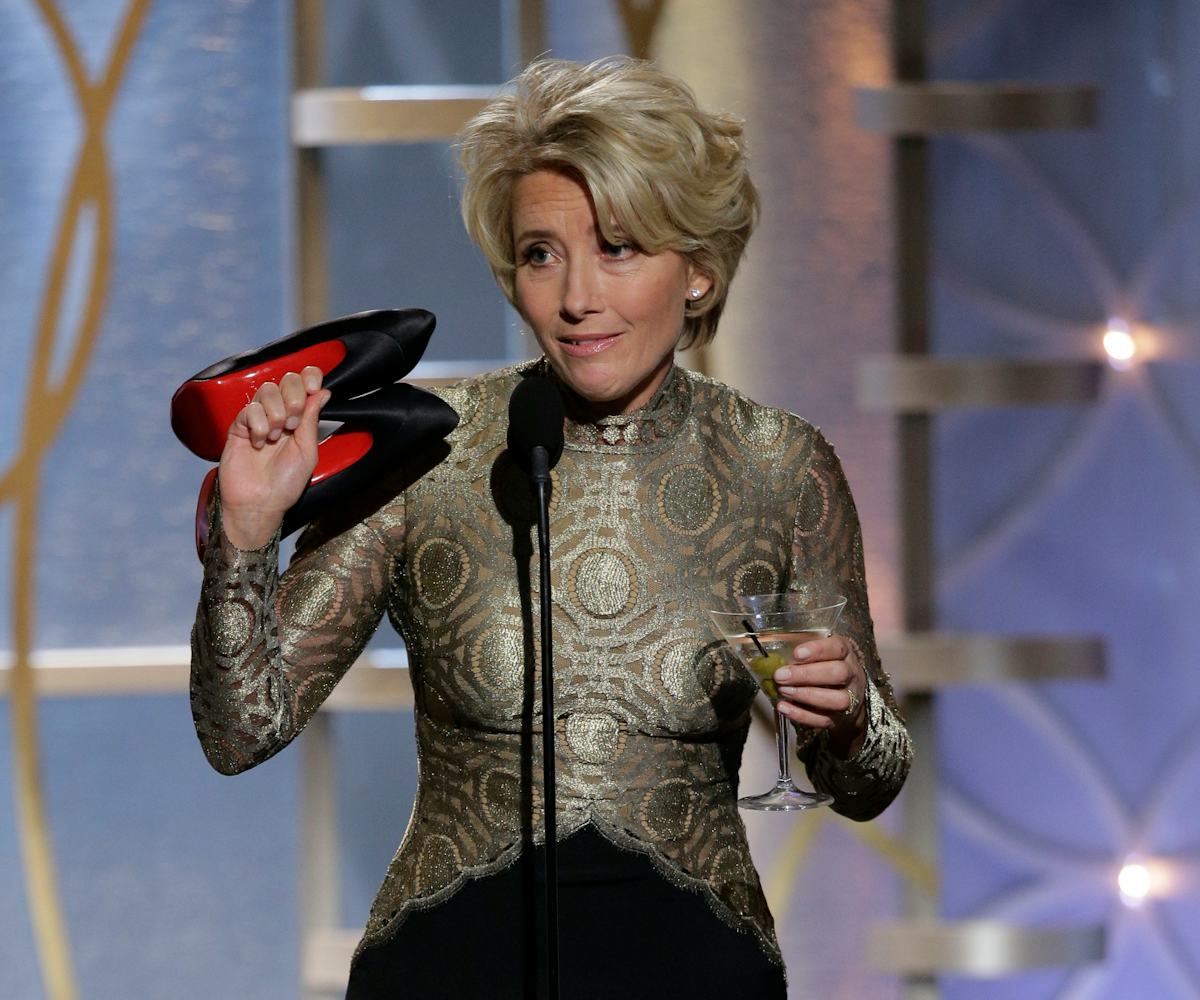 Image Golden Globes Awards/Getty Images Entertainment
our 10 favorite "happy drunk" celebrity moments
cheers, bottoms up, l'chai-im, etc.
Just like normal drunk human beings who don't do their drunken business in front of cameras, you can divide drunk celebrities into two drunken camps: happy drunks and angry drunks. Certainly, there is a time and place for angry-drunk celebrities—this isn't it.
Rather, to prepare you for the awards-show season where punchy celebs seem to fly out of the wings, we're casting our memory (or what's left of it) back to those precious moments of our favorite famous people at their best and over the legal limit. Pop a cork and enjoy.
Diane Keaton, 2013 Ellen
Hey, everyone, gather around—grandma's drunk again! No, seriously, Diane, you're a beautiful treasure. Let's throw ice in the Merlot and head on out to the porch.
Jennifer Lawrence, 2013 Academy Awards
Holding her newly won Oscar for Best Actress and dressed in a Dior Couture gown, Jennifer Lawrence was the perfect portrait of grace and beauty. She was also a couple of shots into the night. Salute your queen.
Emma Thompson, 2014 Golden Globe Awards
Oh, wait, did we just say Jennifer Lawrence was your queen? Sorry, scratch that. This is your queen. Bow low, drinkers.
Jennifer Lawrence, 2013 Jimmy Kimmel Live
But then again…
Aubrey Plaza, 2013 MTV Movie Awards
Can you really blame Aubrey Plaza for wanting to take Will Ferrell's Comic Genius award? It's shiny and whoever holds it possesses the power of a comic genius. Also, pulling a Kanye was apparently on her "to-do list."
Mariah Carey, 2010 Palm Springs Film Festival
Five years on, we still don't understand the "kitten and cotton thing." What does it mean, Mariah? What. Does. It. Mean? Whatever, we've all been a little bit…yeah.
Julia Roberts and Maybe Tom Hanks, 2010 Golden Globe Awards
America's most trusted and beloved actors started early that year and used their buzz to get real about the always-flailing Peacock Network. We want to see what that pre-game was like.
Kiefer Sutherland, 2006 a Christmas Tree
Typically, Kiefer Sutherland is an angry, angry drunk and shouldn't be on this list. Here, however, he's such a happy drunk that he can't wait to give this Christmas tree a hug.
Glenn Close, 2013 Golden Globe Awards
We don't doubt that Glenn Close would have been able to do a wonderful impression of drunk stumbling and bumbling stone-cold sober. She's a talented actor. We also don't doubt that the big bottle of Champagne helped with the veracity of this particular performance. It's called "method acting," people.
Kristen Wiig, Maya Rudolph, Melissa McCarthy, 2012 Golden Globe Awards
Here, the Bridesmaids cast shares what would be the best drinking game to play while hanging out with Leonardo DiCaprio. Thanks, ladies!