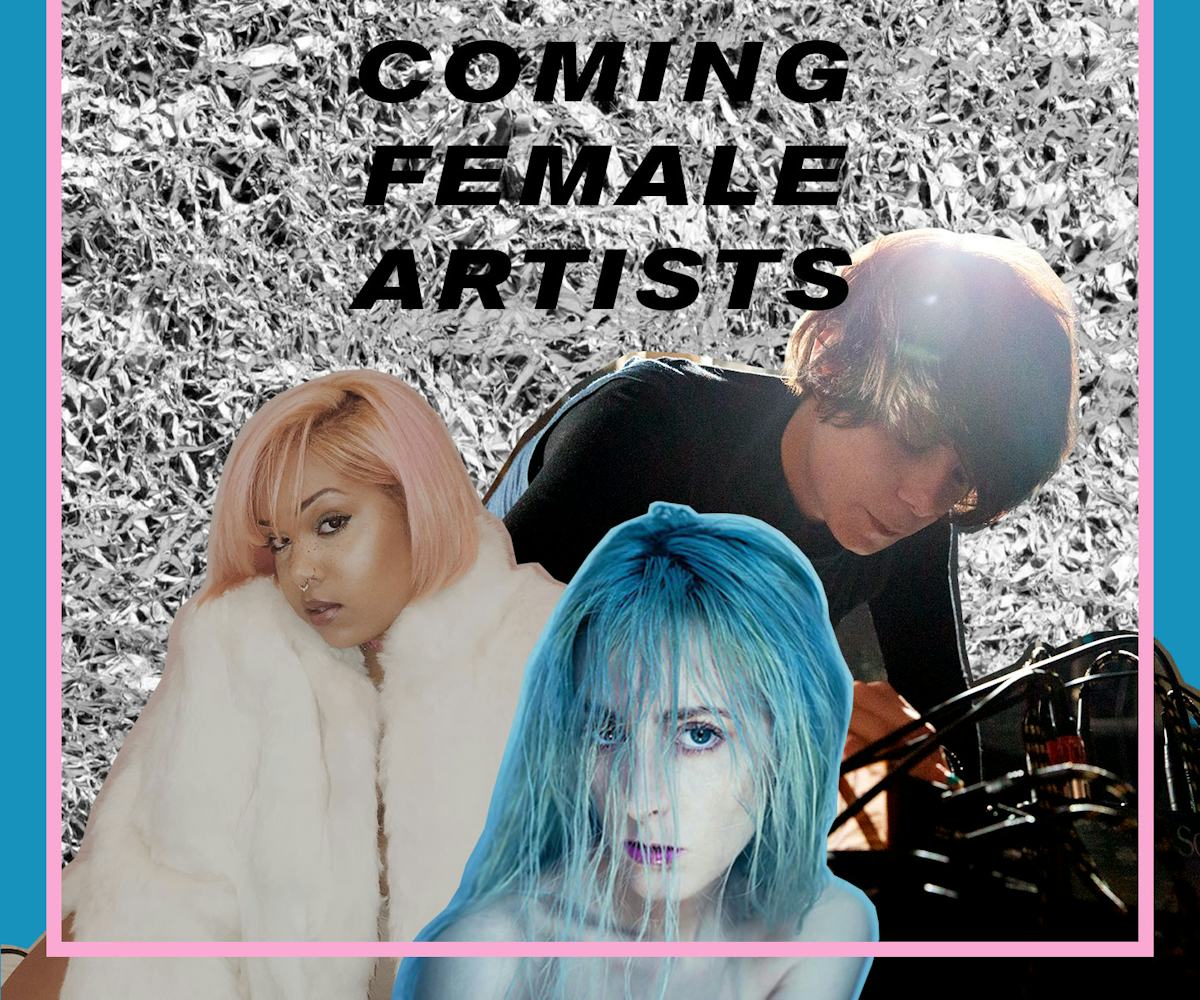 7 Up-And-Coming Female Artists You Should Know About
They all took the stage at Miami's III Points music festival
III Points isn't your average music festival. Well, if your average music festival includes meditation classes for when you're feeling overwhelmed, a van where you can get your nails done while porn plays in the background, and a virtual reality experience that recreates what it's like to walk on Mars, then, sure, you can categorize it as such.
In fact, when you mention the event, to leave off the art and technology aspect is almost a disservice to what makes it so intriguing. Both are just as essential to the tunes themselves. The makeshift three-day festival, which takes place in the heart of Miami's Wynwood graffiti-lad art district, is described as a "homegrown festival born through global visions." Installations were stationed on every corner, from a makeshift VHS video store to a school bus dotted with pink icons that concertgoers could watch shows on top of. 
It's a concert by the people, for the people. It was initially founded as a way to give local Miami's artists, vendors, thinkers, doers, and idea people a place to release their art. "III Points was created as a home and voice for the 'other' Miami," a description of the festival reads; the one that doesn't involve South Beach, clubs, or sports cars.
And those who came out were just as eclectic as those on stage. The music devotees showed up, ready to rage, despite Hurricane Matthew temporarily dampening the mood and after LCD Soundsystem was forced to cancel. The shows still went on, most nights until 5am. 
The festival is very much the Miami, typical festival antithesis. Where else would the artists be greeted by a care package filled with sage (which was used to cleanse every stage, by the way), incense, rolling papers, a joint, and accompanying matches? Or, see a drone that brings Method Man and Red Man a blunt on stage while they sing "How High"? One thing you will find that's quintessential to the city: a shit ton of techno.
In between the EDM, house, and dubstep synths, were also performances by big names like Vince Staples, Cam'ron, and Flying Lotus. While guys made up a big chunk of the lineup, it was the ladies who commanded our attention throughout the three days (perhaps, because there were so few of them); many local, some foreign, all worth knowing. Check out some of our favorite standouts ahead. 
Jessy Lanza
Lanza's most recent album is probably one of the most underrated releases of 2016. Pitchfork described the single "It Means I Love You" as "one of Lanza's most openly inviting, delightful, and arresting pieces of music yet," and the rest of the tracks fall in the same positive category.
The Canadian electronic multihyphenate sings with the emotion of Jessie Ware and FKA twigs, set to the background of haunting, always-catchy beats.
Brika
One of the very few pop artists on the III Points lineup, Brika (a play on her actual name, Briana) is a standout for reasons other than not falling into the city's techno trap. Miami's New Times declared her the next big thing, and her classic voice is a nice shift from the teeny bop tunes that typically emerge from artists in the genre. Although, if you ask Brika, she wouldn't lump her music into the pop category. "I would describe my music as classic reggaeton... Just kidding," she says. "I get asked this question a lot, and I'm never really sure how to answer it. I guess since the internet is opening doors to new musical fronts, people create genres, but, for now, I'll stick with alternative."
That works, too. Listen below to make a decision for yourself. Her covers are also worth seeking out. 
Little Simz
If you haven't heard of Little Simz and her posh British rapping tunes (maybe the first time posh and rap have been used in the same sentence), jot down the name now because you'll be seeing a lot more of it. The 21-year-old hailing from "space," if you believe her Instagram page, just released a song with Kehlani last week and is opening up for Lauryn Hill this week. She's also the only female rapper on the III Points roster, so there's that.
Uchi
"Dark voids, shimmering lights, and the sound of the space between them," is how artsist Uchi's bio reads. When asked what exactly that means, she told us: "I think I wrote that when I was 19 in order to avoid making a real one… I guess I thought it described [my music]? Bios are weird." Touché.
Today, she would describe her music as "sometimes 4/4 beats, sometimes no beats or a couple of hi-hats, other times it's pads or baseline synth stuff, and a touch of noise stuff. But it falls under techno, I think?" If techno had an atmospheric subcategory, Uchi's tunes would fit in perfectly. "What I'm doing today is what comes out of happy accidents with the right combination of gear, crafted samples, and hand-recorded midi patterns," she says. Her sounds are meant to calm, and they do. Think: the music you hear when you're in a spa or what you would imagine plays when you're floating in space. This is that.  
Virgo
Artist and producer Virgo's Instagram aesthetic matches her music. Both are ethereal, majestic, and with a tinge of blue overlay. Her pure vocals and electronic backdrops remind us of '90s techno, in the best nostalgic way possible.
VNUSAMR
Singer-songwriter VNUSAMR got her musical prowess from her mom. "My mom used to sing and write music, so I took her songbook... we had all this band equipment, and me and my brother used to set up in the garage with his friends, who played instruments as well," she tells us. "I would play as the lead singer, and we would just jam out with the garage door open." During those days, she was influenced by Alicia Keys and her ability to empower young women, something she also hopes to do with her music.
"Singing gives me the power to shred my feelings and emotions," the "trap&b" singer says. Which is evident in her moody, sensual, sometimes dark songs.
As for her stage name, she also got that from her mom, in a way. It's a combination of her star sign, Venus, and her middle name, Love, which her mom used to say in Spanish. "I put them together and came up with VENUS AMOR, then broke it down into an acronym 'VNUSAMR.' Makes it more mystic!"
POORGRRRL
A lot goes into a Poorgrrrl (also known as Tara Long) performance. For her III Points set, she was joined by a group of girls and guys as she rapped-slash-sang-slash-spoke her way across the stage. Hula hooping was involved, one guy painted on his makeup throughout the almost hour-long performance, others snapped selfies with Poorgrrrl. With lyrics like: "Phony baloney jabroni/ Lookin' Al Capone/ Bugsy Mugsy/ Pepperoni calzone/ Leave me aloney," it's hard to tell if she's being ironic or completely serious. "At the end of the day, this is a music project," she tells us. "Rapping, singing, and performing are all methods of expression allowed within the musical framework, so I use them to express myself." 
Her songs, which she describes as "experimental and awkward for now," don't necessarily fit into a genre, and that's just how she likes it. Long started out as a performance artist and adopted her Poorgrrrl persona (who was born on Instagram) once she started exploring music. The moniker, she says, is her biggest fear: "To be this little lump of shit that everyone feels sorry for because I'm so lame. I've turned my terror into the vessel that will slowly drag me to success, or have I simply created a self-fulfilling prophecy that now I will never be able to escape?" We'll know in due time. Enjoy her kooky music until then.