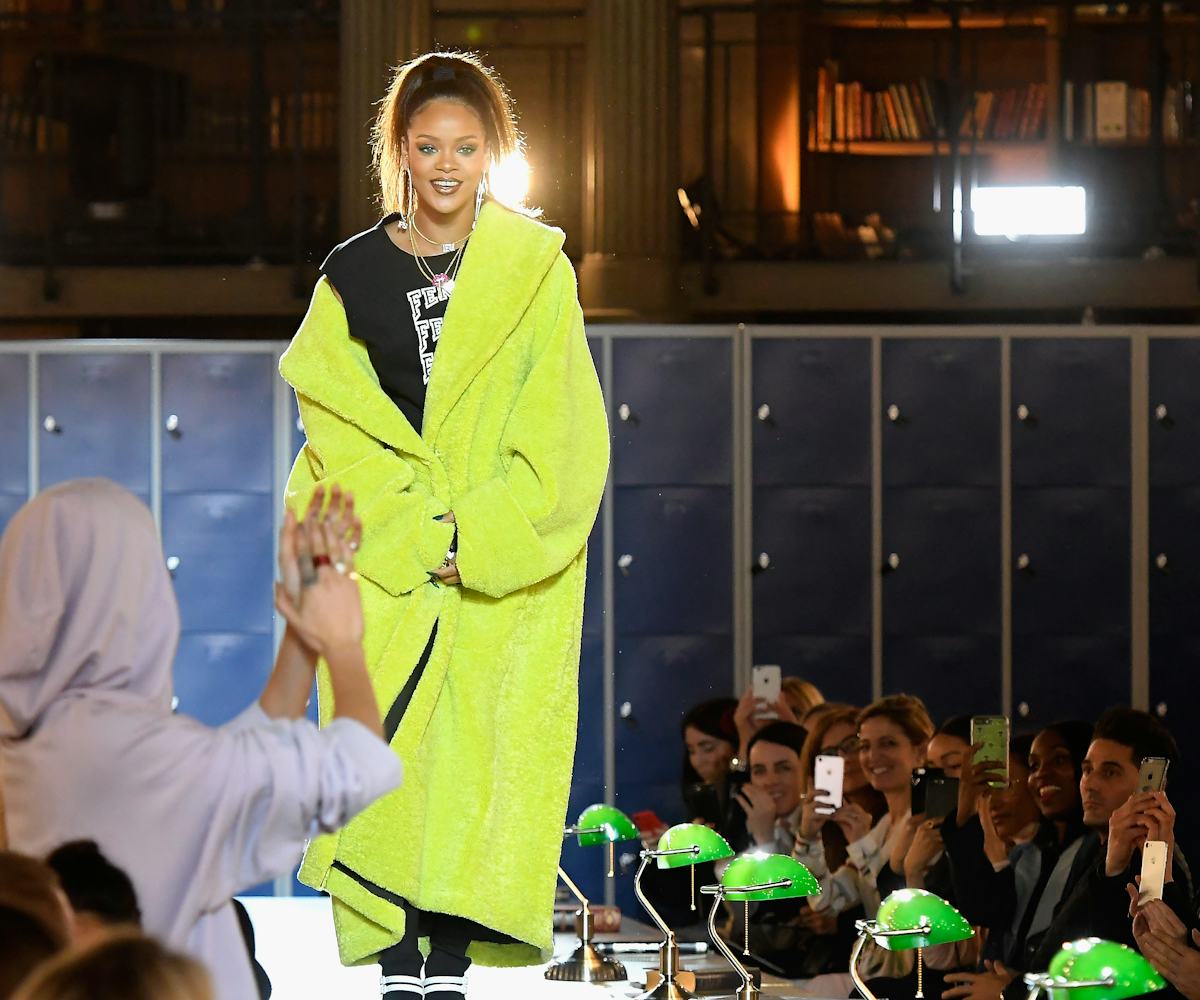 Photo by Victor Boyko/Getty Images
Forever 21's Alleged Fenty X Puma Knockoffs Aren't Going Anywhere
Puma lost the fight to get the shoes removed from stores
Back in April, we reported on Forever 21 allegedly knocking off of Rihanna's Fenty x Puma line when they began selling shoe styles, from satin-bowed pool slides to creeper sneakers, that undoubtedly resembled those from the singer's line for the sportswear giant. The similarities were obvious to pretty much anyone with eyes, and Puma sued, asking for the knockoff designs to be removed from stores, as well as for them to be given all of the profits from sold styles thus far.
However, we've just learned that Puma has lost the first round of its legal battle against the fast fashion retailer. Until the suit came to an end, Puma was hoping to get three specific styles that are the subject of the infringement battle off of Forever 21's sales floor.
According to WWD, a California judge refused to order a preliminary injunction against Forever 21's sale of its alleged copycat designs. "To obtain an injunction based on any of its causes of action, Puma must submit evidence of irreparable harm that is real and significant, not speculative or remote," the judge said.
Basically, the judge did not feel that Puma had enough significant evidence, on multiple levels, that was strong enough to remove these products from stores. He argued that there was not enough proof that the perception of the brand was weakened by Forever 21's alleged infringement in terms of consumer perception and brought up a lack of evidence to show that monetary relief wouldn't be enough of a solution, leaving the court "unconvinced" that the full-on removal of the products was necessary.
This isn't the first time that the fast fashion retailer has ripped off someone else's designs, though their past victims tend to be independent artists or smaller brands that aren't large enough take on Forever 21 in court. We'll be watching to see how the suit between these two giants plays out.