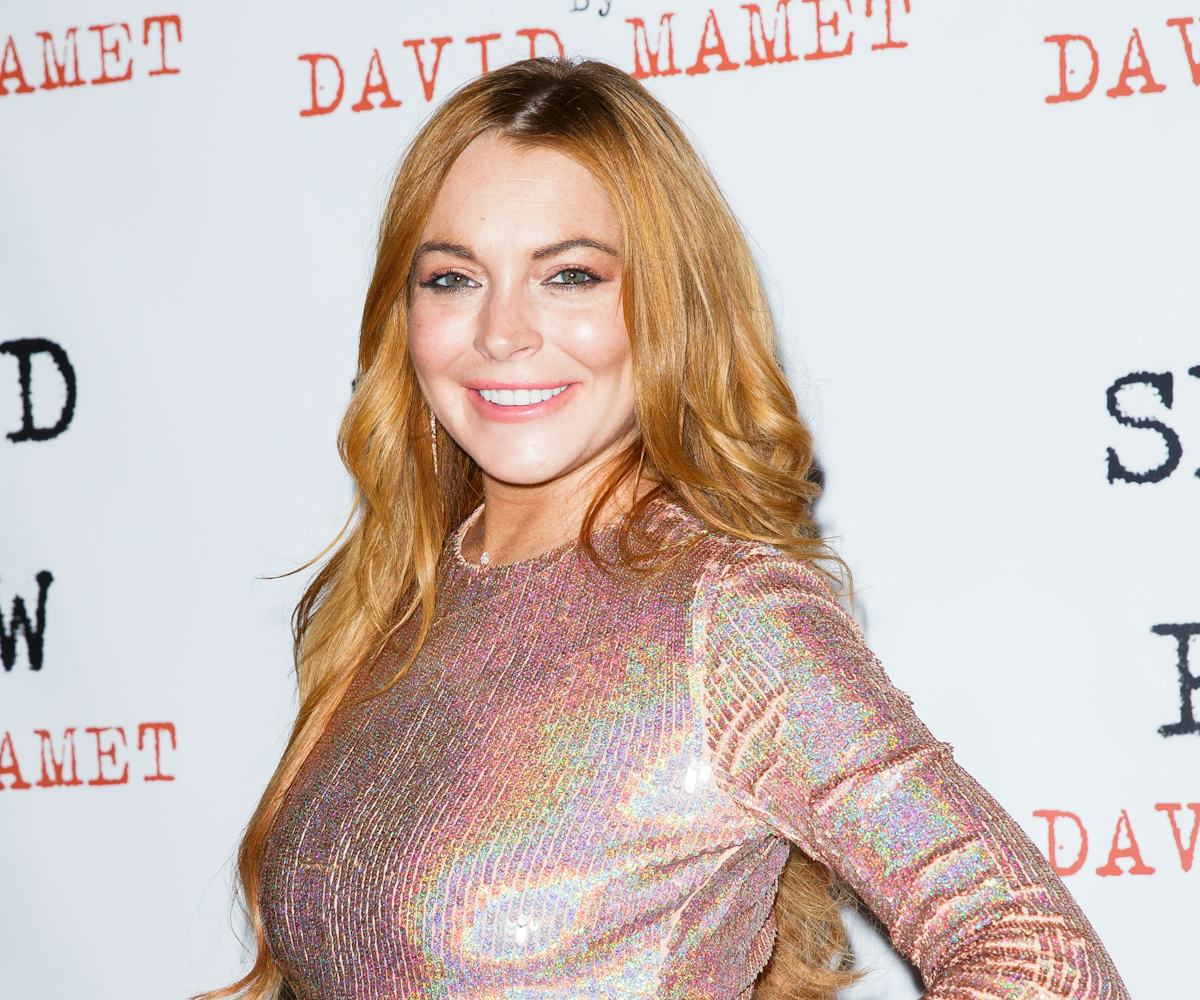 Photo By Tristan Fewings/Getty Images.
Lindsay Lohan Talks About Turning Her New Accent Into Fashion
"I think it's important we give back when we can and continue to raise awareness"
If you somehow missed the most important headline from last week, here it is again: Lindsay Lohan debuted an intriguing new accent that shook up the internet. It was unusual, that's for sure, but now the star's taking the viral moment and turning it into something beneficial.
Lohan first teased the prospect of making her accent into T-shirts last week, and now she's making good on that promise. This morning, she tweeted out a link to her new collection of Lilohan shirts. Available on Represent.com, the line includes tanks, tees, and sweatshirts with the quippy message, "I only speak Lilohan," sprawled across it. 
She told us via email that she took her accent's popularity as a chance to spread some good into the world. "I am currently putting out as much love and positivity into the universe right now as possible, and thought this would be the perfect way to make lemons into lemonade," Lohan says. 
A portion of the proceeds from each Lilohan item will benefit Caudwell Children, an organization that helps disabled children in the U.K., and AFAD, a charity that helps with Turkish disaster relief, both of which are very important to the star, she says.
I wanted to support children in the U.K., as I have been living here for the past four years and children are dear to my heart. I am also very close with John and Claire Cauldwell and really admire how much passion they have for their charity and how hard they work to raise money to help so many beautiful children. Secondly, I wanted to help the Middle East in this unfortunate time of crisis. I think it's important we give back when we can and continue to raise awareness. We all have a voice, we must use it.
As for that accent, Lohan tells us that naming it came pretty easy: "It was the first thing that came to mind. [It's] obviously the first two letters of my first name and my last combined. And people have called me Lilo, so why shouldn't I take it back with my last name?" And that it's pretty much an amalgamation of everything she's had the opportunity to take in up until this point. "You acquire different dialects when you are traveling so much and learning different languages and cultures. It is just me… I feel blessed to be learning so much." 
The limited-edition pieces are available now until November 21. You can pick them up here.