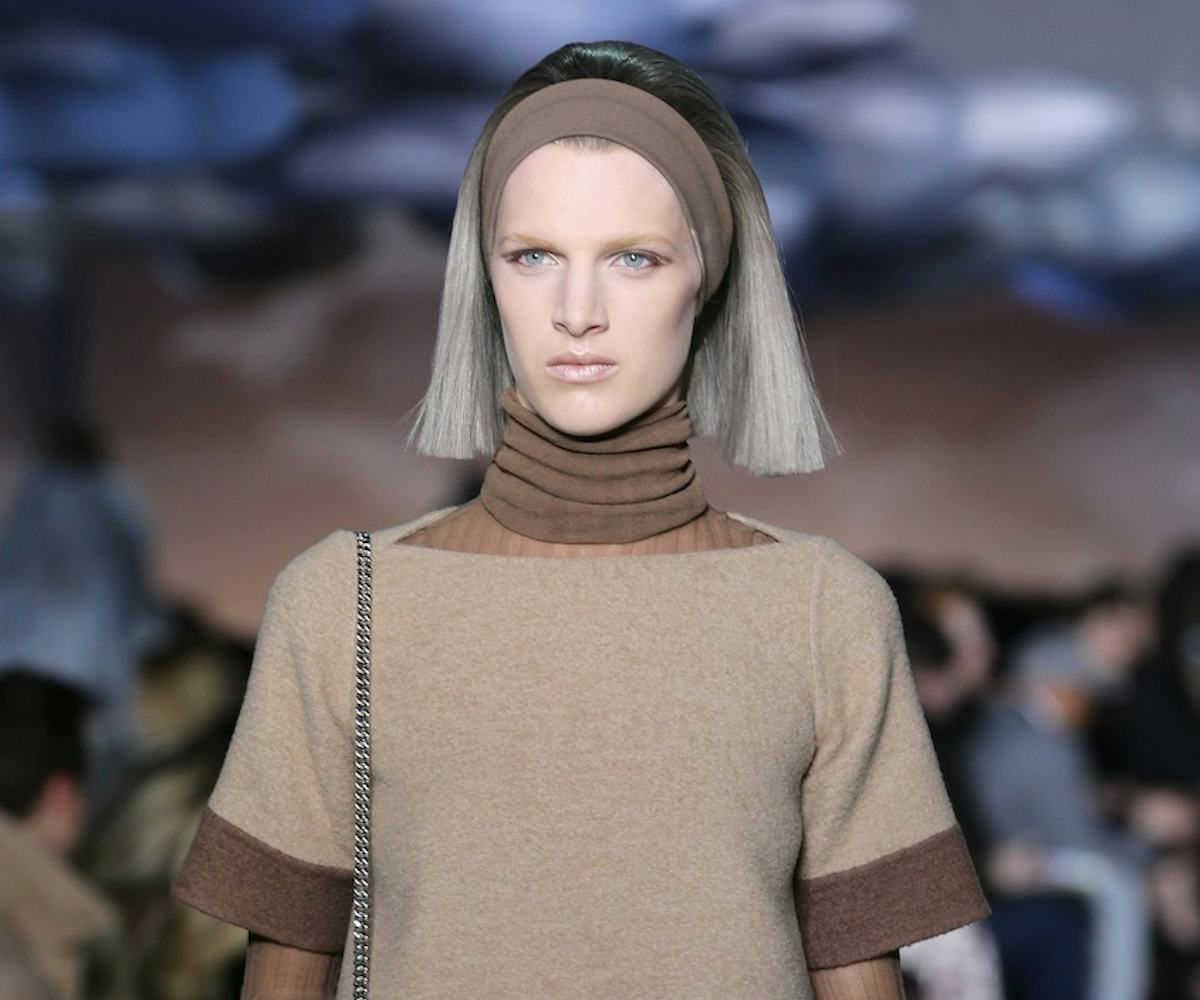 the face: marc jacobs
nab the fresh-off-the-runway look.
Rather than pulling specific ideas or people as references, the look at Marc Jacobs was based entirely on the collection"s colors, or lack of them as it were. A range of nude hues ruled the runway and the word of the day was "tonal."
Five new Marc Jacobs polish shades--from porcelain to putty--were hand-mixed the day before the show to match fabric swatches. Each girl"s nails were painted with the hue that best complemented their outfit. For maquillage master Francois Nars, the theme of tonality ("It"s an interpretation of the fabrics.") meant virtually no color and perfect marble statue-like skin. To get the flawless, completely matte complexions, Nars applied tinted moisturizer, concealer, and topped it with loose powder, then he added barely perceptible definition by brushing a trio of blushes along the cheekbones.
To give the models "the illusion of having huge, wide eyes, he blended taupe and shimmery neutral shadows onto the lids, added a bit of gray, then defined the crease with a light brown hue. He made the lips shine with a dab of silver eyeshadow and lipgloss. Hairstylist Guido Palau worked with colorist Victoria Hunter to make wigs in five washed out shades from pale brown to silvery blonde to rose gold. "They"re like old-lady colors," explains Palau. He cut each wig into a sharp, geometric bob (It"s inspired by Jessica Lange"), then blew it out and ironed the strands to make them pin straight. A simple headband, in a color that matched the wig, completed the style that Guido described as looking like "an illustration."
Makeup:
All NARS
Face:
Pure Radiant Tinted Moisturizer
Blush in
,
, and
Eyes:
Duo Eye Shadow in
(silver side), 
(white shimmer side) and
(cocoa side), 
Lips:
Duo Eyeshadow in All About Eve (shimmery side)
Hair:
All Redken
Satinwear prepping blow-dry lotion
Iron Shape thermal finishing spray