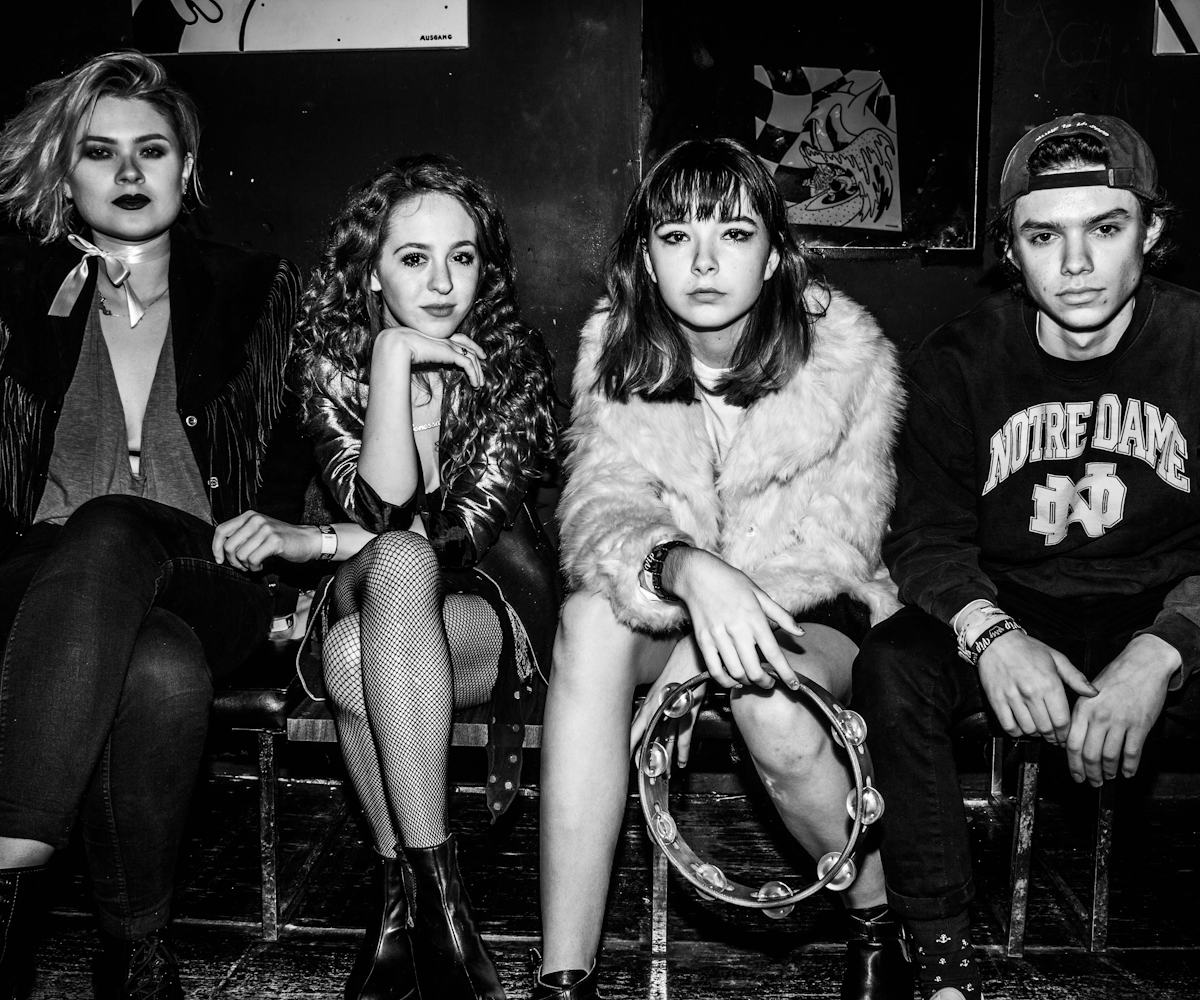 Photo via The Regrettes
9 New Punk Bands You Should Listen To
From Bleached to Downtown Boys
Pop music has always dominated the airwaves. And while we're experiencing some pretty damn good mainstream pop acts at the moment, Top 40 has done what it always has and melded them all together to create a repetitive, predictable playlist void of much sonic innovation and evolution. Luckily for those fatigued by the same mindless listening experiences, punk music is experiencing its own Renaissance.
Borrowing from the grunge, garage rock, and, yes, even pop genres, punk rock is pushing its own boundaries to create some seriously good tunes. From girl-power groups like Bleached, Potty Mouth, and Girlpool to the politically motivated Downtown Boys and G.L.O.S.S., check out the most exciting punk bands of the moment in the gallery below. And, please, add them to your playlists. Your Spotify needs it.
SWMRS
Though relatively new, SWMRS has found a way to capture the greatness of garage rock and punk into one easily digestible, accessible album, Drive North. With standout songs like "Harry Dean," "Miss Yer Kiss," "Uncool," and even an ode to Miley Cyrus, they pack in nearly every aspect of teenage angst. Under the guidance of icons like FIDLAR's Zac Carper, who produced Drive North, and Green Day's Billie Joe Armstrong, who just so happens to be the drummer's father, it seems like SWMRS is headed for icon status.
Bleached
Made up of sisters Jennifer and Jessie Clavin and bassist Micayla Grace, Bleached is probably one of the year's most exciting bands. Their new sophomore LP, Welcome the Worms, co-produced by Carlos de la Garza (Paramore, YACHT) and Joe Chiccarelli (Morrissey, The Strokes, Elton John), is distinctly more pop-inspired than their older works and showcases their lyrical aptitude. Basically, it's the perfect soundtrack for nearly every occasion, from a roadtrip to a party. 
The Virginmarys
Melding grunge and punk rock, the U.K. rockers have garned hundreds of comparisons to Frank Turner and the Gallows since the release of their debut album, King of Conflict, in 2014. Their sophomore album, Divides, dropped earlier this year. As frontman Ally Dickaty says, it was "filtered through the anger and frustration of living in a crumbling and fucked up society run by those who couldn't care less whether you live, die, eat or starve so long as their own status and lifestyle is maintained within a self-serving system."
The Regrettes
Fronted by 15-year-old Lydia Night (who contributed to Ryan Gosling and Zach Shields' Dead Man's Bones), and rounded out by guitarist Genessa Gariano, bassist Sage Nicole, and drummer Maxx Morando, the teen band has already shared the stage with Peaches, Bleached, PINS, La Luz, and Summer Twins. They're slated to release their debut album, which is produced by Mike Elizondo, in the coming months, although no specific release date has been set.
Potty Mouth
Started at women's-only Smith College in Northampton, Massachusets, the trio—comprised of Abby Weems, Ally Einbinder, and Victoria Mandanas—creates music that's best compared to that of the '90s grunge punk era. As they told us last year, "We started from a DIY mindset and a shared desire to make music together. It was very simple and low stakes. We've since spent the last few years being more intentional about honing our sound, writing and releasing material that we're proud of, and figuring out how to raise the bar a little bit higher with each new project we take on."
G.L.O.S.S.
Olympia, Washington band G.L.O.S.S. (which stands for "Girls Living Outside of Society's Shit") is helping to usher in a new wave of feminist punk music. With lyrics like, "They told us we were girls / How we dress, talk, look, and cry / They told us we were girls / So we claimed our female lives / Now they tell us we aren't girls / Our femininity doesn't fit / We're fucking future girls / Living outside society's shit," the queer and trans band's hardcore sound is unapologetic and explosive, as punk music should be.
Girlpool
Hailed by many as the new wave of riot grrrl rockers, the duo (comprised of Cleo Tucker and Harmony Tividad) has created their own pure, ever-evolving genre of punk. With indie and folk influences, their music clearly highlights the importance of their friendship.
Downtown Boys
Not only does Downtown Boys do the punk genre some seriously stellar sonic justice, but the Providence band also brings the punk mindset to another level with its strong political stances. The queer band tackles issues like inequality (racial, sexual, gender, economic), classism, violence, and the nature of the Internet. If you ever get a chance to see them, don't hesitate.
Acid Dad
Psych-punk band Acid Dad has been steadily emerging as one of Brooklyn's most promising acts. With beats that lend themselves to both calming sways and mosh pits, the DIY band is creating music on their own terms. "We originally started to keep stuff as simple and raw as possible," they told Village Voice. "Honestly, every song is pretty much a 1-7 structure—pretty much one chord. We're not breaking new ground and I think that's one philosophy we really want to stick with: Don't get caught up with trying to be really intricate but lay it out with a really good foundation."