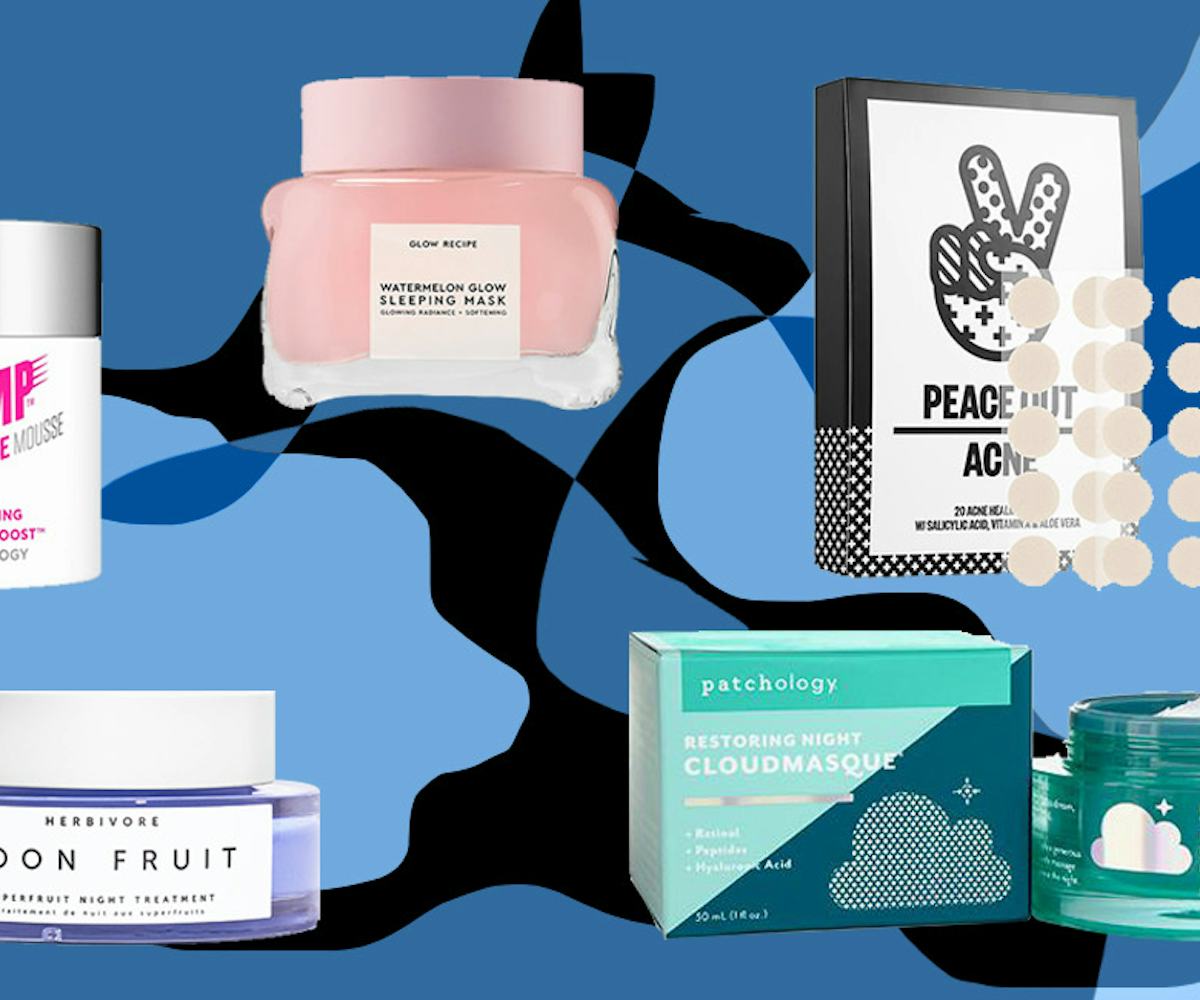 Sleeping Beauty: The Best In Overnight Skin Care
The products that deserve a place on your nightstand
We're finally in that sweet spot of the holiday season—the week, give or take, in between Christmas/Channukah and the New Year. If you're lucky, this means you're enjoying a few days off from school or work, which means you're finally about to catch up on some much-needed sleep. So why not turn it up a notch?
With the sleep treatment trend on the rise, we wanted to round up the bedtime must-haves that deserve a place on your nightstand.
These are far from your typical night cream. We're talking rich and luxurious masks, gels, mousses, and other treatments that'll do everything, including brighten, moisturize, exfoliate, and even suck the life out of pimples, all while you catch some precious Zs.
I mean, you wouldn't be a true multitasker if you didn't indulge in some overnight skin care, now would you? Learn the real meaning of beauty sleep, below.
Too Cool For School, Pumpkin Sleeping Pack, $20, available at Sephora.
We might be over pumpkin spice food and drink, but we're definitely still here for pumpkin skin care. This overnight treatment packs in pumpkin's natural enzymes to promote your morning glow.
Patchology, Restoring Night Cloudmasque, $40, available at Patchology.
This whipped mask-cream hybrid nourishes your skin while you sleep, delivering the benefits of hyaluronic acid, retinol, and peptides, plus 17 different plant extracts, as it melts into your skin overnight.
Glow Kitchen, Watermelon Glow Sleeping Mask, $45, available at Sephora.
This breathable sleeping mask hydrates, refreshes, and brightens the skin while you snooze, and boasts a pillow- and transfer-proof formula, so you don't wake up to a mess.
Soap & Glory, Speed Plump Overnight Moisture Mousse, $17.99, available at Target.
This light and airy overnight mousse moisturizes for eight full hours, so prepare to wake up extra-refreshed after a full night's rest.
Shiseido, Ibuki Beauty Sleeping Mask, $40, available at Birchbox.
Who knew sleep could wake up your skin? This overnight mask brightens with vitamin C and E, plumps with phytoplankton extract, and restores with its PhytoTarget Complex, meaning you'll wake up looking super-refreshed (even if you did get under the covers way past your bedtime).
Peace Out, Acne Healing Dots, $19, available at Sephora.
Find yourself plagued with a pesky blemish? These overnight wonder dots work to fight bacteria and heal your pimples while you sleep.
Omorovicza, Midnight Radiance Mask, $125, available at Omorovicza.
This brightening and glow-inducing overnight gel treatment is truly luxurious, as it exfoliates, promotes cell renewal, and fights hyperpigmentation while you snooze.
Edible Beauty, & Sleep Beauty Purifying Mousse, $42.04, available at Edible Beauty.
This fluffy mousse-style sleep mask nourishes, gently cleanses, and revitalizes skin, so you can wake up with a true fresh-faced glow.
Skin Inc., Pure Deepsea Hydrating Mask, $75, available at Sephora.
This mask hydrates, clarifies, and brightens in just one simple step. While it can work as a quick 15-minute pick-me-up, the brand recommends using it as an overnight mask for maximum replenishment.
Herbivore, Moon Fruit Superfruit Night Treatment, $58, available at Herbivore Botanicals.
This decadent blend of fruit enzymes, exotic butters, and bio-identical vegan hyaluronic acid gently resurfaces and hydrates skin while you're fast asleep.
Origins, Drink Up Intensive Overnight Mask To Quench Skin's Thirst, $26, available at Birchbox.
Slap on this rich, skin-quenching formula before you hit the hay for soft and luminous skin upon waking.
First Aid Beauty, Eye Duty Triple Remedy Overnight Balm, $38, available at Ulta.
Give your peepers some extra love while you catch up on some shut-eye with this cushion-y, moisture-rich eye treatment.