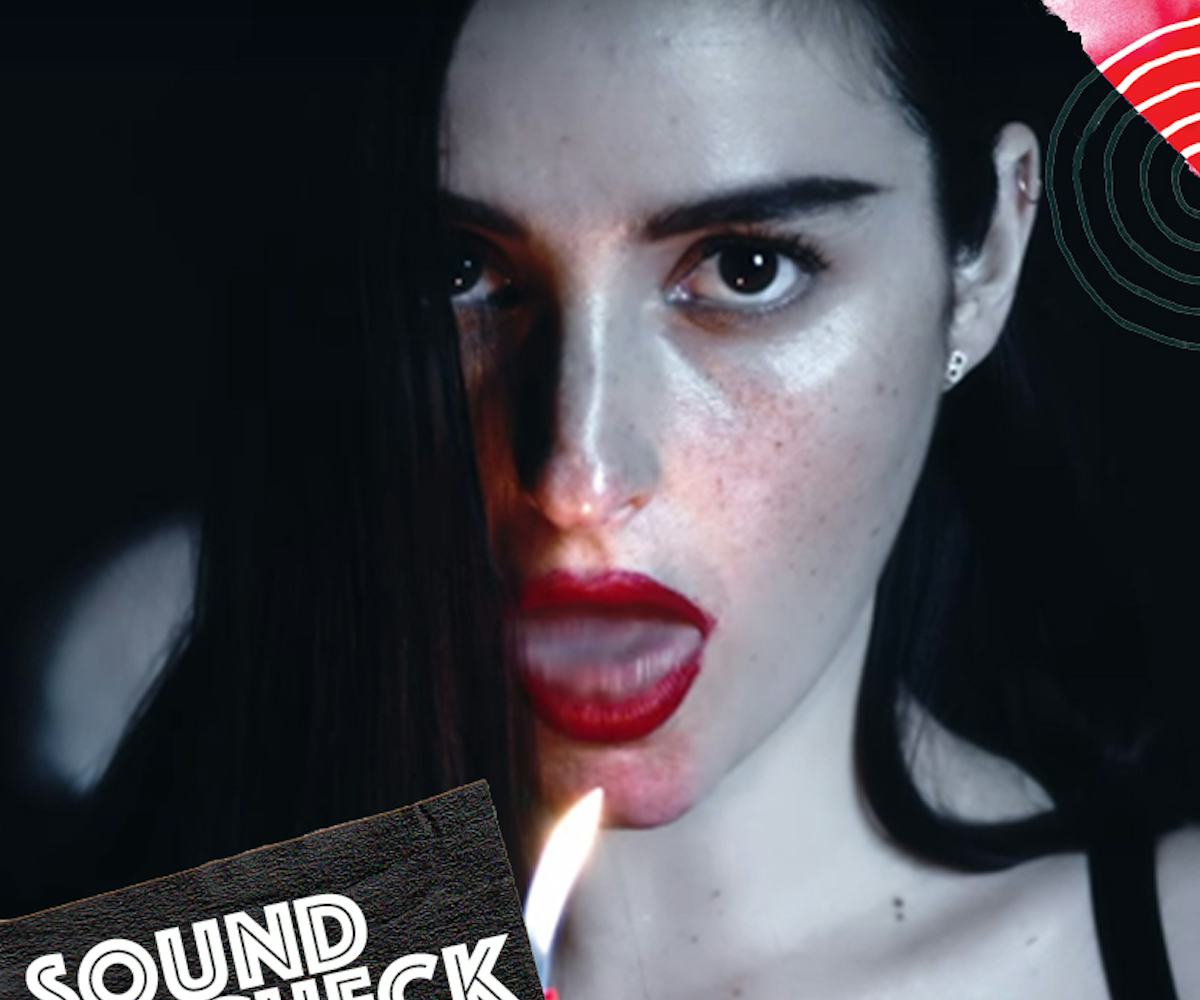 Photo by Steven DeTray
Soundcheck: The 20 Best Music Releases Of The Week
Banks, Tinashe, Nelly Furtado + more
Every weekend, we're bringing you #SOUNDCHECK—your new destination for the best of the best new music that hit the web over the course of the week. Because you should always be prepared when someone passes you that aux cord. This week's round features 16 of our favorite emerging and established artists including Banks, Tinashe, Nelly Furtado, and so many more. Turn up, tune in, and tune out.
"Fuck With Myself"- Banks
Banks is officially back and has blessed us with the ultimate self-love anthem, "Fuck With Myself." In the eerie visual, Banks lights a mannequin version of herself on fire, writhes among twisting, masked dancers, and even sets her own tongue aflame. The single will be featured on her forthcoming sophomore album, due out September 30.
"Superlove"- Tinashe
Tinashe's sophomore album, Joyride, is due out this fall (finally!) and she's giving us a treat of what we can expect with the lead single, "Superlove." On it, she sings about being that special someone's ride-or-die, over singer/producer/low-key mastermind The-Dream's sunny beat, a transformation of the late-'90s hit "Love You Down." There's no debating it—"Superlove" is a certified bop, and it's poised to take over the radio all summer '16. 
"Behind Your Back" - Nelly Furtado
Sweet relief, the golden child of the early aughts has returned to grace us with her beautiful voice. As stated on her Twitter, this '90s inspired track is an "appetizer" of what's to come. Woah, Nelly! The nostalgia is real.
"CRYBABY"- ABRA
In the desert-set visual for this '80s-infused jam, a newly blonde ABRA takes us through some childhood throwbacks. Her crew of dancers mimic the old-school "crybaby" dance move, which resembles a child throwing a temper tantrum on the floor, while ABRA gyrates to the glimmering beat. There are also some tender moments such as swingset flirting and rollerblading. 
"I Am Only A Man"- Shy Girls
Praise be to the music goddesses for the return of this angelic voice. Smooth R&B vibes pulse through the speakers as he pleades, "I am only a man" with so much conviction that it stings your heart a little bit. 
"Control Myself"- Leisure
Have you ever met someone that makes you forget how to function? Not only do you lose the ability to speak in coherent sentences when you're in their presence, but you also can't remember how to play it cool. This track essentially captures that overwhelming, transfixed sensation, but makes the embarassing struggle seem appealing. 
"Blonde"- Black Atlass
The piano skills of Montreal singer-songwriter Black Atlass (a.k.a. Alex Fleming) are on fire in his video for lovesick track "Blonde." No, really. In the new video, Fleming plays a flaming piano and broods atop the hills of California, all shot in black-and-white by fashion photographer Kenneth Cappello. The track itself is smoldering, too: Fleming's seductive, chilling vocals lace perfectly with moody piano chords on an otherwise stark soundscape. Black Atlass' debut LP, Haunted Paradise, drops August 9 via Fool's Gold.
"Remember You At All"- Zen Mantra
Sam Perry, the brains behind New Zealand's Zen Mantra, said he built the concept for the newly-released "Remember You At All" video after his fourth time watching '80s thriller The Fog. The film's influence is all over the video, which pairs Perry's eerie, twangy track with grainy shots of skeletons, candle circles, animal skulls, and of course, clouds of fog. There's an inherent dissonance to both the track and its psychedelic visual counterpart, just enough to keep you on the edge of your seat—as the film that inspired it probably would, too. The visual's also an equally disconcerting follow-up to the video for Zen Mantra's "Second Skin," released back in April.
"Where I Came From"- Cousin Stizz
Through this video, the breakout Boston-based rapper gives us a glimpse of an average day in his life. The track is the third single off his freshly dropped mixtape, MONDA. The video is a continuous shot throughout Stizz's hometown of Dorchester, and features wads of cash, video games, and cool handshakes. 
"I Don't Mind"- Take a Daytrip & Treez Lowkey
Dedicated to all those nights we drank way too much, spilled our guts, and gave into our passions: We salute you. And if you wake up the next day embarrassed, rest assured that Take a Daytrip & Treez Lowkey really didn't mind. 
"Mean What I Mean (Feat. Dreezy & Leikeli47)"- AlunaGeorge
Hands down, this is the most fire collab of the week. Ring the alarm, we've got a banger on the loose!
"Good Together"- Honne
The London-based R&B duo is back and more loving than ever in this new single. This one is guaranteed to hit you right in the feels. 
"Warts"- Hinds
Directed by Pedro Martin-Valero, this visual shows our favorite Madrid-based rock stars dress up in kimonos at the puzzling Walden 7 building in Barcelona, keeping a watchful eye on the woman of their close friend's affection. Though the band sings, "Don't let her waste your smile / don't let her curse your eyes," their words of caution prove to to have been ignored, as things don't end too well for Hinds.
"Safe And Sound"- Justice
The wait is finally over! After five long years, Justice is back with their groovy single, "Safe And Sound." The best part? There's more to come. The French electronic duo has just confirmed a third album is on its way. 
"Velocity" - Phoenix Martins
We're all guilty of obsessively tracking the whereabouts of a crush who may or may not know we exist. If you've ever poured over the details of a hot stranger but have been unable to work up the courage to use your words, Phoenix Martins has a song for you. It's called "Velocity," and it'll make all your borderline-stalker activities seem less, well, stalker-like, courtesy of a pop jam inspired by The Pink Panther.
"Paper or Plastic"- Brooke Candy
The video for this sugary pop jam shows our favorite singer/rapper as a countryside belle living amongst four other women in a patriarchal nightmare. The gold-gun-wielding, chastity-belt-wearing girls inflict revenge on their oppressor, soundtracked by the track's lip-glossed vocals and piercing piano keys. Candy is a master of pop with a purpose, and this must-see video proves it. The track will be featured on Brooke Candy's highly-anticipated Sia-produced debut album.
"Scars To Your Beautiful" - Alessia Cara
Among the hedonism that dominates the pop charts exist gems of self-empowerment. Every year seems to give rise to a stand-out, and Alessia Cara's "Scars To Your Beautiful" is it. Her wise-beyond-her-years soulful voice packs hope and inspires. The video features a diverse array of individuals expressing their insecurities and how they reclaimed them into something powerful. A reminder that we're all stars never hurts—that and solid anthemic shout, and Cara's latest has it all.
"CRZY" - Kehlani
After the release of her highly anticipated EP, You Should Be Here, fans of the R&B goddess have been thirsting for more. In addition to being the first single off her debut album coming this fall, "CRZY" will be a featured song from the Suicide Squad soundtrack. 
"J'Suis QLF" - PNL
French duo PNL are serving some serious wanderlust vibes in their new video for "J'Suis QLF." We just hope your bank account is ready for an impromptu trip across the country after seeing this.
"Where Do You Go? (Feat. Jesse Boykins III)" - Damaged Goods
Damaged Goods just dropped your soon-to-be favorite club banger. Deep bass progressions + twinkling synths + and a question of love = the best formula for a successful night out.