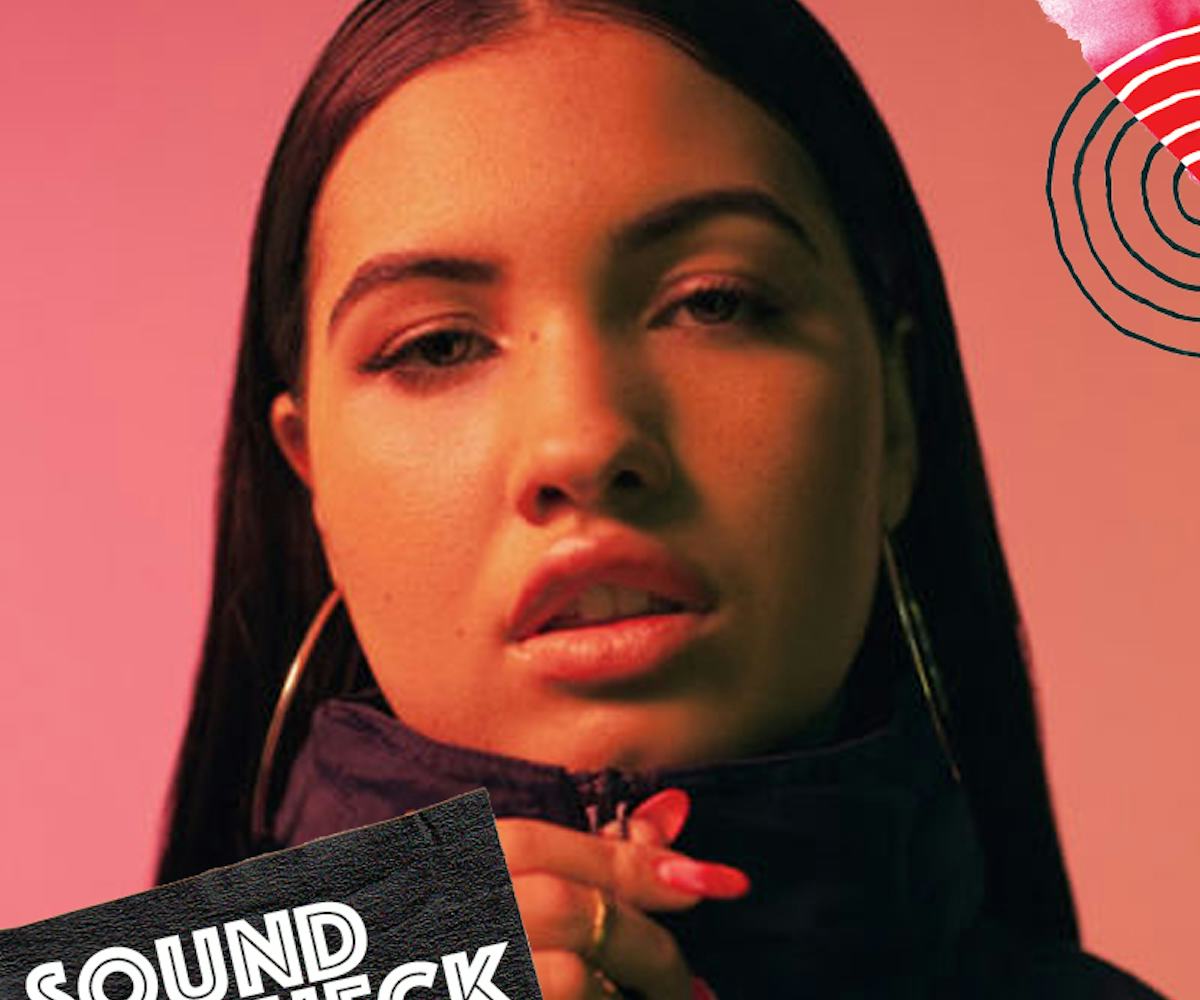 Photo courtesy of Mabel
Soundcheck: The 18 Best Music Releases Of The Week
Mabel McVey, Blood Orange, Vic Mensa + more
Every weekend, we're bringing you #SOUNDCHECK—your new destination for the best of the best new music that hit the web over the course of the week. Because you should always be prepared when someone passes you that aux cord. This week's round features 18 of our favorite emerging and established artists including Mabel McVey, Blood Orange, Vic Mensa, and so many more. Turn up, tune in, and tune out.
"Thinking Of You" - Mabel McVey
We love everything that Mabel puts out into the world, and this video is nothing short of brilliant. Within its vibrantly colored palette, the R&B singer explores the concept of dealing with relationships while your surroundings change in the blink of an eye. (We'd also like to point out the delicious eye candy on the screen.) It has a classic '90s feel to it with the VHS-esque quality of the film, which is quite alright by us.
"Augustine" - Blood Orange
In addition to releasing Freetown Sound, Blood Orange aka Devonte "Dev" Hynes, also dropped a self-directed video for the album's first single, "Augustine." We're all the richer for it, as the song is delicate and gorgeous, albeit melancholic, stripped down to a drum loop, guitar, and piano, with Hynes' falsetto to boot. Expressing the horrors black Americans face ("Tell me did you lose your son?/Tell me did you lose your love?") and twisting the words of Saint Augustine to contain a homoerotic undertone, Hynes has made a song that's wide-ranging and relatable; painful and empowering.
"Make It Work" - Majid Jordan
Nothing ruins an affair quite like finding out your significant other is cheating, too. Such is the premise for the latest video from OVO's brightest rising stars, Majid Jordan. In it, singer Majid Al Maskati grapples with the temptation of other women, while producer Jordan Ullman helps him expose his girlfriend's unfaithful ways. So much for making it work. 
"Middle Names" - Devendra Banhart
Three years after the release of Mala, our favorite Venezuelan-American singer is back with another song that pulls at our heart. The tender tune has him singing softly in a hushed voice while gently strumming his guitar. There's no howling or pleading, just wondering. The single is featured on his forthcoming album Ape in Pink Marble, due out on September 23.
"Nina Knapsack" - Nina Tech
Summer sixteen is all about the glow up, and for some of us that means getting fit. (So we can get lit, duh.) While the song isn't actually about swolling up, the Chicago-based rapper's visual runs like an old-school exercise tutorial. Either way, this track will definitely be a good addition to your workout playlist. 
"Palm Trees/Late Night" - GoldLink feat. Masego
The DMV's "future bounce" connoisseur, GoldLink, makes his on-camera debut in this dreamy yet thrilling two-part video. In it, he and a friend (played by Masego, self-proclaimed "king of trap-scat") take their love interests for a ride that includes a stop at a smoke-filled arcade and a convenience store stick-up, and eventually ends with a fatal car crash. You know, the usual.
"Car" - Porches
Even though this song is all about movement, the Daniel Brereton-directed visual focuses on a stationary scene with the statue-like band playing emotionlessly in pastel tinted lighting. Porches is known for making music with juxtaposition with bold synths contrasting lyrics filled with sorrow.
"Free Love" - Vic Mensa feat. Le1f, Halsey, Lil B and Malik Yusef
Cisgender heterosexual men set themselves up for internet ridicule when they make a supportive LGBTQIA song. Luckily for Vic Mensa, he dodged Macklemore's "Same Love" pitfalls. "Free Love," released in the wake of the Orlando Pulse nightclub massacre, comes from a place of genuine support as Mensa says the song was inspired by a family member's recent coming out. What's more, it comes at a time when the LGBTQIA community and hip-hop still don't see eye to eye. Mensa directly challenges the homophobia that pervades the hip-hop community with "Free Love" and his enlisting of queer-identifying rappers and singers, like Halsey and Le1f. It's a song of solidarity—one that inspires, moves, and politicizes.
"Sweet Talk" - Richie Quake
The last time we heard from Quake was when we premiered his "Irresistible" music video. Now, the Brooklyn native is back with this ultra smooth track! As the title suggests, Quake wants no more of that sweet talk. Clearly, he's got a good grip on the modern scene. No strings attached, right?
"Plastic 100°C" - Sampha 
Honestly, nobody does it better than this man. The acoustic version of his latest single is another eargasm, and will make you want to spend all of your afternoons gazing at the skyline from a rooftop. It's absolutely magical and will make you believe that the best is yet to come.  
"Gosh" - Jamie xx & Romaine
In this remarkable, Romain Gavras-directed clip, it's difficult to put into words what exactly we're seeing, but the world he creates has the vibe of a totalitarian society if it was run by Hood by Air. Hundreds of bodies converge underneath the Eiffel Tower and get in formation around a lone figure in white. We're not sure what it means, but it looks incredibly cool.
"Count It Up" - Tink
This Chicago-based singer and rapper continues to keep her name on everyone's mind with her silky-smooth R&B rhythms that combine swift rhyming schemes and honey-sweet vocals. Her new Jahlil Beats-produced track is a direct reflection on her rise in the industry with introspective lyrics to match her soulful sound.
"In My Shoes" - Fudge feat. Alex Mali
Prefuse 73 and Michael Christmas have teamed up and ready to share their first track as collaborators. If this single proves anything, it's that the duo is truly a dream team. The rapper's swift, airy rhymes are the perfect match to the producer's snappy, jazz-punctuated production. The duo is expected to release their debut album, Lady Parts later this year.
"A Breath Away" - Clams Casino feat. Kelela
The New Jersey-bred producer is back at it again with another banger. This time, he has recruited R&B seductress Kelela for a song that is absolutely sensational. Her sweet, airy vocals float above the booming beats and effortlessly take your mind to a more pleasant place. Maybe it's heaven, or maybe it's the neighborhood ice cream truck coming down the block.
"Miyazaki" - Gallant
The best things come in small packages. Case in point: this two-minute clip that depicts the rising singer mulling over his mistakes in his failed relationship while alone at a dinner table. The song is one of the shortest tracks on Gallant's debut album, Ology, and, especially with this simple visual, one of the most powerful.  
"In Your Eyes" - BadBadNotGood feat. Charlotte Day Wilson
It's hard to find a music group or artist who has mastered a unique sound as well as BadBadNotGood. The Canadian quartet has perfected their particular jazz-noir brand of electronica, and applied it to collabs with everyone from Odd Future to Frank Ocean and now, fellow Canadian artist Charlotte Day Wilson. "In Your Eyes" is the fourth release off the group's upcoming fourth album, titled—you guessed it—IV, out on July 8.
"☯" - F. Virtue feat. Melissa Burns, Chinks Doe, Dick Van Dick, Infinite Coles, and Kaner Flex
The song of summer still hasn't been chosen, but this "peace of mind" track deserves to be one of your summer anthems. It's the perfect song to crank up at a house party whether you're inside being a couch potato or outside firing up the grill. When this beat comes on, the party is just getting started.
"Say It Again" - Frances
This British singer-songwriter has enchanted us with another infectious melody perfect for singing all out to with your best buds. This single follows her breakout hit "Don't Worry About Me," and has that Natasha Bedingfield circa 2004 "Unwritten" vibe with feel-good lyrics.