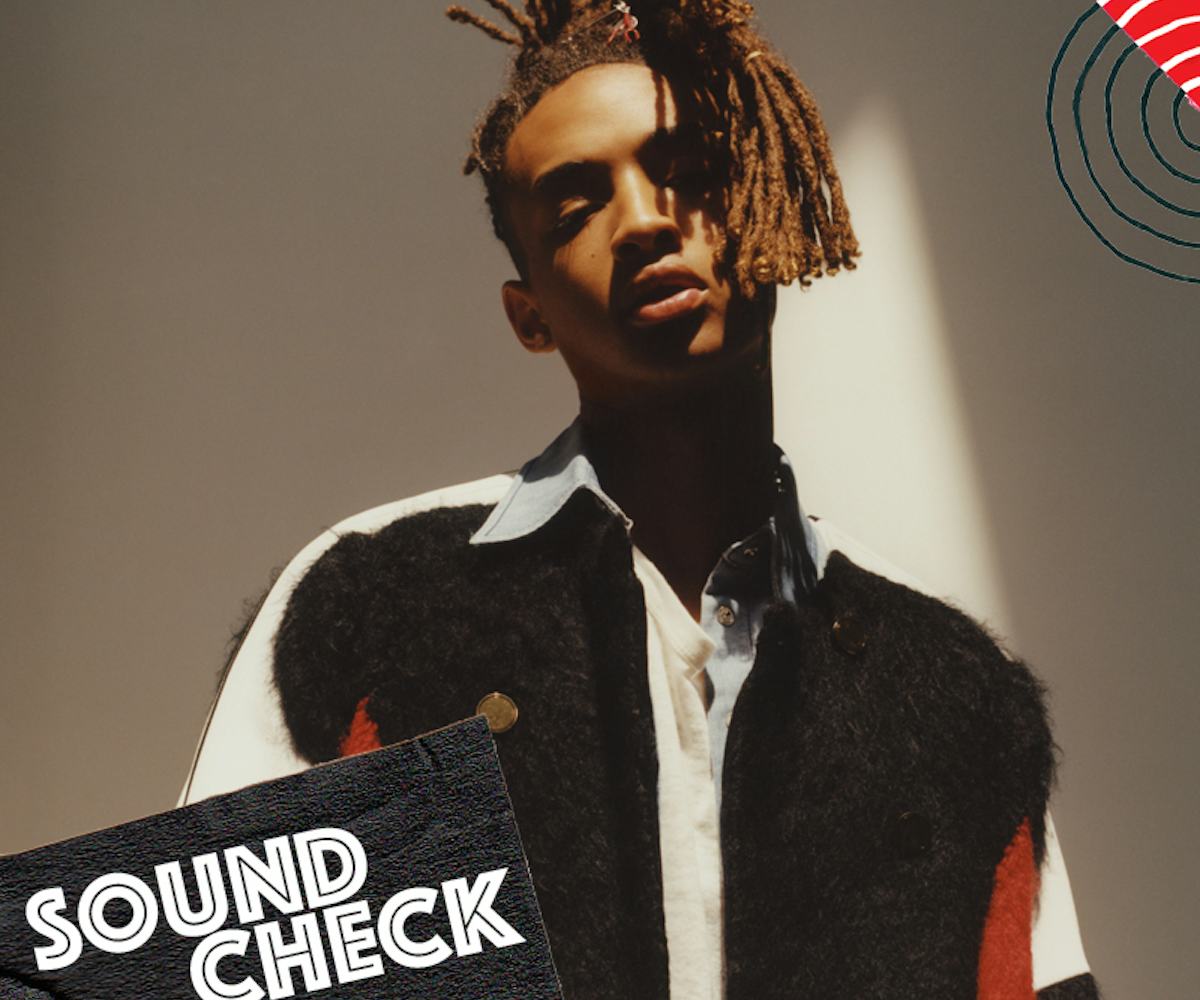 Photographed by Jesse John Jenkins; styled by Anda and Masha
Soundcheck: The 16 Best Music Releases Of The Week
Jaden Smith, The 1975, Ansel Elgort + more
Every weekend, we're bringing you #SOUNDCHECK—your new destination for the best of the best new music that hit the web over the course of the week. Because you should always be prepared when someone passes you that aux cord. This week's round features 16 of our favorite emerging and established artists including Jaden Smith, The 1975, Ansel Elgort, and so many more. Turn up, tune in, and tune out.
"LABOR V2" - Jaden Smith
First of all, congratulations to this kid for becoming a legal adult. We know that he doesn't believe in the concepts of age and time, but 18 is a pretty big deal. As for the song... with Jaden Smith, we've come to expect the unexpected. This right here is some powerful stuff. The beat is off the chain, but the lyrics will take your mind to another dimension. In the midst of his skinny jean woes, Smith reflects on the reality of these troubling times: "Just because you see the melanin doesn't mean that I'm a felon, I'm here to show you the intelligence / What is the bullshit you're selling them? They just want us all in jail and then they can take away our right to vote and use the free labor."
"Somebody Else" - The 1975
With this video, the band picks up where "A Change of Heart" left off. Matty Healy, as a sad clown, returns to his flat, washes off his clown makeup and changes his outfit. He shares the scene with a mute version of himself—a foreshadow of things to come. What follows is a haunting exploration of self-obsession while Healy sings of a disinterested and shallow romance. Come for the song, stay for the twist ending.
"Home Alone" - Ansel Elgort
In 2014, this Hollywood heartthrob broke out of his acting shell and introduced us all to Ansolo, his badass, EDM-making alter ego. Now, he's testing his vocal chops in the mix. "Holding a mirror up to nature, or life, is the primary way I've been writing songs," he says. "When I originally wrote the vocal for 'Home Alone,' it was doing just that. I had recently realized how stupid I was being for not being with the person I loved. If you listen to the lyrics, they aren't too complex. I missed my girlfriend and realized, 'At the end of the night when I turn off the lights and the bullshit fades away, I don't wana go home alone... or without her.'"
Entrañas - arca
Our favorite Venezuelan producer surprised us this week with a free mixtape that blends 14 tracks into a chaotic masterpiece with a run time of 25 minutes. The project's soundscapes are more like labyrinths, winding between warped electronica, breathy female vocals, and eerie sound effects. It's our first taste of the artist's forthcoming album Reverie, which drops later this year.
"Like This" - Rich the Kid feat. Jaden Smith
Before treating us with a birthday surprise, the young icon unveiled a rap cameo on Rich the Kid's newly released mixtape, Rich Forever 2. Lately, the two have been bonding on Instagram a lot, and the new track proves that they make good friends and great collaborators. The song also shows Smith experimenting with a more aggressive, trap-like sound than we've heard in his previous work.
"Happy Birthday" - Childish Major feat. Isaiah Rashad & SZA
With a name like "Happy Birthday," you'd think Childish Major would be in the mood for celebrating. But on this tune, the Atlanta-based rapper bemoans about the disappointment and damage of being let down by someone. "Yeah I got an attitude / 'Cause everybody showed up except you," he says. Before it gets too dark, SZA and Isaiah Rashad chime in on the track to turn that frown upside down. Overall, it's super catchy and the corrosive vocals perfectly contrast with the bouyant beat and hook.
"Wocky Wocky" - Nok From The Future
For his latest single, anonymous singer/rapper/producer Nok From The Future told us he wanted to create "a song as pretty as this girl I know." One listen to the charming, whimsical "Wocky Wocky," and we can almost see her. The track and accompanying video are as bizarre as they are heartwarming, combining a twinkly, downtempo beat with a storyline that involves ice cream, oversized roses, and dreamy beach views.
"New Phone Who Dis" - Casper & B. feat. Pell
Casper & B have got a message for their exes: Put down the phone. The production duo unveiled their playful "New Phone Who Dis" with New Orleans-based rapper Pell a few months ago, and now they've got a popping visual to match. Shots of the crew and their homegirls twerking their way around a parking lot are spliced between cheeky animations that cover french fries, phones with butts, and the dreaded "typing" iMessage icon. Whether you've been on the calling or receiving end of that late-night drunk dial, it's a tongue-in-cheek track we can all relate to.
"LSD" - Jamila Woods feat. Chance The Rapper
Warm, fuzzy feelings are a guarantee when rising singer Jamila Woods and Chance the Rapper link up. This track is no exception. An ode to Chicago's Lake Shore Drive, it'll evoke a sense of hometown glory within you, regardless of your area code. (And, for an added bit of nostalgia, it samples "Where I Wanna Be" by the Chicago's own Donell Jones, who was a staple in the R&B scene of the late '90s and early aughts.) 
"Show Out" - Pell (prod. by Take A Daytrip)
The last time we heard new tunes from Pell, they came from his sophomore album, LIMBO. Luckily, the experimental soul artist made a comeback this week by dropping new singles "Show Out" and "Basic Beach" on SoundCloud, just a few days shy of his Pemberton Festival show. His new Take A Daytrip-produced track features jazzy horns, a toe-tapping beat, and catchy one-liners that make us want to do just that.
"Wait" - Ryan Hemsworth feat. Keaton Henson & Mitski
This week has been overwhelming to say the least. If you've been desperately trying to free your mind, this song might help. It's a beautiful collaboration between a group of artists that have a special way of comforting you in the darkest of times. If ambience is what you seek, look no further—you have found it here. 
"Fountain of Youth" - Local Natives
Oh, to be young, wild, and free again! Forget about "adult-ing" or whatever it is you're expected to do when you grow up. Crank this song to 11 and dance like nobody's watching.
"Something To Believe In" - Young the Giant
Young the Giant hasn't been around too much since their last album Mind Over Matter dropped in 2014, so we're stoked to see them back in the swing of things. This foot-tapping, head-bobbing single has that gritty, underground club kind of feel and even comes with a hypnotic video that will have you rewatching all night. We can't wait to hit the road with Home of the Strange soon.
"Big Emblem Benz" - Father
Father takes us for a ride on the highway to hell in his newest video for booming track, "Big Emblem Benz." The Atlanta-based rapper/producer rides slow on the passenger side with Abra in a Mercedes convertible, with top down and hair blowing in the wind. We wish we looked that effortlessly cool. 
"Lion" - Kacy Hill
The flame-haired G.O.O.D. Music songstress is back, and more powerful than ever, in her first video since last year's "Foreign Fields." It's a visual treat, featuring graphics that dance around an image of Hill in front of a red house to the beat of the aggressive track. Time will tell if the lion has truly been woken up, and if we'll be treated to more of her music this year.
"Need U" - Elijah Noll
Don't you love it when a guy gets all heart-eye emoji on you? Like the title suggests, Elijah Noll croons over minimal synths and a whole lot of bass to his love. We're feeling the groove.