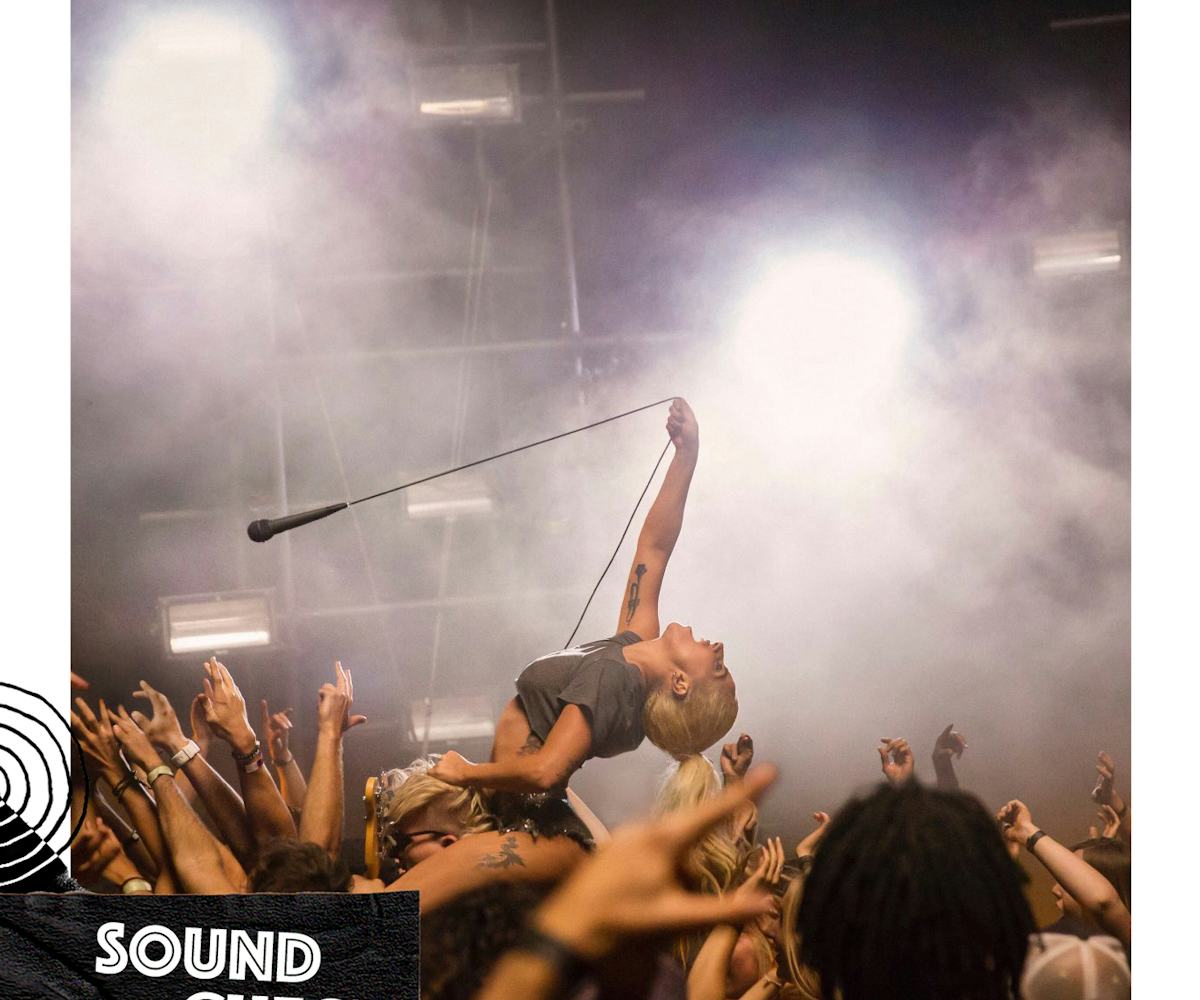 Image via Lady Gaga on Twitter
Soundcheck: The 17 Best Music Releases Of The Week
Lady Gaga, Nelly Furtado, Tove Lo + more
Every weekend, we're bringing you #SOUNDCHECK—your new destination for the best of the best new music that hit the web over the course of the week. Because you should always be prepared when someone passes you that aux cord. This week's round features 17 of our favorite emerging and established artists including Lady Gaga, Nelly Furtado, Tove Lo, and so many more. Turn up, tune in, and tune out.
"Perfect Illusion" - Lady Gaga
Lady Gaga is back, whether you like it or not. The most successful artist of the digital age dropped her long-awaited new single this week and to many's surprise, it was far from her "Just Dance" days. With the help of Mark Ronson, Kevin Parker, and BloodPop, Gaga sinks her teeth deeper into her rock 'n' roll cravings. And, well, it works. "Perfect Illusion" is a tour de force for her vocals. It combines the best of her Born This Way album with the best of ARTPOP. This is the song Lady Gaga was born to make. The era of LG5 is officially here and man, does it feel good.
"Islands Of Me" - Nelly Furtado
Woah, Nelly! She's back with a new sound and we're so here for it.
"Influence" - Tove Lo feat. Wiz Khalifa
The second taste of Tove Lo's Lady Wood era continues to push pop's resident cool girl further into the club scene. This song will bring you under the influence—no substances required.
"My Favorite Part" - Mac Miller feat. Ariana Grande
We've been waiting three long years for these two to collaborate again. Now that our prayers have finally been answered, we honestly don't know how to feel because we're so overwhelmed. The fact that they're an item IRL makes this whole thing even cuter. Mac Miller's album The Divine Feminine is out on September 16.
"Culdesac" - Merlyn Wood 
Brockhampton—our favorite "boy band" of musicians, producers, and more—continues to make waves in the industry with experimental tracks that cut deep. Merlyn Wood's latest release touches on the topic of masculinity and will leave you wanting more. 
"Champions" Freestyle - Teyana Taylor 
Teyana Taylor freestyling over Kanye West's "Champions" is the video you never knew you needed. Ever since she starred in "Fade," the versatile artist has been everywhere. For her latest venture, Taylor partnered with Sasha Samsonova for a visual that feautures a collection of amazing stop-motion photographs of her wearing nothing but gold body paint. 
"Easy to Forget" - DRUGDEALER feat. Ariel Pink 
Just before the release of his highly-anticipated debut album, The End of Comedy, DRUGDEALER lends his voice to this smooth guitar-strumming track. With collaborations from Weyes Blood and Sheer Agony, this is just a piece of what to expect. The album officially drops on September 9. 
"Table for One" - Liana Bank$ 
Lately we've been in love with everything Liana Bank$ has done, and she just released an anthem for independent women that serves as no exception. Her lyrics "always be patient with myself/ I say I love you every night" remind us that self-love is by and large the most valid and affirming kind of love there is, and the one that matters the most.
"Blood In The Cut"- K.Flay
Hell hath no fury like a woman scorned and K.Flay's raising some hell here. This track will have you tapping into your darkest desires and exorcising whatever demons you see fit.
"In Stone" - Basecamp 
Like the omnipresent approach of winter, this ultra-creepy video is dark and filled with dreary skies and eerie vibes. They say "music is the poetry of the air," and Basecamp's new tune proves that to be true. Watch as characters run from their darkness and fly free, and afterwards take our informal poll about that white dress and black sand combination. In our humble opinion, the dress is for sure ruined.
"Soy Yo" - Bomba Estéreo
Honestly, walking around New York Fashion Week as a normal person can get a little trying. The most attractive people in the world have descended upon the city, and it's easy to feel inadequate. If you're feeling this, or just need a little pick-me-up, this video from Colombian act Bomba Estéreo is a reminder that all you need to be amazing is to believe you are.
"Death Whistles" - Earl Sweatshirt feat. King Krule 
Ever since closing with it at the end of a show, we've been waiting patiently for Earl Sweatshirt to release his new song "Death Whistles," and that moment finally arrived! Turns out the track, which was released on Earl's monthly radio show "Stay Inside With Knxledge," was produced by none other than King Krule! Though a little unorthodox for sure, perhaps the track is a clue to what we should be expecting on Earl's highly anticipated album. We're waiting, Earl.
"Native Land" - KING
Experiencing some blues? Zen out for five minutes to KING's new wickedly animated video for "Native Land." Sit back and relax, submerge yourself in a trippy volcano, explore a new land, and let your imagination run wild.
"Signal" - SOHN
Day in and day out, we are afflicted with the constant pain of missing Milla Jovovich's incredible face. However, hurt no more, Jovovich is back in a self-directed music video for SOHN's latest track. 
"Without Water" - inc.
Inc. has a long, beautiful list of accomplishments, like an FKA twigs collab, and their critically-acclaimed debut album, no world, to name a couple. Now to add that their new track "Without Water"—a continued trend in the R&B community of featuring the beauty of soft gospel choir backings and piano riffs reminscent of the rumblings inside church. End your week with this absolutely beautiful song.
"Mannequin" - Yuna
Looking to be enchanted by a siren's ethereal R&B vocals? Yuna's got you. Displaying a couple who's lost their spark, the video for "Mannequin" chronicles the two, lost in love, as they dance their way back to one another, Maddie Ziegler style. The couple's heartbreaking moves, layered over lyrics like, "I am the deepest shade of jaded/ Drowning from the past, love/ Can you breathe, breathe love into me?" will surely have you reaching for the Kleenex, in the best way possible.
"Never Ever feat. Susanne Sundfør" - Röyksopp
Röyksopp can do no wrong. They're a never-ending source of aural bliss and "Never Ever" is no different. It's elated like a first love fling. Try not to shimmy your shoulders to the chorus. 
"Waste A Moment" - Kings of Leon
Caleb Followill's voice will never cease to sound sexy. The band is finally back with new music and a forthcoming album. It's just like the old days, y'all, and we cannot be any more excited.