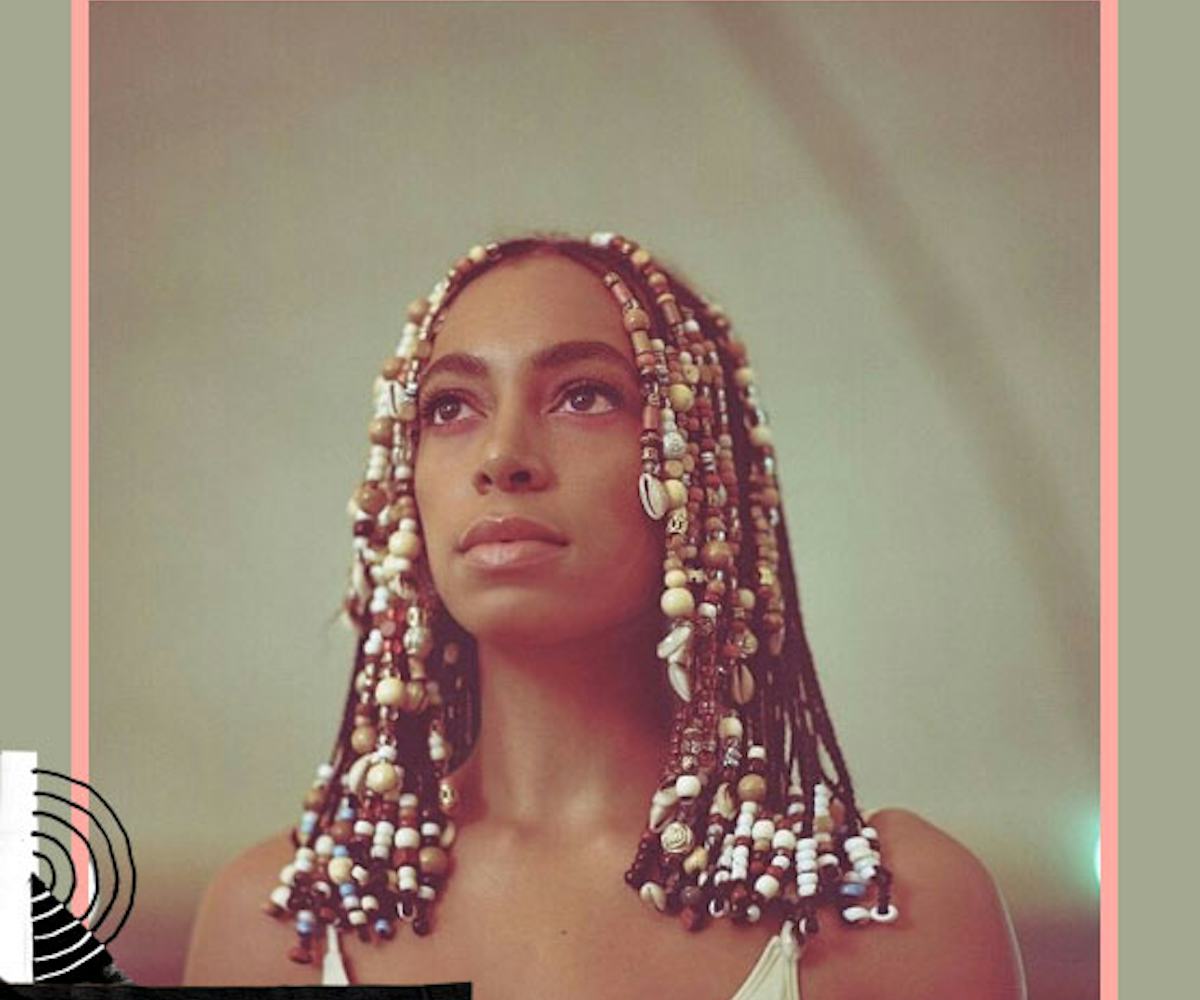 Photo by Carlota Guerrero
Soundcheck: The 30 Best Music Releases Of The Week
Solange, LIV, PARRI$ + more
Every weekend, we're bringing you #SOUNDCHECK—your new destination for the best of the best new music that hit the web over the course of the week. Because you should always be prepared when someone passes you that aux cord. This week's round features 30 of our favorite emerging and established artists including Solange, LIV, PARRI$, and so many more. Turn up, tune in, and tune out.
A Seat at the Table - Solange
This body of work has been four years in the making, and Solange is finally ready to share her masterpiece with us all. The star-studded album is boasting with guests verses by Lil Wayne, Kelly Rowland, Sampha, Kelela, and interludes courtesy of Ms. Tina Lawson, Master P, and more. Prepare to experience a magical journey of pure musical exploration surrounding "identity, empowerment, independence, grief, and healing."
"Wings of Love" - LIV
Everyone can chill now because Lykke Li is back—well, sort of. The Swedish pop singer recruited musicians Björn Yttling of Peter Bjorn and John, Andrew Wyatt and Pontus Winnberg of Miike Snow, and boyfriend Jeff Bhasker to form a supergroup that will satisfy all your folk-infused needs. This single offers a successful reincarnation of Fleetwood Mac with a setback to the '70s driven by subtle underlying pop motives. 
"FIYAH" - PARRI$
Dancer and choreographer Parris Goebel has won enough awards for a lifetime at age 24, but she's chosen to step even further into the spotlight with her recent music releases, most notably her latest single. It's one of those songs that draws you in immediately—the layered acapella vocals beginning the track are soon cut through with an electric guitar, a sound that morphs into part of a backbeat that's only matched in intensity by PARRI$'s vocal prowess. Everything from the choreography to the cinematography to the casting (there's a serious amount of representation here, featuring every kind of young person you could imagine) makes this video a full-on spectacle. No one stands out more than PARRI$ herself, though. The Samoan babe clearly turns heads in every room she walks into, whether you know who she is or not.
"Trampoline" - Kero Kero Bonito
If there's any act you should ever go to for a pick-me-up, it's Kero Kero Bonito. The latest release from the London-based trio is a particularly happy tune, sub-captioned with the lyrics "the clouds aren't so high." Considering songs produced by KKB already generally sound like the music you'd find in a Japan-exclusive video game, this track could only be described as obscenely happy.
The Altar - Banks
Banks' long awaited second album is finally here, and our bodies are ready in every sense of the phrase. For a full breakdown of the LP, check out our exclusive track-by-track from Banks herself!
"Godspeed (Remix)" - dvsn
Remixing Frank Ocean is a gamble. Frank Ocean is not necessarily someone who needs to be remixed. But on Drake's OVO Sound Radio Beats 1 show, dvsn publicly showcased that not only could they remix his track "Godspeed," they could make it something haunting and utterly their own without doing disgrace to the original version of the song. 
"Trust Nobody" - Cashmere Cat feat. Selena Gomez and Tory Lanez
Our favorite Norweigen producer linked up with some major star power for his latest single and it is ice hot. Fresh off collaborating with Ariana Grande and The Weeknd, the producer makes this unlikely pairing shine in a dancehall-inspired tune.
"All Caught Up" - GTA feat. Tinashe
Ahead of the release of their album, Good Times Ahead, GTA has teamed up with our super cover star Tinashe for a track you're definitely going to have on repeat. The album drops on October 7.
"Take Me Down" - The Pretty Reckless
Taylor Momsen's band is back from the depths of darkness with a new music video. The laid-back tune is the perfect morning song for anyone to jam and will appear on the band's upcoming album, Who You Selling For due out on October 21. 
"Running" - Abi Ocia
We're certainly (and thankfully) not short on R&B acts as of late, which makes it even more momentous when someone as stunning as Abi Ocia comes over our headphones for the first time. "Running" pulls together elements from R&B and modern electronic producing, melding them into a song that's heartbreaking, full of motion, and absolutely one of a kind.
Human Energy - Machinedrum
Machinedrum just released a new album, and each song is so different from the next that you won't be able to define it in one specific sound or genre. This also means you definitely 100 percent won't get bored. Plus, if his kickass energetic producing doesn't do it for you, we're certain that within the vast number of features on the album, you'll be able to find at least one thing that's for you. 
"Not Nice" - PARTYNEXTDOOR
Not only did PARTYNEXTDOOR just release the dates for his fall headlining tour (aptly titled "Summer's Over"), but he's bringing Jeremih along with him as support. If that's not enough to get you excited, maybe this dope video will. If summer is truly over, you certainly can't tell based on this.
"Hesitate" - Richie Quake
Along with R&B making a comeback, predictably, R&B-based dance pop is making a comeback as well. Richie Quake is one of the more recent in a long line of artists adopting this combination of new and old styles, putting together clubby anthems including his recent "Hesitate." "Hesitate" is a love-y, sexed-up tune as is typical of the genre, projecting every "hitting it off with a stranger in a club" feeling you can imagine. 
"You're the One" - Kaytranada feat. Syd
This Montreal-based producer's groovy single finally got a visual and it will take you straight back to good old days of the '90s. The visual is inspired by Coming to America, Nintendo, and so many other retro gems. 
"Bad Tendencies" - Theo Martins
This track delivers a major dose of positive energy. Rapping about his hometown and family life, Martins wraps up the chorus of this song with a solid piece of advice: "Don't focus on the wrong energy." We hear you, Theo.
"Can't Tell Me Nothing" (Salva remix) - Nick Hooks feat. Novelist
Novelist's powerful vocals now lay on top of beats that sound as if they came straight out of a mid '00s video game. The juxtaposition totally works, resulting in a dance-based and angry track perfect for the gym.
"Chill Out" - RAY BLK feat. SG Lewis
Cracking the American music scene is no easy task, but with this dreamy and chill R&B track, it looks like this Londoner is on her way to doing just that.
"I Did" - Bonzai
Ahead of the release of her forthcoming Lunacy EP, Bonzai has unveiled this synth-heavy track. If you want to hear more (which you should), mark your calendar for October 28.
"Meteorite" - Years & Years
Come through with those disco vibes, Years & Years! Yes!
"Hurricane" - Laurel
You have to watch this cool stop-motion video for Laurel's self-reflective track, "Hurricane." The British singer's PARK EP is expected to be released this November, and we can barely contain ourselves.
"Low Key" - Vanessa White feat. Illa J
Prepare to have this track on repeat all day. The R&B singer unveiled her Chloe Martini-produced song along with an announcement of her new Chapter 2 EP, due out later this year. 
"Stars in Motion" - The Landing
You can now step into a sci-fi inspired universe thanks to The Landing. With retro vibes and a nod to James Bond, get ready to be transported to another time. 
"Ballin" - Bibi Bourelly
Our fave global star talks through the roughest day ever—she got fired from Old Navy, has to sleep on an old couch, and has to walk 50 miles to her apartment amongst other unforutunate events. At the end of the day though, she's still ballin'. 
"Love$ick" - Mura Masa feat. A$AP Rocky
Ahead of a new album scheduled to be released in 2017, U.K. producer Mura Masa has collaborated with A$AP Rocky for a tropical-electro take on a lovelorn individual.
"Empthy" - Vhvl
Listen to the Harlem-based producer's super relaxing single. It's the perfect if you're looking to get into your chill zone. 
"Darkest Hour" - Charlotte OC
This video doesn't only reveal this U.K.-based singer's penchant for visually appealing performance art, it reveals her penchant for injecting soul into modern-day pop ballads.
"Sweet" - Azad
Rapper Azad dropped this chill track as a little sneak peek into his A Very Emotional EP, which drops on October 26. Download the track for free here!
"Pretty Girl" - Hayley Kiyoko
The dark undertones of Hayley Kiyoko's latest single off her brand-new 
make this vibey track a sensual escape. It's not often you see someone you think is pretty and actually tell them so. This song will make you act on it. Live that fantasy, girl.
"The Runners" - The Naked and Famous
If you've been feeling overwhelmed by adulthood and want to escape, this song will take you back to those precious pop-punk days that were fundamental in your middle school years.
"Lost (HONNE Remix)" - The Temper Trap
Be still our hearts! Two of our favorite groups together in one song? We must've been good. HONNE spins The Temper Trap into a bright, swirling aural confection that is nothing short of sublime.