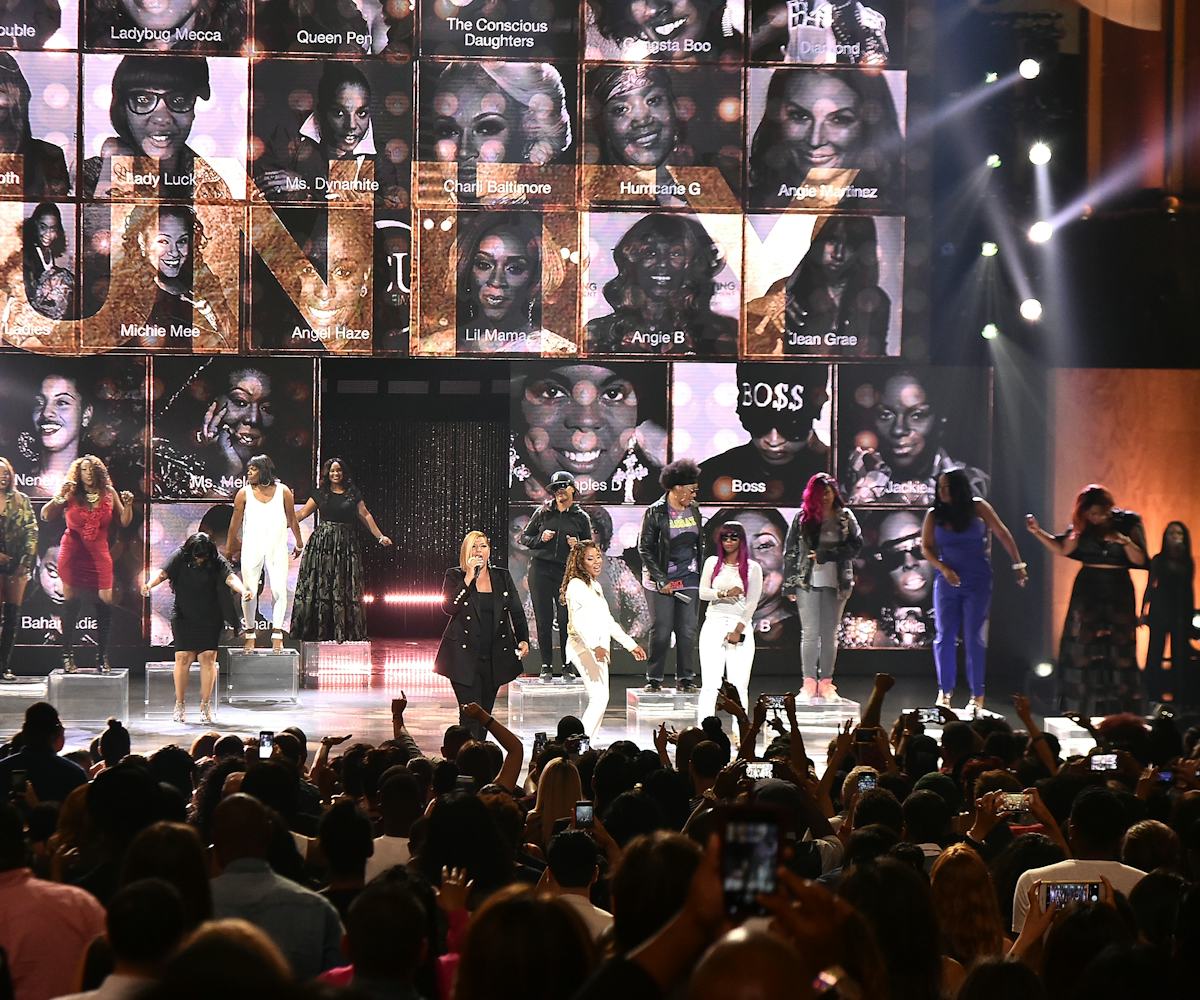 Photo by Theo Wargo / Getty Images
The 6 Most Inspiring Moments From The VH1 Hip-Hop Honors
Last night, after a six-year hiatus, VH1 returned to stage with their Hip-Hop Honors Awards to highlight "female pioneers, trailblazers, and trendsetters" who made their voices heard within the primarily male-dominated genre.
All rivalries aside—Faith Evans just couldn't leave the past behind—artists like Queen Latifah, Lil' Kim, Missy Elliott, and Salt-N-Pepa gathered at David Geffen Hall in New York City to celebrate each other's accomplishments. 
Given that Lil' Kim was being honored on her actual birthday, the ceremony was extra special. The performances were also mind-blowing, each in their own right, but the speeches were what really took it home. Overall, "All Hail the Queens" was a huge success and we hope to see more events like this held in the not-so-distant future.
We picked six of the most inspiring moments from the ceremony. Check them out on the pages to follow, below.
Black Lives Matter co-founders opening the show
VH1 jumped right into the importance of the movement by having Alicia Garza and Darnell Moore speak their truth at the start of the program. "In challenging times, our music heals us, unites us and uplifts us," said Moore. "Black activists are fighting to create a world where all forms of violence—in Baton Rouge, in Minneapolis, in Dallas—are no more. A world where Sandra Bland, Alton Sterling, Philander Castile might still be alive."
Common's dedication to women in the #BlackLivesMatter community
The MC took a moment to honor all of the women on the frontlines in the ongoing fight for social justice. "I'm also talking about everyday women," he said. "Black women, we see you, we love you, we are with you, and we believe in your leadership." At the end, he asked Queen Latifah to be our president, and we fully support the request.
Michelle Obama's speech about Missy Elliott and Queen Latifah
When FLOTUS grabs the mic, you know it's about to get real. Even though this was a pre-recorded video, her words still had a powerful effect. During the speech, Michelle Obama congratulated the icons for their music, activism, and support of the Let Girls Learn initiative to empower young women across the globe.
Queen Latifah's acceptance speech
She was almost at a loss for words as she talked through some of the highlights throughout her career. She also touched on the racial tension that has been building in the U.S., something that has been on everyone's minds lately. "Listen, we all know that the world, and our world, is really tense right now. There's a lot of tension, a lot of angst, a lot of hurt, a lot of pain. I'm hoping that we can somehow manage to channel all of these emotions that we have in a positive way," she said. "If I go outside and try to hail a cab and he passes me for the white woman standing right there, that racism is still alive and kicking. And we have to change that." As someone who continues to make an impact, we couldn't be more proud of her. Congratulations!
Missy Elliott's acceptance speech
As soon as she dedicated her award to Aaliyah, it was game over; it was an emotional moment, to say the least. "These women inspire me," Elliott also said of her fellow female artists. "These are my sisters. We talk on the phone, we go to each other's houses... It's real." 
Teyana Taylor's tribute to Lil' Kim
Lil Mama, French Montana, and Dej Loaf were also a part of the performance, but Taylor really stole the show as she fully embodied the queen. The artists covered the rapper's biggest hits like "Crush On You," "No Time," and "All About The Benjamins."