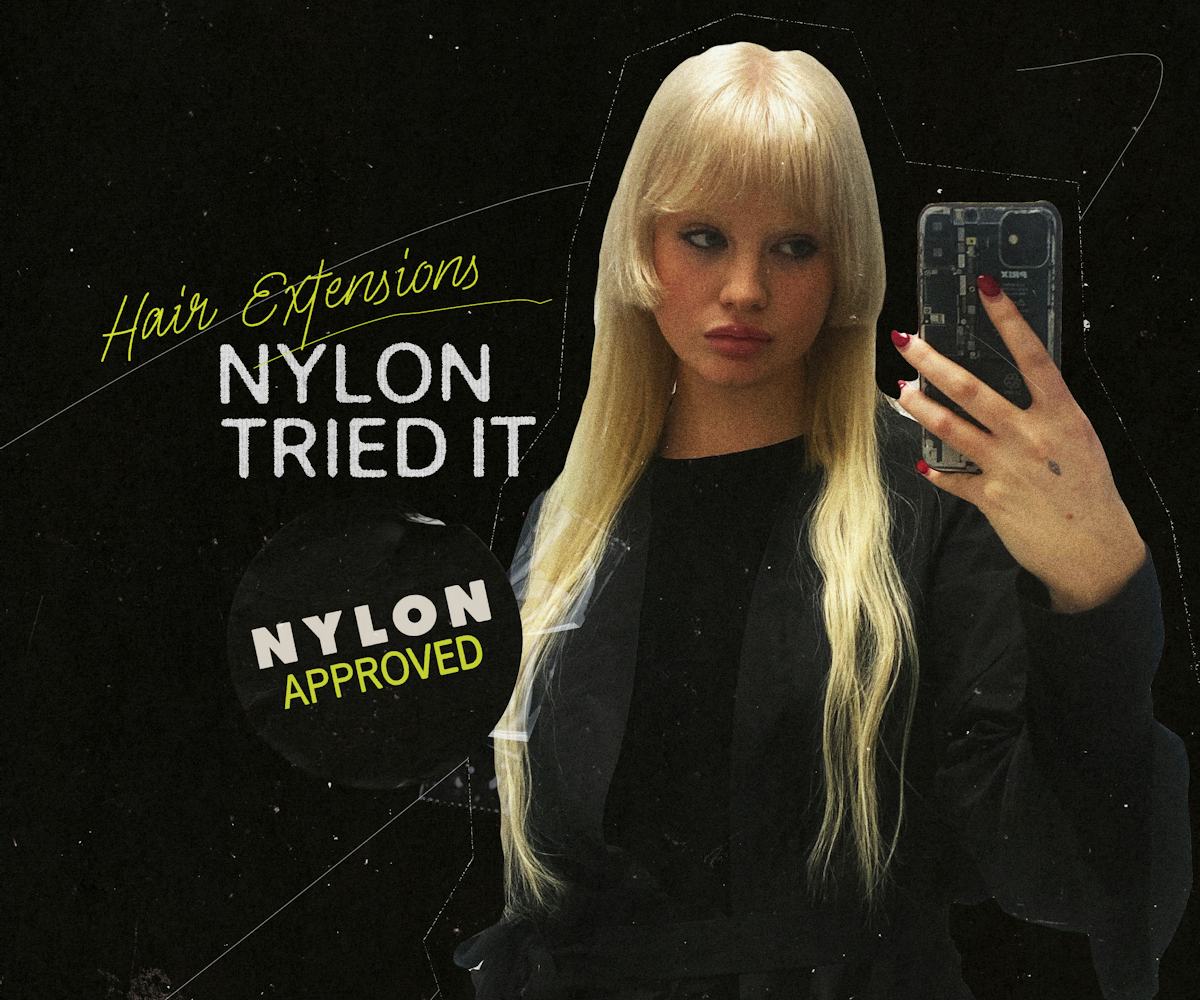 Hand-Tied Extensions Gave Me The Mermaid Hair Of My Dreams
Ever since I first bleached my hair when I was 15 years old, I had heard the same thing from every hairdresser. They said, "you can have platinum blonde hair or you can have long hair—but not both". Almost 14 years later and no lies were told. Whenever I have tried to grow my bleached hair out, breakage combined with my fine hair genetics (thanks mom) meant my ends always looked scraggly. For years, I had all but accepted my fate of shoulder-length hair. In fact, I always prided myself on knowing hair's range and limits. Would I ever look like a Bond movie girl, slicking my long hair back while emerging from the water? No. But I can pull off a shaggy cut quite nicely and simply lean into the hair damage. My platinum blonde mermaid-length hair dreams were over— until I realized that long-term hair extensions exist.
After discovering that a couple of my ultra-long-haired friends weren't just genetically blessed, but also blessed by a range of long-term hair extensions, and coveting the ultra-long extensions on the NYFW runway this past season, my search for the right ones for my hair began. While there are many types of hair extensions and applications (from tape-in, clip-in, bonded, to halo hair extensions), I landed on Voël Hair Studio's hand-tied hair extensions because they're made specifically for fine to medium hair. It seemed like an easy one-way ticket to the butt-length hair of my dreams. I confirmed my appointment immediately.
Fast facts on Voël hand-tied hair extensions:
Color range: 9 natural shades
Available extension lengths: 14, 16, or 18-inch lengths
Best for: Fine to medium hair
Cost: Pricing starts at $475 and goes up to $2500 (including the purchase of hair)
How are they attached? Voël hair extensions use a microbead system to attach the extensions to your natural hair. They do not use glue, heat, or adhesives.
Installation time: Ranges from 20 minutes - 2 hours, depending on amount and length of hair
How long do they last? 6-12 weeks
How to prepare for extension installation:
A few days before my appointment, my regular hairdresser touched up my roots, so that the application could be as seamless as possible. For those with colored hair like me, you'll want to make sure you arrive at your extensions appointment with not only fresh roots but also the color you'd like to be for the next couple of months. Kim Gueldner, hair stylist and Voël Hair Studio founder, informed me that my regular hairdresser can always tone my extensions to further match my hair color, but I felt the color match was close enough, there was no need.
I washed my hair the previous day (thinking dirtier hair would be preferred, similar to bleaching), however, I soon learned that it's best to arrive at your appointment with freshly cleaned hair, instead. Kim Gueldner, hair stylist and Voël Hair Studio founder, washed my hair and then, after a fresh blowout, began to install the extensions working from bottom layers of my hair towards the top layers. I'd sent her a photo of my current hair color a week prior, so the extensions were ready and waiting for me once I arrived. The application process simply felt like some light pressure on my hair, while I sipped away at my sparkling water and answered some emails.
Kim Shui FW2023Fernanda Calfat/Getty Images Entertainment/Getty Images
Kim Shui FW2023WWD/Penske Media/Getty Images
How long does extension installation take?
At the beginning of my appointment, during the initial consultation, I asked Gueldner if we can install the longest possible extensions, which is 20 inches. While Voël Hair Studio often has clients looking for a natural-looking volume boost, I wanted my results to be as dramatic as possible. Because of this, the entire installation process took almost an hour longer than my 90-minute appointment slot. For less length, however, new extensions usually take around 45-60 minutes to install. The final step of the installation required blending my shaggy natural hair with my miraculous 20-inch hair growth. My cut from Gueldner played on the half-mullet I already had and only took 15 minutes at the end of my appointment.
Hair extension maintenance:
During my installation, my Gueldner talked me through maintenance tips for keeping my extensions looking as good as they the day they were installed. She said, you're still able to brush your hair whenever you like, but want to avoid pulling the brush too hard at your roots as it may damage the beads. You also only need to make a slight adjustment when showering, steering clear of vigorously rubbing your hands in circles at the roots or conditioning the top of your head (which can cause slipping). Otherwise, you'll want to take care of the hair as if it's your own — adding hair oil to the ends and using hairdryers and heated irons as you please.
The results:
AfterCourtesy Laura Pitcher
Before
I left my appointment feeling like a new person. In mere hours I'd gone from Bianca Stratford's cute, short layered cut in 10 Things I Hate About You to her sister Kat's super long strands—and I was loving my 1999 Julia Stiles' waist-length hair. Since I'd never had hair this long in my life, it took a few hours before I wasn't scared that my new hair would get caught in my hoodie or behind me at my desk. The extensions themselves are super light and didn't noticeably feel different than my natural hair on my head. The reality of extreme length maintenance only hit me hours later, when I had to delicately braid my hair before bed as a precaution against tangles. (I also was sure to sleep on a silk pillow case, for similar reasons.) It hit me again two days later when I had to wash my new hair for the first time, carefully making sure not to rub my head in circular motions.
Over the first few days, I did experience some itchiness—which I only made worse by giving in to the scratching. I had to remind myself that Gueldner explained how extensions get more comfortable as you wear them and as they grow further away from your scalp. I had moments I wanted to rip out my new hair so that I could give myself a scalp massage, but these concerns were long gone by the end of the first week. That's how long it took for my mindset to shift from thinking of my hair extensions as alien objects latched onto me, to feeling like my own hair. I started showering with ease and even enjoying my night-time braiding routine.
One of the biggest pre-extension concerns was that I would need to straighten my natural hair every day to pull them off. As someone with naturally wavy and short, shaggy hair, I'm used to hopping out of the shower, applying some hair oil, and letting my hair air dry on the go. So, Gueldner was sure to keep my hair texture in mind when choosing the hair for my extensions. I was pleasantly surprised to see, post washing, the texture of the extensions looked much more similar to my hair after air drying than I had imagined. Now, I simply straighten a few of my natural hair ends at the back of my hair, to better blend into the extensions' wave. The upkeep is slightly more high maintenance than my previously almost no-maintenance hair, but that's the price you pay for that editorial, extra-long hair look.
The final verdict:
As a newbie to the long hair game, there's no denying that waking up with extreme length overnight took some getting used to. It did, however, allow me to try out the drastic change I've always wanted. Without extensions it would take years—if it would even be possible—to achieve the same length. After many compliments from friends and a slight change in wardrobe (I haven't been feeling the urge to wear jewelry as my hair feels like an accessory on its own), I now feel at home in my long hair and will enjoy to showing it off for the next eight weeks or so, which is within the normal range for the extensions to last. After that, I think I'll be a special occasions hair extensions girlie, rather than a bi-monthly one. I've come to appreciate that for me, long hair is here for a good time, not for a long time. Lucky for me, Gueldner even kindly offered to turn my extensions into clip-ins, so that I can relive this era whenever I please.