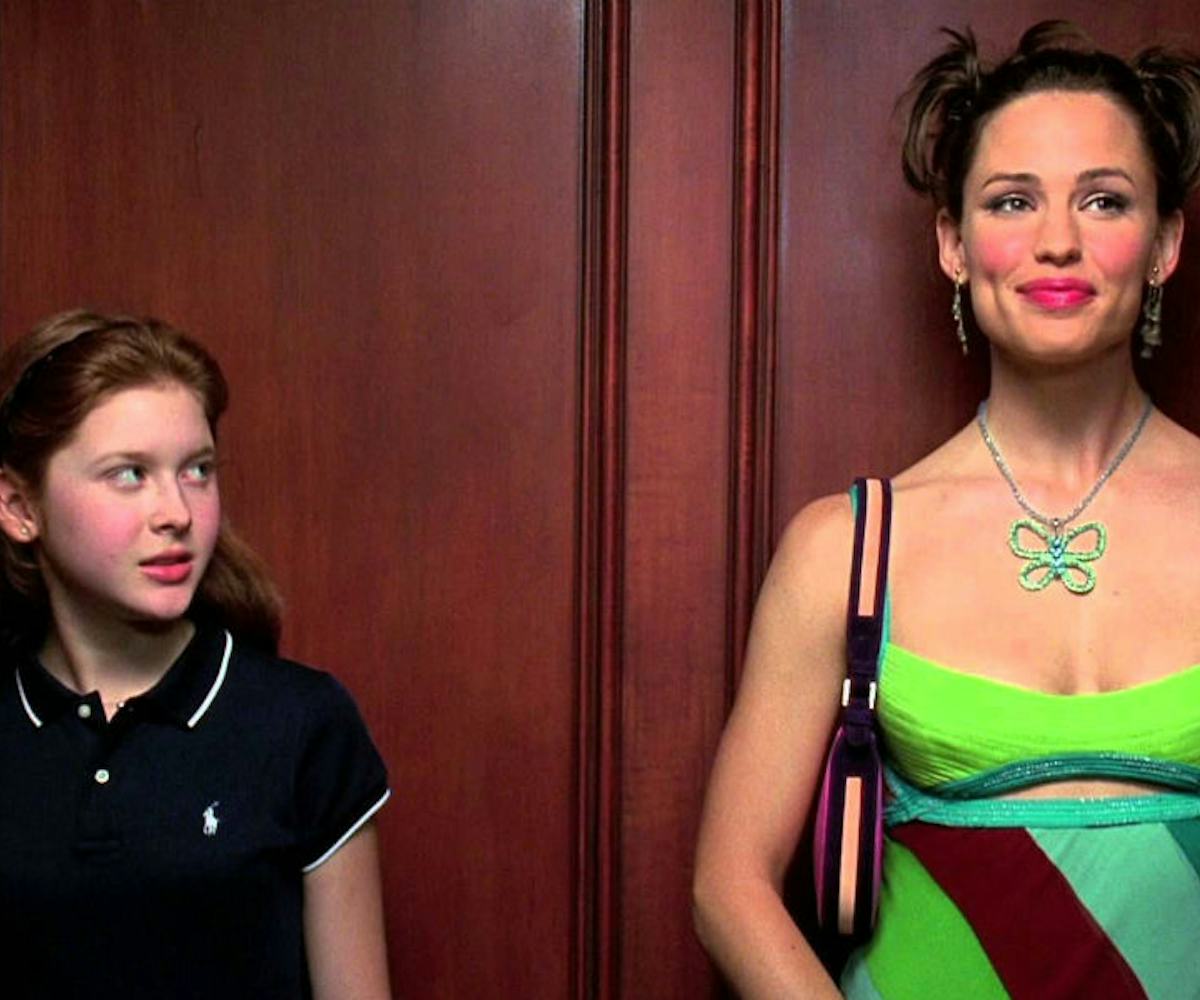 Can We Talk About The Excellent Fashion In '13 Going On 30'?
It's a reminder never to lose a childlike sense of wonder when getting dressed
In Look Back at It, we revisit pop culture gems of the past and see if they're still relevant and worthy of their designated icon status in our now wildly different world.
Carrie Bradshaw was the catalyst for some women to want to work in the magazine industry (or How To Lose A Guy In 10 Days for others). But, for me, Jennifer Garner's Jenna Rink, the editor at fictional fashion magazine Poise, was that person. Oh, not the mean, adult version of Jenna, the one who stabs people in the back and screens calls from her mom; rather, it was the Jenna who not only knew how to get a work party started but also was aware of the power of an artfully placed ribbon.
There are a lot of body-switch movies out there, and 13 Going on 30is kind of like Little, only the exact opposite. Instead of shrinking down, Garner sprouts up, transforming into a high school teenager stuck in an adult's body. And though her actions and reactions partially give her away, it's through her loud, early-'00s outfits that we get a sense of the true identity crisis she's undergoing. As she adjusts to her new life as a magazine editor and comes to grips with the fact that she's, well, a horrible person, her clothes become a way for her to still hold on to the teenager inside; the one who doesn't take herself too seriously and makes wearing a slip—not a slip dress—to work look chic, even if it was an accident.
It wasn't just the slip dress though, that made me take notice. In fact, it was so many of Jenna's other, intentional fashion choices in the film: the iconic rainbow dress, the floral-printed tops, the shrunken sweaters. There was even the way Jenna lets her belly hang out in crop tops—most 30-year-old women would never, but Jenna does. This is because Jenna's girlish teenage nature becomes the way she sees the world and the way she presents herself and walks through it. She dresses how teenage Jenna thinks an adult should dress, and that makes for fashion moments worth remembering.
This attitude becomes clear when Jenna is eventually presenting her redesign of the new Poise to her coworkers and says this line: "I think all of us wanna feel something that we've forgotten or turned our backs on. Because maybe we didn't realize how much we were leaving behind. We need to remember what used to be good."
And that can be hard to do as an adult. It's easy to become jaded and bitter and caught up in the minutiae of everyday life. This is why 13 Going On 30 is an important reminder to hold on to that sense of childlike wonder—whether that be in your career, relationships, or even just while getting dressed in the morning.
As someone who's on the brink of entering into the 30, flirty, and thriving club, I also want to remember what it's like to be 13, nerdy, and carefree.