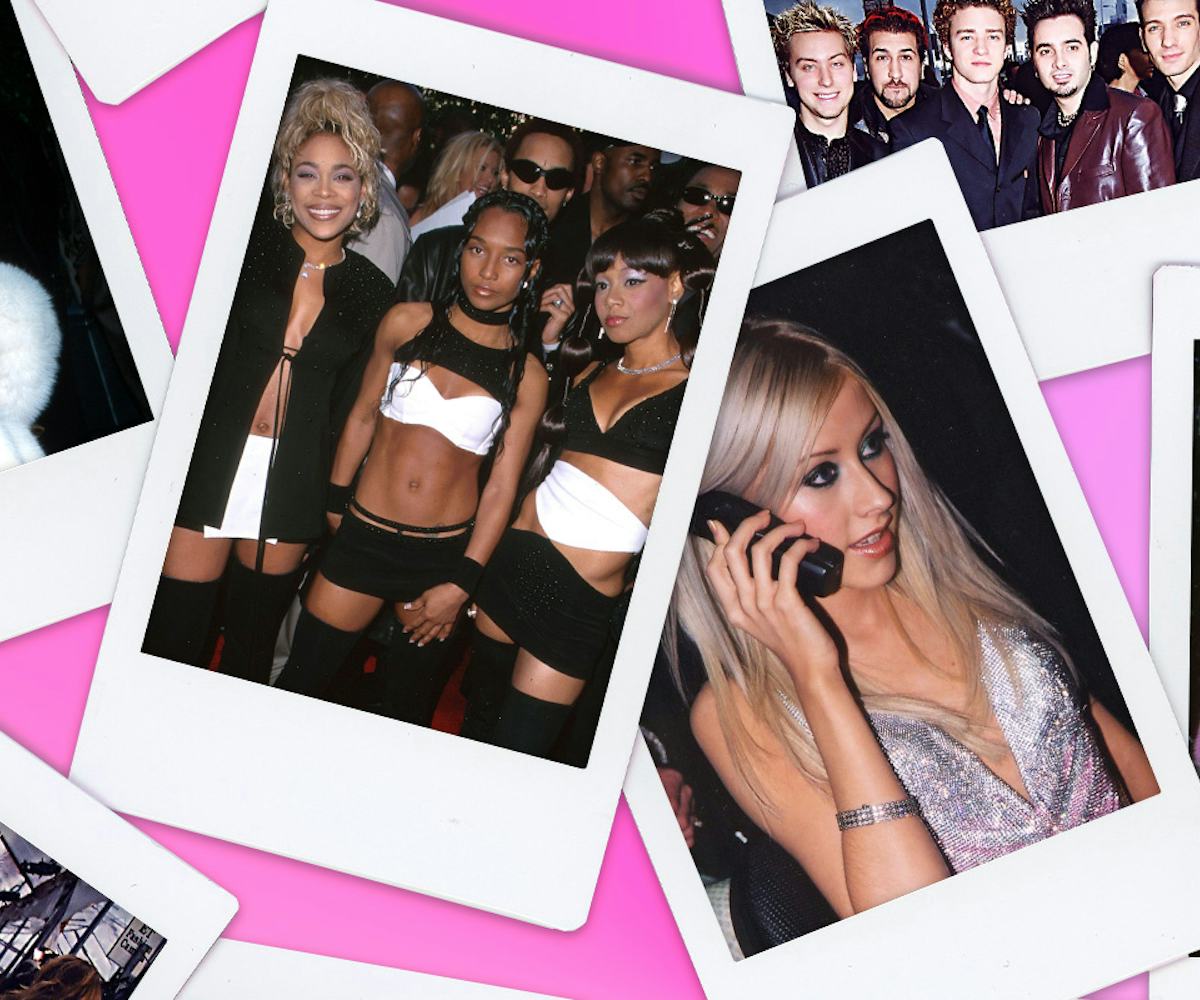 Photos by KMazur/Getty Images, Steve Granitz/Getty Images, Jeff Kravitz/Getty Images
21 Fashion Moments From The 2000 Grammys That Aren't Jennifer Lopez's Dress
Missy Elliott's purple suit! Christina Aguilera's silver dress! Britney Spears' white gown and matching fur stole!
While the 2000 Grammy Awards red carpet is mostly known for the appearance of Jennifer Lopez's now-iconic jungle-print Versace dress — which inspired the invention of Google Images and made its modern-day comeback during Milan Fashion Week in 2019— there's so, so much more to the annual ceremony's memorable fashion moments. Let's reminisce for a moment, shall we?
For starters, pop singer Christina Aguilera donned a Versace dress of her own, which channeled peak 2000s style with a sparkling butterfly motif. There was also Britney Spears in a Marilyn Monroe-inspired outfit comprised of a white gown and matching fur stole. This particular ensemble appeared to be a trend throughout the evening, as both Whitney Houston and Mary J. Blige wore very similar looks. Plus, Missy Elliott made a statement in a purple suit that, upon closer inspection, is adorned with razor blades. TLC and Destiny's Child played into the girl group aesthetic with matching looks, while each boy band member of NSYNC stylishly stood out on their own. (Backstreet Boys were nowhere to be found that night, but BSB-adjacent, pre-teen Aaron Carter made an appearance in a white tux.) And there was a young Zoë Kravitz in attendance, too, alongside her father Lenny, dressed in what we can only describe as an early prediction of the Yee-Haw fashion movement. The "Big Little Lies" and "High Fidelity" star was always a trendsetter, even at the age of 11 years old.
While we'd love to delve further into the best fashion moments from the 2000 Grammys beyond Lopez's famous dress, we think it's best for you to see everything else for yourself. Check out all of the standout red carpet looks, below.
Wearing a purple suit embellished with razor blades (!) is probably the most baller red carpet outfit of all time. And leave it to a visionary like Missy Elliott to pull off the look.
Destiny's Child fulfilled their girl-group fashion duties with matching ensembles comprised of a nude palette, lace, and eye-catching beadwork.
A then-12-year-old Aaron Carter wore an all-white tuxedo for his Grammy Awards red carpet moment, complete with a gold watch accent.
Britney Spears graced the red carpet in a white Randolph Duke gown and a matching Oscar de la Renta fur stole. But this high-glamour look was only the beginning of her memorable 2000 Grammys experience, as she wowed the audience with a live performance of her hit singles "From The Bottom Of My Broken Heart" and "...Baby One More Time."
Christina Aguilera, who took home an award for Best New Artist, is peak 2000s in her butterfly-adorned, asymmetrical silver dress from Versace, which she paired with pink embellished heels. Early aughts in a bottle, baby.
If you're not familiar with Canadian jazz pianist and singer Diana Krall's work, then you're most definitely familiar with her 2000 Grammys outfit. This entire look, from the snakeskin-print pants to the long leather coat, could easily be spotted on celebrities and influencers in 2020.
We love a preppy tailored moment. Lauryn Hill, who presented the Album of the Year award and was nominated for Best Pop Collaboration with Vocals (and made history the year prior for winning five awards out of 10 nominations), paired a white suit with a classic striped polo shirt.
Erykah Badu, who won an award for Best Rap Performance by a Duo or Group alongside The Roots for their single "You Got Me," chose a green-and-yellow color palette with a wrap sweater top and a striped skirt.
Dixie Chicks had quite the eventful 2000 Grammys: The trio brought home two awards in addition to performing live. For the red carpet, each member tapped into their own personal style for three complementary, but still uniquely distinct, evening looks.
Lou Bega — of "Mambo No. 5" fame — in a pinstripe suit! That's it. That's the photo caption.
Macy Gray is known for great statement outerwear, so it's no surprise she showed up to the 2000 Grammy Awards wearing a vintage-like coat in cobalt blue suede with fur trim.
Lenny Kravitz opted for a short textured leather jacket (sans shirt) and wide-leg trousers. Plus, it seems like a young Zoë Kravitz was way ahead of the Yee-Haw Agenda at only 11 years old. (Peep her "tattoo" choker, too!)
Of course Kid Rock went for a suit with a fur coat — an outfit choice that he turns to time and time again throughout his career.
The theme for Monica's Grammys outfit was all about leather and grommets, which she pulled off in a head-to-toe biker-style look.
Unlike other music group appearances, the members of NSYNC almost always wore whatever they individually wanted on the red carpet; such was the case for the 2000 Grammys.
While Britney Spears' gown-and-fur-stole outfit was a snowy white, Mary J. Blige sported a similar look in a pretty (and punchy) pink.
Ozzy Osbourne wore a very Ozzy Osbourne outfit to the 2000 Grammy Awards: leather, colored shades, and plenty of accessories.
The Garbage lead singer channeled a school-girl vibe with a punk-rock twist, thanks to her fishnet tights and a bold red lip.
Sisqo unleashed the dragon on the 2000 Grammys red carpet with an all-red-and-studded-leather look featuring his favorite mythical monster motif. Also, want to feel old? "Thong Song" is 21 years old.
TLC kept it simple with a minimal black-and-white color palette, complete with Chili's signature six-pack abs.
Another gown and fur stole for the 2000 Grammys. This time from Whitney Houston, who performed "It's Not Right But It's Okay" live and took home the Best Female R&B Vocal Performance award for same hit song.