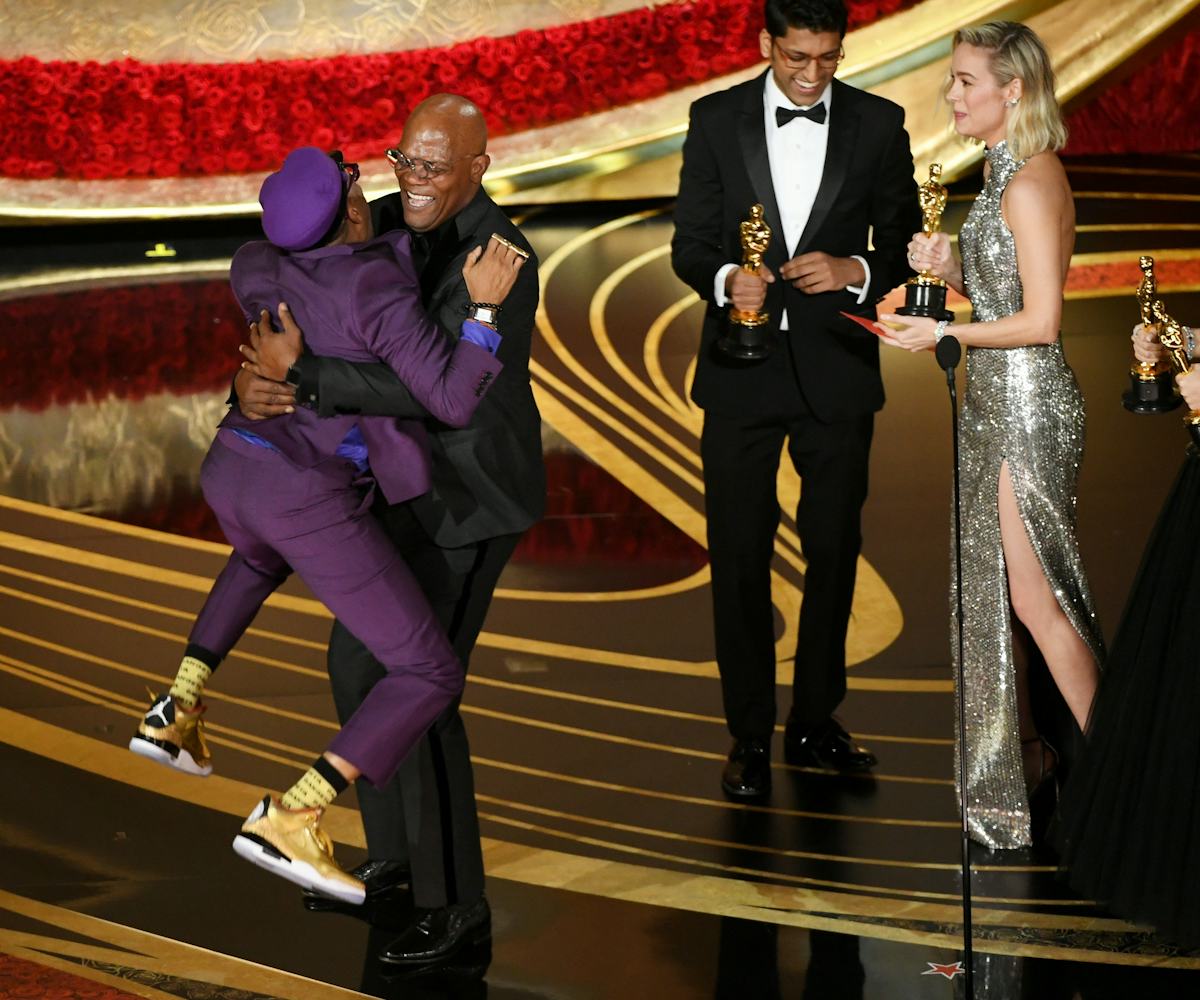 Photo by Kevin Winter / Getty Images.
The 2019 Oscar Moments We're Still Not Over
The biggest upsets, surprises, and WTF moments
The Oscars happened last night, bringing award season to an official close, and the biggest night in Hollywood turned out to be more entertaining than I expected it to be. This could be because the weight wasn't on a singular host to carry the entire show; or because a record number of women and people of color took home awards. It wasn't perfect by any means, but it could have been way worse.
Here are the moments I can't stop thinking about from the 91st Academy Awards.
Billy Porter 
Before anyone else had a chance to show up to the Oscars, Billy Porter had won best dressed. I stand by that. He wore a custom Christian Siriano tuxedo dress, upstaging the cape he wore to this year's Golden Globes. He left wigs snatched and jaws on the floor. He would later have to remove the gown portion so that he could move to various spots to do red carpet coverage for the event. His questions were insightful and he started most of his outfit commentary with "The category is…," a reference to queer ballroom culture and the FX series POSE, in which he stars. Ryan Seacrest could never, and I want Porter at every award show—effective immediately.
Maya Rudolph, Tina Fey, and Amy Poehler's opener
The Oscars decided to go host-less this year, but that was just fine, because Maya Rudolph, Tina Fey, and Amy Poehler did double duties as presenters of Best Supporting Actress and official show openers. They made fun of the Academy for changing its mind about commercial break award presentations, the much-maligned popular movie category, and the decision not to have a host; Fey said, "We are not your hosts, but we're going to stand here a little too long so that the people who get USA Today tomorrow will think that we hosted."
Melissa McCarthy and Brian Tyree Henry's Best Presenter Outfits
To present the Best Costume Design award, Melissa McCarthy and Brian Tyree Henry wore outfits that incorporated bits from every movie nominated for this year's award. McCarthy wore the bunnies from The Favourite, as well as a wig that paid homage to Mary, Queen of Scots. Henry also wore a dress, but favored the aesthetic of Mary Poppins, though his face was illuminated with tribal face paint similar to that seen in Black Panther; he also spent a good chunk of time trying to keep his Killmonger-esque bangs out of his face.
Ruth E. Carter and Hannah Beachler's Wins
Black Panther is officially an Oscar-winning move—the first for Marvel studios—and it's all thanks to some Black Girl Magic. Ruth E. Carter and Hannah Beachler became the first-ever Black Oscar winners for Costume Design and Production Design, respectively.
Lady Gaga and Bradley Cooper's Charged Performance Of "Shallow"
Lady Gaga and Bradley Cooper are still in character as Ally and Jackson Maine, their characters in A Star Is Born. Their performance of "Shallow" at the Oscars was beautiful and understated. They just rose from their seats in the audience and walked on stage to a waiting piano. Gaga sang for her life, and so did Cooper. But the body language and eye contact between them simulated a kind of sexual chemistry that was bold and electrifying enough to win its own Oscar.
Spike Lee finally winning an Oscar
In a full circle moment, Samuel Jackson, who got his start in several of Spike Lee's early films in the '80s, got to return the favor and give Lee his first Oscar. Lee was one of four writers credited under Best Adapted Screenplay for Blackkklansman. Overwhelmed with emotion that his moment had finally come, Lee leaped into Jackson's arms, dropped an F-bomb, and reminded everyone to do the right thing, and vote Trump out of office.
Olivia Colman's Best Actress acceptance speech
Last night someone tweeted that they would rather die than win an award over Glenn Close. Olivia Colman felt that. Most critics thought Close was sure to win the Academy Award after four nominations over the course of her career and no wins. Even in the off-chance that Close didn't take home Best Actress, many people considered Lady Gaga to be the next in line for a win. I think Olivia Colman was one of those people, too. Even she seemed shocked when they announced her name. As she tried to collect herself in order to deliver the speech, Colman described the moment as "genuinely quite stressful" and "hilarious." Then, in a particularly honest moment, she addressed Close directly: "You've been my idol for so long, and this is not how I wanted it to be."
'Green Book' winning Best Picture
One of the night's biggest and most disappointing surprises came when Green Book, a film mired in controversy, won Best Picture. In his acceptance speech, producer Jim Burke said, "We made this film with love, and we made it with tenderness, and we made it with respect." Okay, but also Green Book was made by a bunch of white dudes to tell the story of a prominent Black musician experiencing racism in segregated American South, and it shows. Dr. Don Shirley's family has contested how the classical pianist's life and his friendship with his driver, Tony Vallelonga, were portrayed. Further, the film grossly oversimplified the impact of racism and offered a reductive "solution" to a complex, systemic problem. And to make things even worse, Green Book's screenwriter Nick Vallelonga, the son of Tony Vallelonga, was found out to have written anti-Muslim tweets in 2015; he has since apologized for them. And star Viggo Mortensen also had to apologize, for using the N-word during a panel discussion about the film.
So while Mahershala Ali's performance was absolutely deserving of his Supporting Actor award and it's great that Octavia Spencer was brought on to executive produce so that the whole thing wasn't run entirely by white men, their roles in bringing Green Book to life don't negate glaring problems with it.
No wonder Spike Lee almost walked out when its win was announced, and then turned his back to the stage during the acceptance speech.