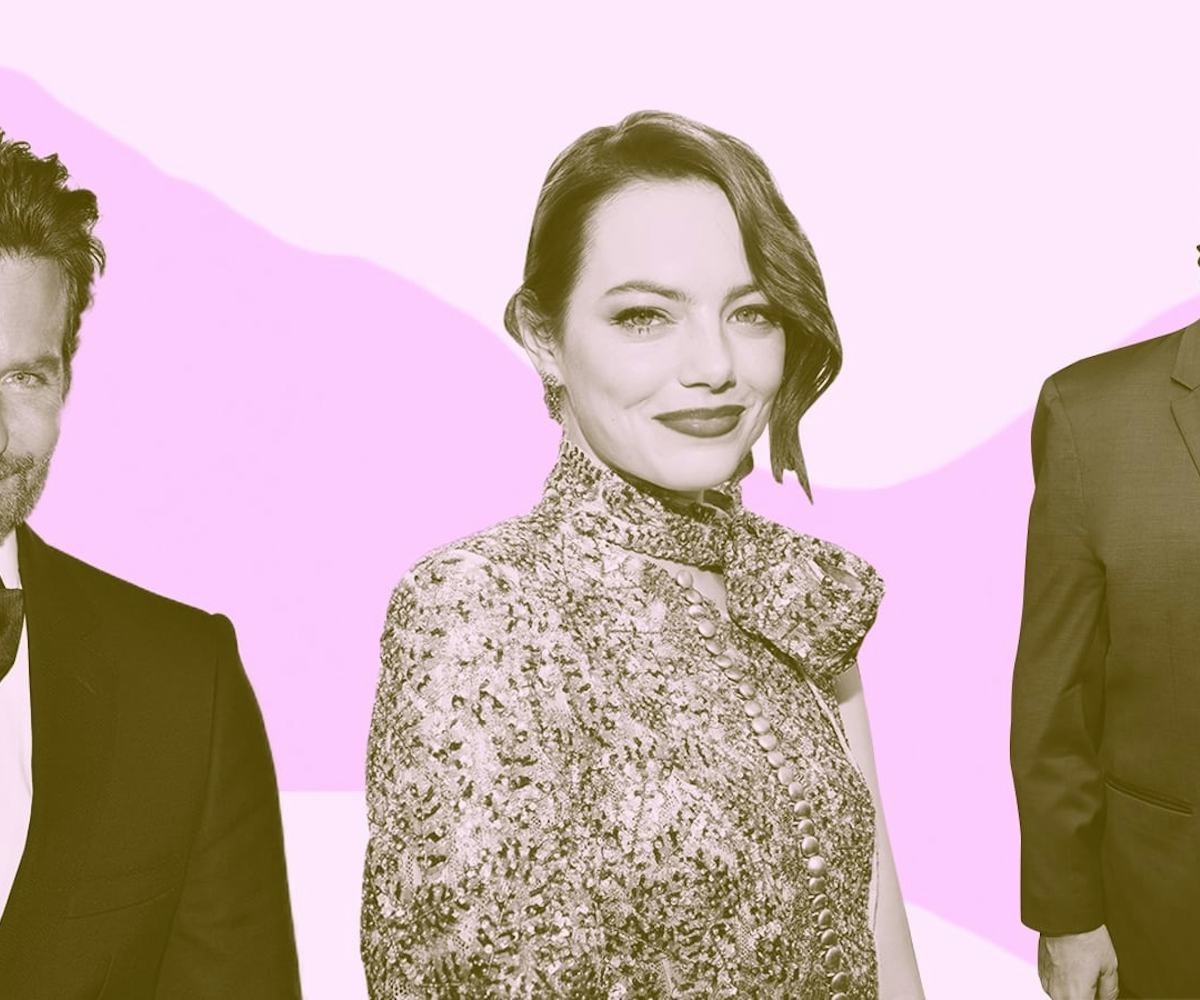 Photo by Pascal Le Segretain / Getty Images; Charley Gallay / Stringer / Getty Images.
These Are The Curveballs We're Expecting At This Year's Oscars
I'm trying to manage my emotions
I always think that I don't care about the Academy Awards, which are airing this Sunday night, but I do. Really. Every year I tell myself that I'm only watching for the fashion (and because that's what a good entertainment editor should do). But when those envelopes are opened, and the winners are read, I start to feel things. I don't think this year will be any different.
As I prepare myself for the annual cocktail of surprise, boredom, and disappointment, here are some of the curveballs I might be hit with—and how they'll make me feel.
Bradley Cooper Could Win Best Actor
Bradley Cooper really wanted the Best Director nomination for A Star Is Born. He didn't get it, but I do think that there is a strong possibility that his consolation prize will be the fact that he wins his first Oscar. While other critics are noting a decreasing interest in the remake that Cooper directed and produced, in addition to co-starring alongside Lady Gaga, A Star Is Born still stands on its own as a great film. That being said, I think Oscar voters are going to want to pat Cooper on the back for it, beyond "Shallow" likely taking home Best Original Song. No, he didn't gain a bunch of weight like Christian Bale in Vice or wear fake teeth like Rami Malek in Bohemian Rhapsody, but I think he might actually get some credit for portraying a man falling apart.
The feelings: I will be smugly satisfied with myself for predicting this one.
Emma Stone Might Win Best Supporting Actress 
I know that everyone thinks that Regina King, who is a first-time but well-deserved Oscar nominee, is a shoo-in for this category. She has swept award season as a supporting actress in If Beale Street Could Talk (a movie that should have gotten Barry Jenkins another Best Director nomination, just saying). However, my intuition is leaving room for a different outcome. Emma Stone playing a devious woman trying to climb Queen Anne's high court ladder in The Favourite just feels like the kind of role the Academy voters can't resist. She's a three-time nominee and took home the coveted Best Actress win for La La Land in 2017. Say what you will. but I'm not ready to kick her out of the race.
The Feelings: Even though I'm prepared, I'm probably still going to be outraged at another snub for Beale Street.
Best Original Screenplay Could Go To 'Green Book'
Some critics have ruled Green Book out of this category because of all of the controversy surrounding it, like questions about the authenticity of the friendship between Don Shirley and Tony Vallelonga, uncovered racist tweets from writer Nick Vallelonga, and director Peter Farrell's history of flashing his penis at unsuspecting people. No one loves drama (pun intended) more than Academy. I think voters might double down here in a weird attempt to separate the artist from the art and show that no one is going to tell them what to like. Though, Mahershala Ali, who will probably take home Best Supporting Actor for his soft portrayal of Shirley, is the only reason to see Green Book. Period.
The feelings: I'm going to recreate that one Annalise Keating GIF where she grabs her purse and goes in a fit of exasperation.