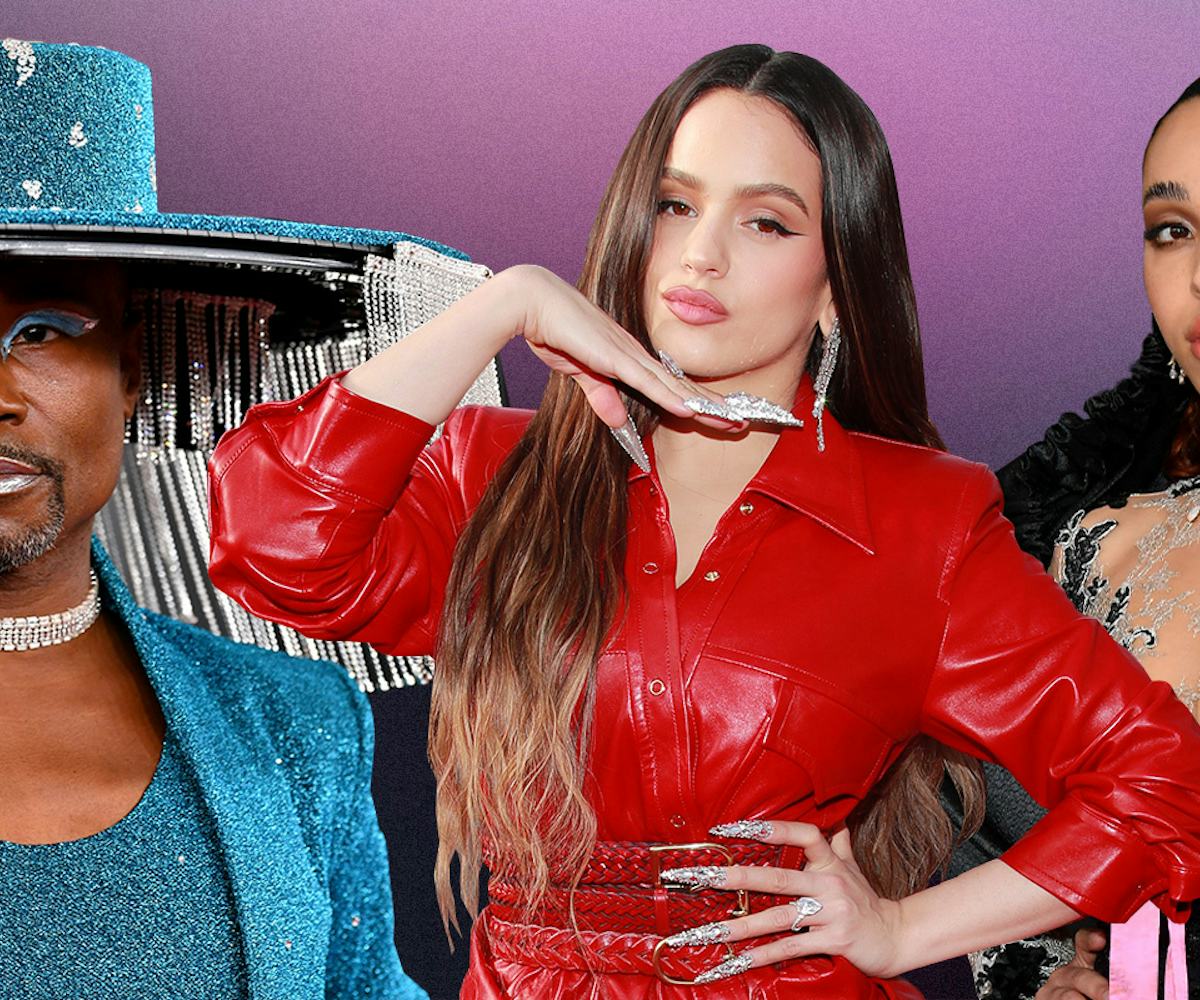 Photos by Amy Sussman/Getty Images & Rich Fury/Getty Images
The Best Beauty Looks From The 2020 Grammys
From Rosalía to Billie Eilish
In its 62-year history, the Grammy Awards have remained one of the must-watch shows on the awards season circuit. The night sees the biggest and brightest artists of today in one place, dialing up their already-perfect looks for the red carpet. And considering that, historically, the looks tend to be far more bold, risky, and experimental than other shows on the award season circuit, the 2020 Grammys beauty looks are a guaranteed treat.
Announced in November of last year, the nominee list is stacked with artists you're already used to seeing dominate every red carpet appearance, whether with bold, editorial-worthy makeup, a new hair color, or a twist on a classic updo. Among the lineup are pop powerhouses like Taylor Swift, Arianna Grande, and Lizzo, along with a slew of Grammy first-timers like Lil Nas X, Billie Eilish, and Rosalia — all stars that have clearly defined their own completely unique identities, especially when it comes to beauty.
Whether you're watching to cheer on your faves, or just so you don't feel left out on Twitter, you'll be sure to take away some serious inspiration tonight, too. Check out the best beauty red carpet moments from the 2020 Grammys, below, and keep checking back as we update this post.
Billie Eilish
Billie Eilish leaned into green and Gucci for her red carpet look, with her neon green roots and long, square tip nails painted with the luxury brand's logo to match her jacket.
Lizzo
Queen Lizzo channeled old Hollywood glam, with long billowing curls created by celebrity hairstylist Shelbe Swain —who said that working with Lizzo was "a dream come true" — using Matrix Total Results products. The "Good As Hell" singer celebrated her eight (!) nominations for the night, with the number painted in sparkly polish on each nail, with individual crystal stones hanging from each fingertip.
Mereba
The singer-songwriter wore a gorgeous braid back hairstyle with a just as impressive tri-color eye look.
Dua Lipa 
Dua Lipa carrying on the blue eyeshadow legacy with her two-toned hair in a swooping side part.
Ariana Grande 
Grande's signature high-ponytail unsurprisingly made an appearance with an extra-special twist in platinum ombré.
Rosalía
With a win already under her (multiple) belts for the day, Rosalía took the red carpet with simple glam — leaving all the excitement for her routinely long silver-studded nails.
Billy Porter
When does Billy Porter not show out on the red carpet? Coming off of his first big beauty cover for Allure, Porter wore an editorial-worthy teal eyeshadow look adorned with pearls, a blurred white "beauty mark," and an icy, silver lip.
Sophie Turner 
A case of less is more: brushed brows, fanned lashes, and a bold maroon lip.
FKA Twigs
Moment of silence for each of Twigs' individually brushed and waxed brow hairs.
Saweetie 
Rapper Saweetie, accompanied by boyfriend and fellow rapper Quavo, went all out for her updo, with multi-colored bobby pin art and perfectly swooped baby hairs.
Lana Del Rey 
LDR kept it simple and clean with a classic, center-parted '60-inspired updo created by Sheridan Ward using amika styling products.