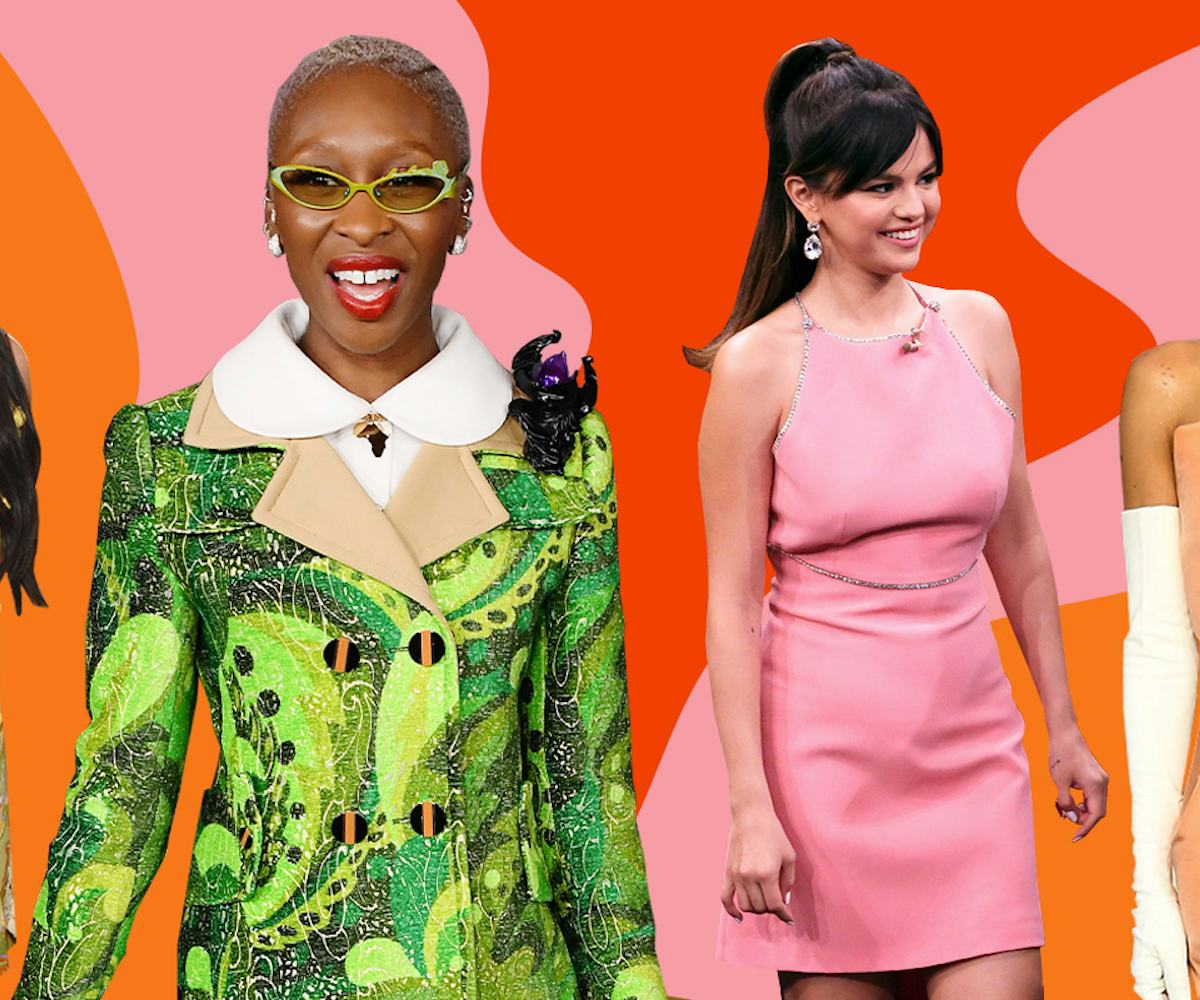 Photos from Getty Images
Why The '60s Is The Next Decade To Watch For Fashion
From the runways to celebrity style, we're moving on to another era of style
It's no secret that the '90s and early aughts have been the "It" decades of recent seasons. But between Kendall Jenner's redux of Paris Hilton's 21st birthday dress in 2017 to last year's takeover of tiny sunglasses, it just might be time to move on to a decade with a fresh set of trends. The next fashion era to watch? Set your sights on all things '60s style making a comeback.
From the runways to the big screen, the decade has slowly been making its move onto our radar. Arguably one of the buzziest films of 2019 and the current awards season circuit, Once Upon a Time ... in Hollywood had us swooning over Margot Robbie as Sharon Tate's wardrobe –– so much so that Arianne Phillips' costume design for the 1969 time period is even nominated for an Oscar. It's only a matter of time before our online feeds are flooded with renditions of Robbie's character and her iconic black turtleneck, white mini skirt, and matching knee-high boots look.
We're already seeing hints of it across social media. Instagram darlings, like Shea Marie, Tezza, and WeWoreWhat's Danielle Bernstein, have been channeling '60s vibes through outfit nods to Jackie O in chic ensembles, pairing A-line minis with knee-high boots and playful party dresses accented with feather trim. Editor-turned-influencer and street-style regular Alyssa Coscarelli has been steadily growing a following for her vintage-heavy, '60s-inspired approach to dressing; she's already styled Sharon Tate-inspired white boots, retro coordinates, and frequents nostalgic colors like sage, mustard, and burnt orange.
On the celebrity front, Young Hollywood has been spotted sporting retro-like ensembles, too. In recent weeks, Zoë Kravitz channeled Audrey Hepburn at the 2020 SAG Awards, while Selena Gomez wore a peachy Miu Miu frock on The Tonight Show Starring Jimmy Fallon. Over in Milan, Barbara Palvin rocked an ultra-mod, denim coordinate at Fendi's Fall 2020 menswear show, and Cynthia Erivo wore a green swirly '60s print from Louis Vuitton for an Oscars Nominees Luncheon in Los Angeles. Known for her dreamy, stage-ready looks, Kacey Musgraves is another celeb that's no stranger to dressing up like she's time-traveled from the '60s. From ethereal, trippy motif to the Cher-like Etro set she wore on Ellen, Musgraves serves major fashion inspiration from the decade.
"We're seeing the fashion crowd shift from the stark minimal, '90s-inspired looks to a brighter, looser, more colorful aesthetic."
Celebrity stylist Madison Guest, whose clients include Victoria Justice and Antoinette Robertson, is an advocate for this switch in nostalgic dressing. "We're seeing the fashion crowd shift from the stark minimal, '90s-inspired looks to a brighter, looser, more colorful aesthetic," says Guest to NYLON. In addition to the growing interest toward this decade's style, the meaning behind our sudden infatuation is even more important: "I think the 1960s spirit feels very relevant right now given the current political climate," says Guest.
Designers seem to be in agreement, as their Spring 2020 collections channeled the same decade for inspiration. Utilizing wallpaper florals, an influx of knitwear, and updated pinafores, the nod to vintage dressing was widespread across the runways. Fendi and Rixo showcased psychedelic florals in bold shades, like emerald, orange, and an array of brown hues, while Miu Miu and Veronica Beard leaned toward icy pastels, giving a mod feel to their pieces. Another styling cue was layering knits, as practiced by Louis Vuitton and Ganni and proving that a sweater vest over top a blouse can be undeniably cool. Plus, punctuating looks with feather trim and platform heels — fashion details that stem from the '60s — result in a playful yet chic look that's sure to sweep the retail scene in the coming months.
With spring approaching in March, the new season acts as the perfect canvas for '60s trends to flourish. As the traction continues, we can expect plenty of outfits and trends integrating frocks with mini-lengths inspired by Jane Birkin, and, of course, the beloved "flower child" aesthetic. Guest shares her excitement in channeling the look through crochet pieces, which were seen throughout the Spring 2020 collections of Kate Spade, Marni, Stella McCartney, and more, aligning with the free-spirited time period. "People today are embracing the bold, anti-establishment ethos that was so prevalent during that time," says Guest, leaving it to no surprise that the '60s has quickly become the next decade to watch for fashion.