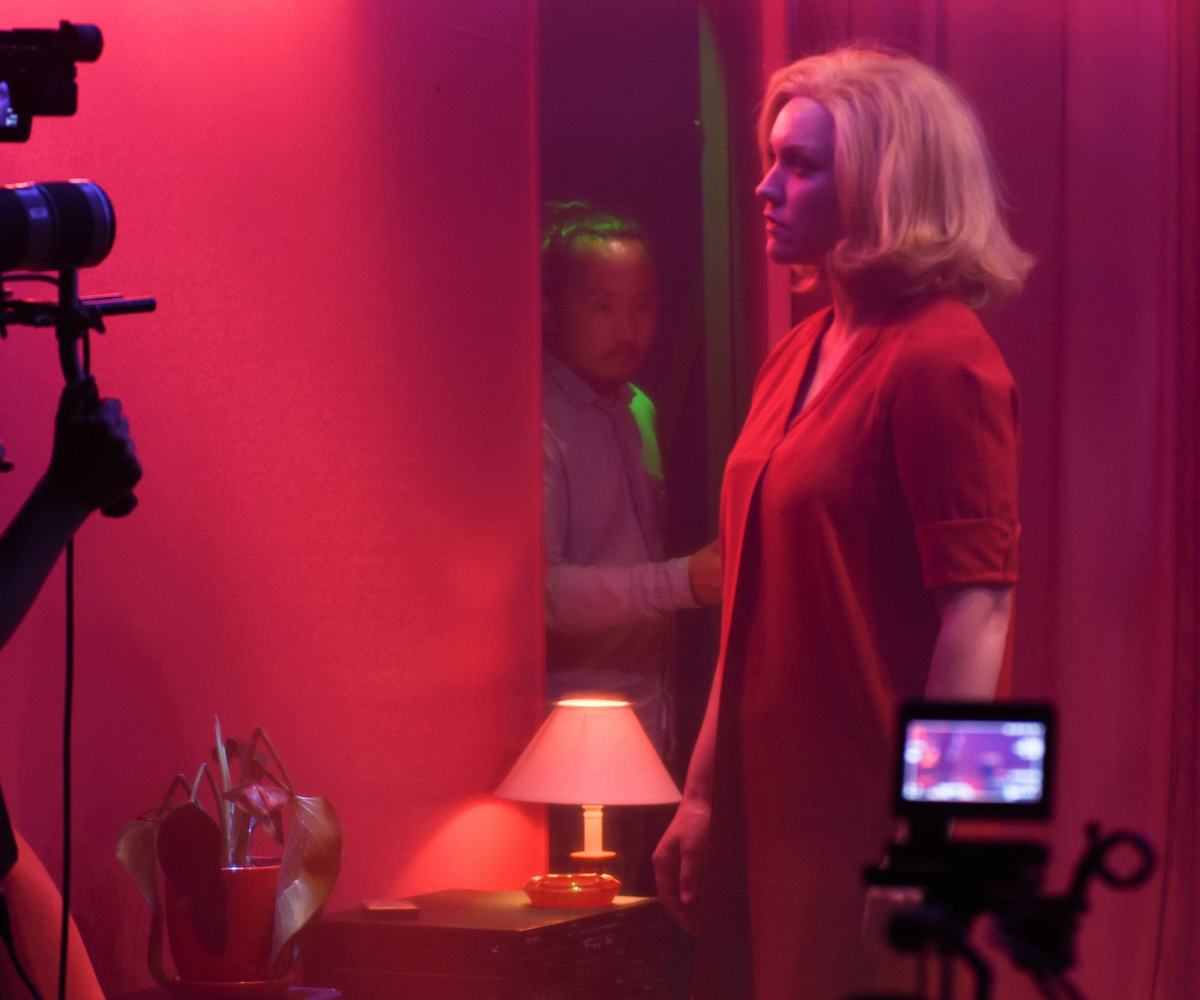 Photograph by Heidrun Lohr.
Alia Shawkat Can't Wait To Lose Control
The actress will be performing for 24 hours straight in a new play, 'The Second Woman'
This Friday, starting at 5pm, Alia Shawkat will perform one scene 100 times—for 24 hours straight. The premise of the performance is simple: an interaction between a man and a woman. They eat; they drink; they dance. But every time, in every scene, the woman is played by Shawkat, while the man is played by someone new. Over the 24-hour run, she'll perform with 100 male actors and—save for a 15-minute break every two hours—she'll do so without stopping.
Inspired by John Cassavetes' film Opening Night, the show, called The Second Woman, has its U.S. premiere at the Brooklyn Academy of Music, and was created by Nat Randall and Anna Breckon as a piece of endurance theater that explores deeper themes about our gendered realities.
The Second Woman is Shawkat's first foray into professional theater, and, when I recently asked her to explain the scene to me, she demurred, saying that the performance is less about what happens in the scene, and more about the revelation that comes with its continued repetition. Shawkat, who currently stars in Search Party and is perhaps best known for playing Maeby Funke in Arrested Development, said she took the role because she's "interested in losing control."
"Sometimes when you act too much, you get too comfortable in acting, and once you know how to act, you're fucked," Shawkat said. "Within 24 hours, all your systems start to break, to fall down, all your walls, and I find that to be fascinating: that raw performance aspect of what intimacy really means, and truth."
So of course, The Second Woman makes for a compelling challenge. Runtime aside, Shawkat can't know how any given scene will go, because she doesn't know who will join her on stage and in what mindset.
"It's more like a psychological study or a scientific study, in a way, where you have a mixed variable that's added in every time," Shawkat said. "It's a lot more of a test of being able to let something course through me, and exhaustion will help that, because my walls will be broken by that point, and I won't be able to defend as much, and I'll just have to keep going... My only duty is to get through it, to say the lines and get to the other side, and do it 100 times."
As her exhaustion mounts, the men will walk in fresh; still, she'll have to meet them where they are. And isn't that such an integral facet of femininity?
"The fact that I'll be doing the same scene—there's a music cue, I'll be listening to the same song—it makes you go crazy. Even though in the scheme of things, 24 hours isn't very long, we don't realize how much, especially now more than ever, we're used to sensory inundation," she said. "[The character] is so exhausted, and she's losing it, but the men aren't... a woman is more exhausted, having to perform all the time in their eyes, and they just come in blind to something that we've had to do all the time."
Beyond this description, Shawkat maintained that it's difficult to describe exactly what gender dynamics the show conveys. However, she referenced her conversations with Randall and Breckon, and drew on what they've noticed in the show's previous iterations.
"It's about the unawareness that men tend to have towards women—not assuming that a woman's attracted to you, not assuming that a woman's not attracted to you, not assuming anything, not projecting a sexual identification or ideals on anybody based off of their gender," Shawkat said. "My feelings change every time based on what [the male actors are] giving me, and based off a couple actions that happen... it'll spark something in them that, from what I've heard, in this performance, shows a very interesting light in men."
At the same time, she stressed that it's not a didactic show: "It's not supposed to be this heavily dramatic lesson of 'what men need to learn.' It's interesting, it'll be a study, but I want people to laugh and have a good time; I do, too."
I commented that the whole conceit is almost like a series of realistically bad blind dates.
She laughed, adding: "And with no hopes of getting laid."
The Second Woman opens October 18 at BAM.