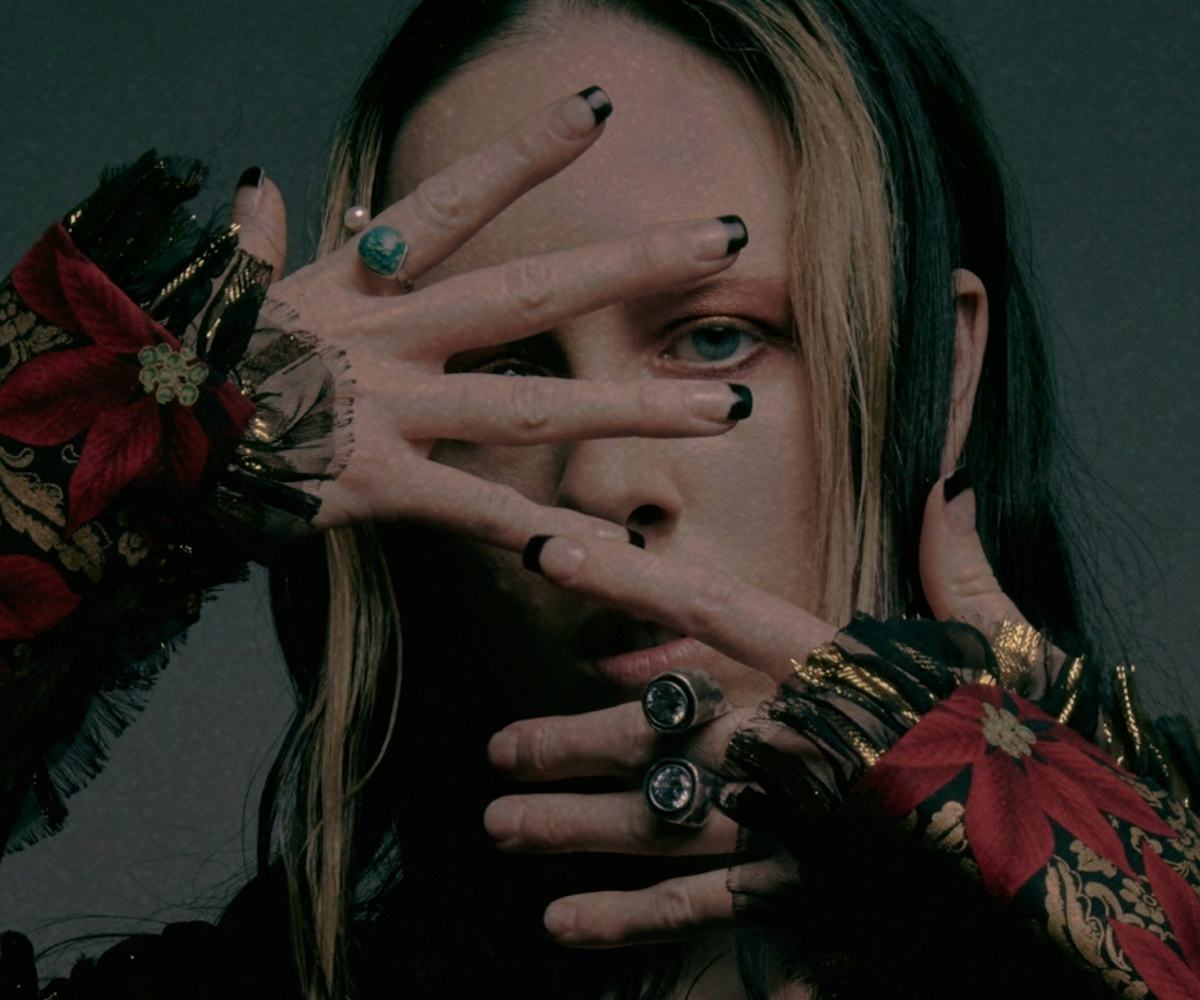 PHOTO BY SAVANNA RUEDY
Allie X Opens A New Chapter With 'Cape God'
The conceptual pop artist on isolation, Billie Eilish, and how chronic illness inspired her new record
Allie X is impossible to miss. With her bleached brows, gentle yet commanding voice, and eye for couture and couture-adjacent looks, the artist, born Alexandra Hughes, has a unique style and confidence that's only grown since 2006. That was the year she first began writing and performing her own music under the name Allie Hughes in her native Toronto. Seven years later, in 2013, she moved to Los Angeles and began working as an artist and a writer — for herself and others, including her friend and collaborator Troye Sivan, Betty Who, and Lea Michelle. She also adopted the "X," which she's said "represents an artistic and personal journey of endless self-discovery." It's a journey that's most recently led Hughes to turn her attention back home — with her latest album, Cape God, taking an unwavering look at the loneliness that permeated her adolescence in Canada.
Conceptually inspired by a 2015 HBO documentary Heroin: Cape Cod, USA, a look at how theheroin epidemic has upturned the lives of young people living in the picturesque summertime destination, Cape God is Hughes' sophomore album under the name Allie X, following 2017's CollXtion II. Recorded in Stockholm, Sweden, with Oscar Gorres, a producer she met during a writing session for Sivan's "Plum," the new album signifies a new era for Hughes that sees her refining her craft — her signature soprano vocals are lucid as ever — and sharpening her point of view into an acute spike. Over scrambled eggs and avocado slices in lower Manhattan one morning, Hughes reflects on what makes this album feel different from her past work.
"Really it was about what I was singing about, which is my journey as a teenager," she says. "I had a really tough time, and I wasn't writing songs at that time, so I sort of had all these feelings stored up for a long time. I felt like I never really had the music that lent itself to sing those complex and layered things. Like the four-chord progression in an L.A. writing room didn't feel right for me to sing about 'Fresh Laundry' as a metaphor for my relationship with my parents when I was 13, you know what I mean?
Hughes coped with chronic illness as a teenager, which led to her feeling alienated from her peers. Being held captive by her own body, according to her, was a traumatic experience — one that informed her relationship to her own emotions. "My body sort of became something that I didn't have control over anymore or recognize," she tells NYLON. "That was very isolating. Girls and boys started dating, and I was not a part of that. I just felt like I was hiding through all of high school, and I was very scared of what was going on in my body and in my mind. I sort of dissociated. I don't remember ever crying or anything. It was just sort of like... Yeah, that's a short way of explaining it."
DeeSerret: bralette and sleeves; Tysban Showroom: skirt; Ears Of Buddha: undershirt; Steve Madden: shoes
At the time, Hughes knew she wanted music part of her life, but didn't yet know how to execute the vision or what the vision even was. "I didn't know whether that was going to be in opera or on Broadway," she says of her teenage passion for singing. "I was so ill that I didn't think too hard about it because I was like, 'Well, can you physically even do that?' So yeah, it was a weird state of mind."
Empathy is the lynchpin of the new album. After watching the Cape Cod HBO documentary, a shaken Hughes tried writing lyrics from the perspective of the film's subjects "as an experiment." Tapping into the painful themes that addiction — a disease, after all — reminded her of her own experience being chronically ill, and the two narratives began to merge into one.
Writing from a different point of view, Hughes says, "was just sort of like a vessel for me to go into a liminal space called 'Cape God' and write about a lot of personal stuff. I think I connected with those characters on a bunch of levels without realizing it. Then, when I started writing, I was like, 'Oh, that's why.' Because they don't know what would happen the next day. They don't know if they're going to survive. They had problems connecting to their family. They have so much shame. There was just all these sort of parallels that I realized was the reason why."
"I still feel like an outsider, but an outsider with a sense of pride."
Now, Hughes says she feels like a "completely different person," having made it through her 20s. "I'm able to really connect with my family now. I'm able to talk about my experiences with pride instead of shame. Like, I'm able to be naked on set now; I have so much shame around my body... It's really, it's sort of writing from the other end and looking back. There are elements of my present self still, though, when I think about it. I still feel like an outsider, but an outsider with a sense of pride."
Getting from that point to where she is now, a fully realized artist with a deep catalog of work and reputation for forward-thinking aesthetics, style, and sound, is a testament to Hughes' resilience, strength, and self-awareness — which shows up on Cape God tracks like "Super Duper Party People" and "June Gloom," which has lyrics that sound not unlike a Billie Eilish track: "June gloom in my room/ These days, I like to stay inside/ Watching the kids get high." This, too, makes sense; Hughes has a natural affinity for the kind of raw vulnerability and cynical optimism teenagers experience, having been there herself.
The fact that the current landscape of pop music — and nearly all genres, for that matter — reflects the sadness, despair, and ennui of the current global mood is not lost on Hughes. That an artist who sings frequently about death and depression was the breakout pop star of the year is regarded by Hughes with both mild amusement and gratitude. That the needle has tilted closer toward her brand of more experimental introspection is a happy break for an artist who has remained true to herself throughout the years.
"I love those artists that — there's usually one a year, although Billie made a bigger impact than some past years — but there's usually that one artist that is the exception to what's on the radio, and it really moves culture forward. I think it's great," she says. "I just love when the dinosaurs of the major labels are wrong, and then they have to follow the trend. It definitely situates an artist like me in a nice place... because I mean, everyone just wants to know what the next hot thing is, but they want to immediately dismiss a record like mine."
She cites "Super Duper Party People" as an example of the shift. "I have people telling me, 'That could be a hit.' But you wouldn't have said that 10 years ago," she notes.
Hughes also shares her dislike for labels that's become the norm among young artists. "I personally have never really cared how people want to [label me], because it's basically just marketing," she says. "So if you want to call me the cross between Lady Gaga and Grimes, sure. That's fine. I am undoubtedly a pop artist, but, to me, 'pop artist' can also be a dirty word. I really sort of don't relate to a lot of Los Angeles pop."
"I feel like what I do is much more layered and interesting," she continues. "I do feel like I do consider this truly a sub-genre record. There's definitely a lot of alternative influences, but it is a pop record. Recently in an interview, they were like, 'Your genre is goth-pop or people call your genre goth-pop, how do you feel about that?' I'm like, 'I feel cool about it.' But actual goth fans would probably spit on me right now. I'm not about to go out there [calling myself goth]."
Videmus Omnia: dress; deeSerret: sleeves; Steve Madden: shoes
Truly, Hughes lives in a world of her own. But it's one that increasingly mirrors the one we share as a culture. On closing track, "Learning In Public," Hughes reflects on the experience of growing up with eyes on you, watching and judging your every move. A paranoia once reserved for only the famous, we all now have audiences of varying degrees. A teenager with an Instagram account can feel just as monitored as a celebrity, and Hughes understands that. In fact, tenderness for her younger self anchors the album.
"Looking back, I just have a lot of sympathy for that girl," she says of her teenage self. "It's sort of an homage to her."
Photographer: Savanna Ruedy
Stylist: Lee Velvet
Makeup Artist: Yvonne Macinnis