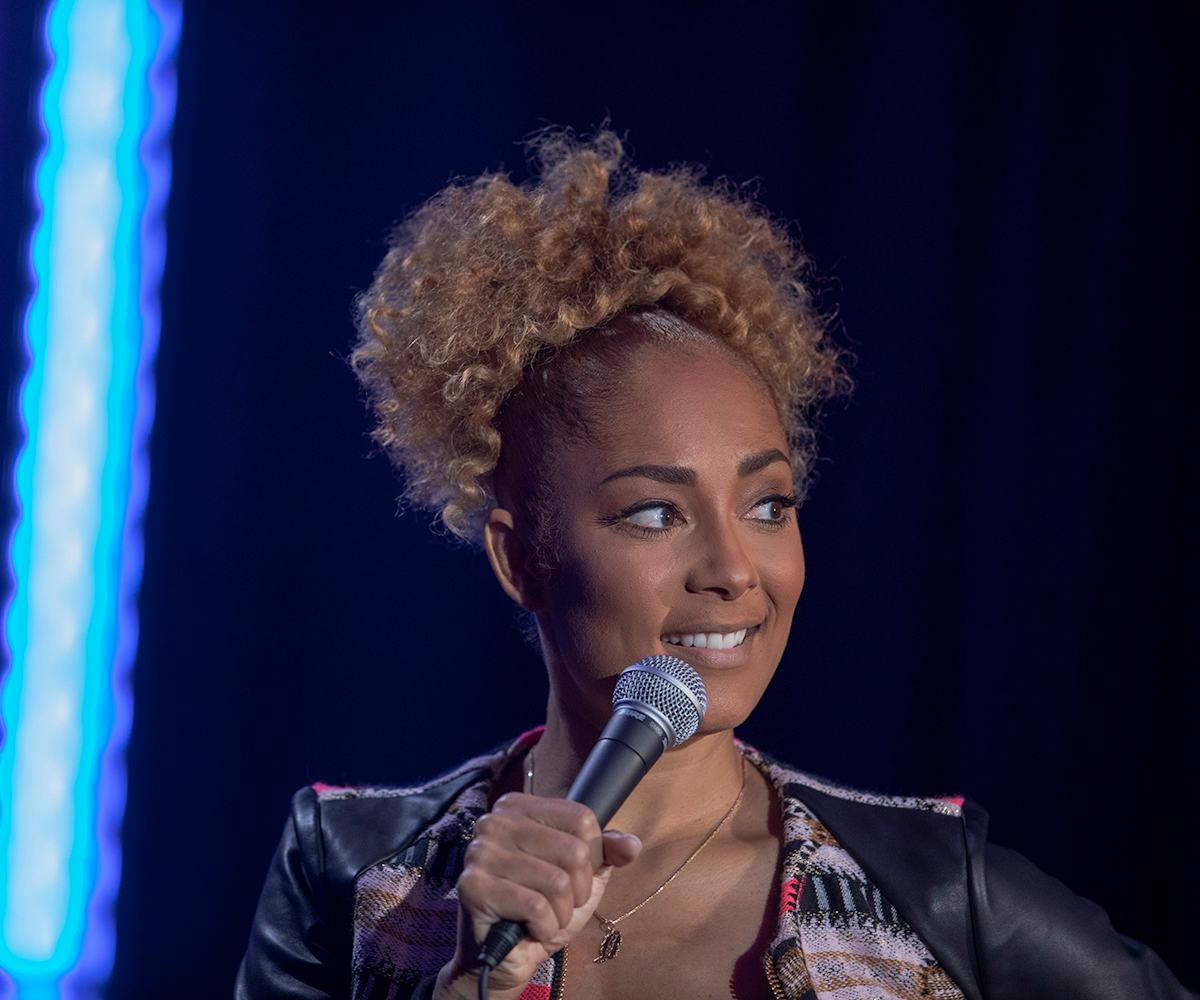 Photo courtesy of HBO.
Amanda Seales Talks About Being A "Stage-Ass Bitch"
She's always been this way, but now we can all see it on her new HBO special I Be Knowin'
Sitting in front of me, in a full Gucci tracksuit and stark blue eyeliner, in HBO's New York offices, was Amanda Seales. She lounged back in her seat, chatting and laughing with her team. Her hair was pulled up into a tight bun, and her edges were laid. Seales looked like a woman who has fulfilled her destiny and now gets to laugh about it. But Seales, whose HBO comedy special, I Be Knowin', debuts on Saturday, was quick to tell me how much she has yet to do. "I've never starred in a movie. I've never starred in my own scripted series. I still don't have my own unscripted series. I still haven't put mad motherfuckers on."
Maybe not, but Seales has always been part of my pop culture universe. I first saw her on My Brother & Me, one of the shows that helped define Nickelodeon's golden era of diversity in the '90s. I stayed up late enough to catch her on Def Poetry Jam in the early-aughts. I was confused when I heard that she replaced Natalie "The Floacist" Stewart in the duo Floetry, and I would occasionally catch her VJing on MTV2. So by the time she showed up as Tiffany, the bougie friend on Issa Rae's television masterpiece Insecure, in 2016, Seales was already a familiar face. Then, in 2017, she took her talents (and love of blackness) on the road for Smart Funny & Black, a touring game show where her famous peers compete over knowledge of black history and culture. I got a random text from one of my friends raving about how much fun it was.
All of this has led Seales to I Be Knowin', the stand-up special where she reflects on the personal and political realities of being a black woman. Addressing everything from exes, the Black National Anthem, titties, and white women passive-aggressively CCing uninvolved persons on email chains, I Be Knowin' is a refined extension of the content that Seales creates online for her hundreds of thousands of Instagram followers. This combination of therapeutic musings and woke commentary is best served in harmony, according to Seales: "They complement each other. I think they help create a balance. I definitely will be conscious of that, because I ain't trying to hit folks over the head." She compared this sensibility to finding a "fire-ass beat" for a conscious song, saying, "You can't have one without the other. They need to be in harmony and synergy for it to have its highest level of effectiveness."
Despite her dexterity on camera, on the mic, or on the 'gram, it is on the stage where Seales is the most comfortable. "I'm just a stage-ass bitch," she said. "You're a trap goddess [she's referencing the two nameplate necklaces I wear on a daily basis that read "Trap" and "Goddess"]. I'm a stage-ass bitch." We are both living in our truths. "I think that's because I've always felt like I have something to say, whether it's a soapbox, or a podium, or a full stage," Seales explained, "I've always felt comfortable being in front of people to say what I need to say." And she is always going to find a funny-ass way to say it.
Behind just about every joke that Seales tells is a lesson. For example, when I ask her what the one thing from I Be Knowin' she'd like black women to take away, she chose this nugget: "If the mattress is on the floor, it's no place for a queen." This is the kind of advice you grow to appreciate when it comes from your homegirl, auntie, mama. It moves beyond the immediacy of a sexual encounter to call self-worth into question. Seales has masterfully integrated this into her comedic practice, and that's what I appreciate most about I Be Knowin', and Seales's consistent presence in the black culture ether.
As for what makes her feel accomplished, it's this: "No matter what happens from this point forward, I have created an artistic legacy. That, to me, says I've made it and that I've been able to make a career out of my art that reaches my standard of what I consider success." Although, even she had to admit that head-to-toe Gucci sweetens the deal just a little bit.