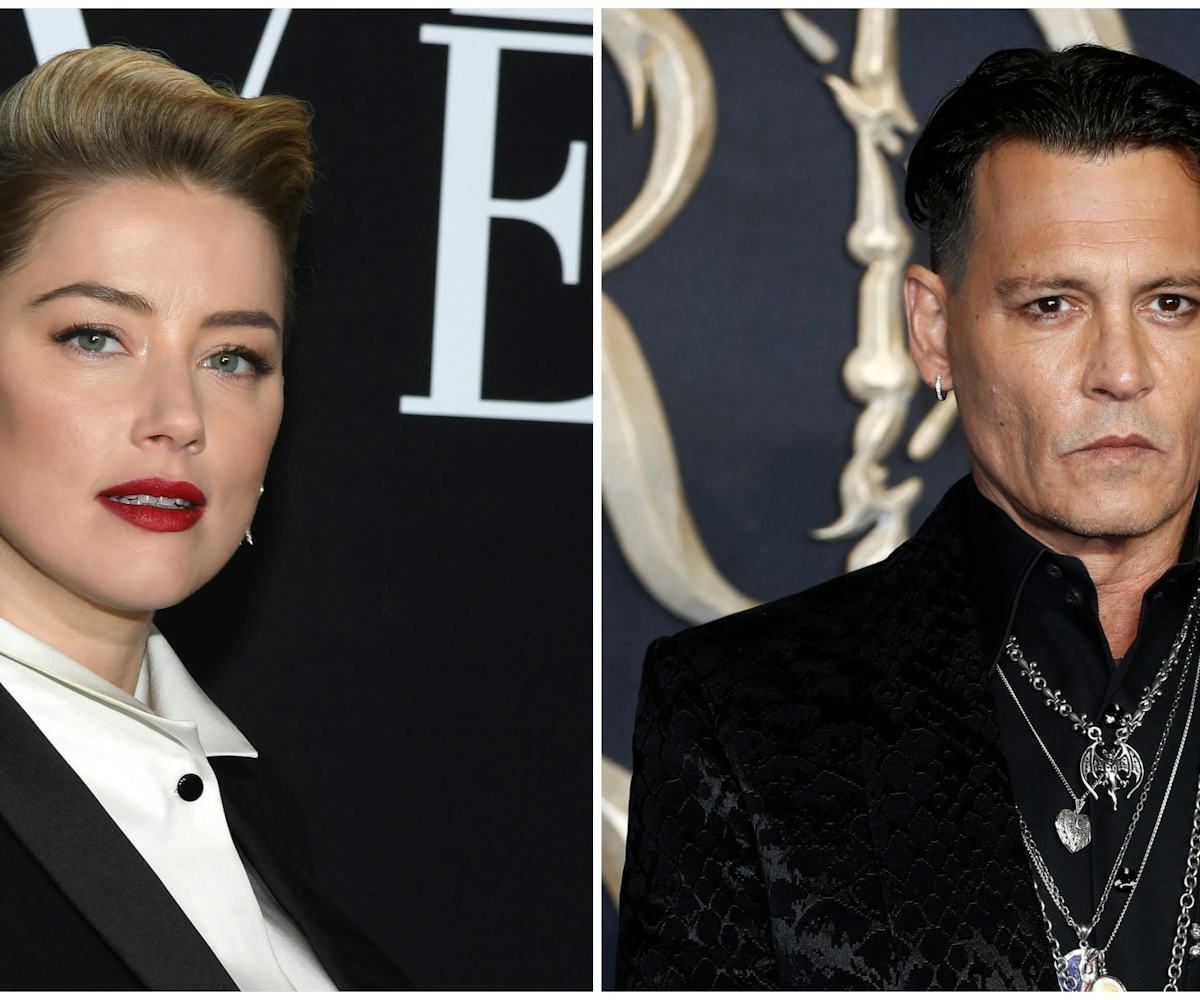 Photos by Pascal Le Segretain/Getty Images, John Phillips/Getty Images
Amber Heard Reveals She Feared Johnny Depp Would "Kill" Her
"Scared for my life, I told Johnny, 'You are hurting me and cutting me.'"
DISCLAIMER: This article includes descriptions of domestic violence. If you or someone you know is dealing with something similar, RAINN is a resource to reach out to.
As a response to Johnny Depp's $50 million defamation lawsuit against her, Amber Heard has made a court filing in Virginia which details multiple alleged incidents in which Depp was abusive toward her. In some instances, she reveals that she feared he might "kill" her.
In the filing, obtained by Page Six, Heard notes that Depp would become "a totally different person, often delusional and violent," when he would abuse drugs. "We called that version of Johnny, 'the Monster,'" she says. The filing details several times that "the Monster" came out, which allegedly led him to beat her.
One such instance, she says, happened in August 2015 when Depp "picked a fight" with her. According to her, he "started hitting and pushing me against a wall by grasping my throat and holding me there. I remember being afraid that Johnny might not know when to stop, and that he might kill me." Just a few months later, while at their L.A. apartment, Heard says that he dragged her through multiple rooms by her hair and, in the process, "pulled large chunks of hair and scalp out of [her] head" after picking another fight.
Heard says that she tried multiple times to get herself out of the situation, first attempting to move to an upstairs room and then trying to get to a guest house. According to her, he continued to be physical with her, breaking her wrist and "bashing" her nose in the process.
"I told Johnny that I was leaving him, since I could not put up with his behavior any longer. Johnny reacted by grabbing me by my throat, pushing me down to the ground, and punching me in the back of my head," says the filing. "He grabbed me by my hair, slapping me in the face, and screaming at me something like, 'I fucking will kill you—I'll fucking kill you, you hear me?' There were chunks of my hair everywhere and indentations in the carpet where I was dragged."
Another detailed account tells of an incident when she says he made her fear for her life again which allegedly happened, according to Page Six, after Depp's "three-day bender on MDMA/ecstasy." "Johnny grabbed me by the neck and collarbone and slammed me against the countertop. I struggled to stand up as he strangled me, but my arms and feet kept slipping and sliding on to the spilled alcohol and were dragged against the broken glass on the countertop and floor, which repeatedly slashed my feet and arms," she says. "Scared for my life, I told Johnny, 'You are hurting me and cutting me.'" He allegedly ignored her.
Heard's attorney Eric George said in a statement, "Johnny Depp physically and verbally abused Amber Heard. Since their divorce, Mr. Depp has continued to publicly harass Ms. Heard and attempted to gaslight the world by denying his abuse."