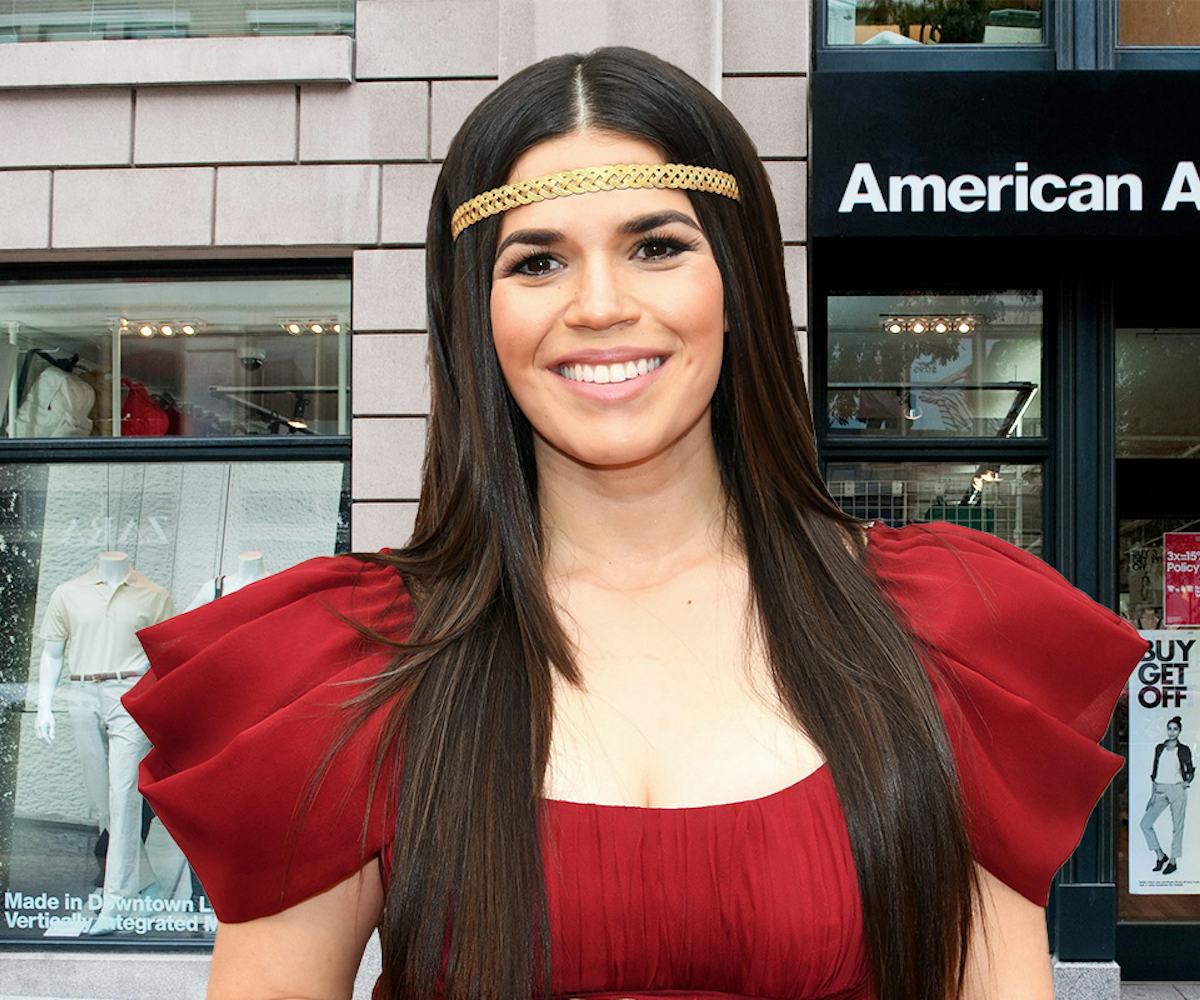 Jordan Strauss/Invision/AP/Shutterstock
America Ferrera Channeled American Apparel and Early Aughts Olsens at the 2020 Oscars
The forehead headband is finally getting its red carpet moment
Grab your favorite CD, your best pair of low-rise flares, and a spare headband, because America Ferrera is bringing the '00s to the Oscars red carpet. Arriving to the event on Sunday, the former star of The Sisterhood of the Traveling Pants was channeling major early aughts vibes, wearing a headband in a very Coachella-inspired fashion.
There's no word on whether Ferrera was listening to Music From the O.C. Mix 1 on an iPod Nano on the limousine ride over, but it's clear that the hair look she brought to the ceremony — once popularized on Cobra Snake galleries and in American Apparel ads — was inspired by that iconic moment in time. For her modern take on the infamous trend of wearing your headband across your forehead, Ferrera wore her hair down, hiding most of the band beneath her long, straight brown strands.
As it turns out, the choice of headwear was deliberate, as hairstylist Aviva Perea, who completed the look on behalf of Suave Professionals, intended for the delicate accessory to pair perfectly with Ferrera's custom red Alberta Ferretti gown. "The dress has big shoulders and a full skirt, so to balance out the volume of the dress, we wanted to keep her hair super sleek and shiny with a center part," Perea explained of the look in an emailed breakdown. Sharing the look on her Instagram, Perea called it "power hair."
If the look has you feeling inspired to try a DIY, and thus return to a simpler time of American Apparel leggings and Olsen Twin films, Perea shared her styling secrets to the look. To keep Ferrera's hair looking shiny and free of frizz, even beneath the lights of the Oscars's red carpet, she used Suave Professionals for Natural Hair Define & Shine Serum Gel and Suave Professionals Flexible Control Finishing Hairspray.
Enjoy some throwback forehead headband content — that may or may not have inspired Ferrera's 2020 Oscars beauty — from NYLON's 2007 December cover with the Olsen twins, below.