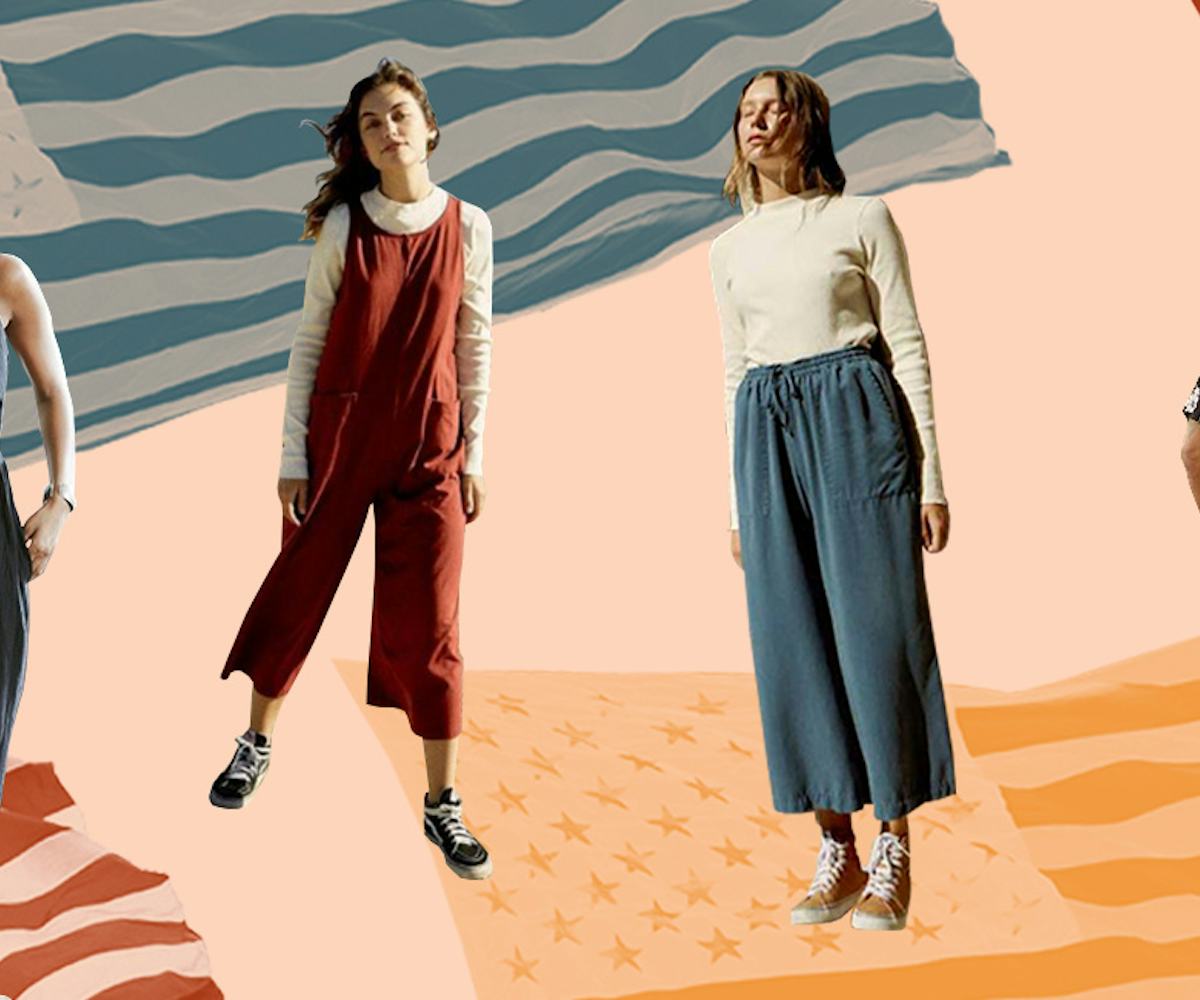 Photos courtesy of Loup, BackBeat Rags, Whimsy + Row
What It Really Means To Be "Made In America"
American-made brands explain the difference
As the many flaws of the fashion industry are increasingly coming to light, from unethical working conditions to overwhelming amounts of pollution, more consumers are beginning to shop more consciously and spend time looking into the practices of the brands from which they're buying. Because of this, smaller, direct-to-consumer brands are popping up left and right, and are gaining ground on the coveted territory once occupied by fast fashion retailers. And, not coincidentally, a lot of these brands are designed and manufactured, from start to finish, right here in the U.S.
There are many positive things about American fashion brands producing domestically—even in the same city in which they're located. But some of those things might not be understood by consumers who look only for bargains, instead of focusing on quality. So we chatted with brands that are 100 percent produced and manufactured here to find out why they choose to stay American-made, what it really means to be "Made in America," and why consumers should care about buying locally.
One of the biggest advantages of domestic production is the ability to be able to oversee quality control, whether you're popping into the factory each day, or able to easily communicate with one another on a daily basis. "There are so many truly amazing factories in our country that are capable of producing beautiful, well-made products," says Ariane Gold, founder of accessories label goldno.8. "As an emerging brand, there are so many advantages to producing in our own backyard. First and foremost, the close proximity to the factory is ideal—within a couple of hours, I can be on the factory floor working with the owner on any number of tasks. The bottom line is, there is more control and oversight to the product, which helps to make the process of design-to-production seamless."
This can also majorly contribute to sustainability efforts. While not every American-made brand is necessarily sustainable and eco-friendly, it's much easier to operate in this way when you can oversee what's going on and how your factory operates. For Rachel Temko, founder of L.A.-based and -made ethical label Whimsy + Row, having the brand and its production take place in the same city makes a huge difference. "It's easier for us to control our production and keep everything up to our sustainable and ethical standards. Also, making our clothing locally reduces our eco-footprint, as we're able to pick up everything only miles away with our recycled hangers and boxes and deliver it straight to our headquarters."
Being able to easily access where your clothing is produced also allows you to have an actual relationship with factories and get face-to-face time with the workers producing your products—which, in part, builds a level of trust and respect between you and such an integral part of your brand. "I wanted to produce in the U.S. because I wanted to have a relationship with the factories that I work with," says Isadora Alvarez, founder of BackBeatRags. "I like that I can visit them, chat with them, and be able to know about their lives. I wanted them to also feel like they're a part of my business."
A lot of times, American-made brands really work to support the other businesses and factories with whom they collaborate. "Our relationships with our factories here are incredibly important to us, and we've built a big network of talented people that know our product really well, and they help us improve it constantly," says Danielle Ribner, founder of sustainable NYC-based label Loup. "At this point, if we moved our production abroad, it would not only affect our quality, but it would also affect the dozens of small businesses that we work with and that have grown with us."
When a brand produces within the U.S. and gets to oversee the process, this also allows it—and its customers—to know exactly what your product is worth and how it should be priced. Scott Shapiro, founder of the first American-made luxury eyewear brand State Optical Co., explains, "The biggest problem with sourcing overseas is that it creates a great deal of ambiguity regarding what a product is worth. For decades, almost all eyewear has been produced in these far-off places that were rarely talked about. Even most opticians who work their whole careers with eyeglasses have never seen a pair being produced. We want to bridge that gap and show people exactly why eyeglasses cost what they do and show them exactly what they're paying for."
As with everything, there are downsides and challenges to having all production and manufacturing of a fashion label stay within the U.S. For one, it's a known fact that it's a lot more expensive to produce in America than it is outside of the U.S., which is why so many brands choose to outsource to companies that mass-produce, like China and South America, which leads to poor working conditions (with fast-fashion retailers being some of the biggest culprits).
However, while many brands shy away from U.S.-based production because of higher costs, the reality is that it doesn't mean a brand can't survive. "Price is a big issue when it comes to producing in America, which is not always bad, but it does mean we have to work extra hard to give value to something people can possibly get cheaper somewhere else," says Ribner. "We try to listen to our customers to give them what they want, and provide a place they can come back to and feel taken care of."
One reason for this is actually due to the fact that U.S. sewers and manufacturers aren't necessarily as trained or skilled as those based in other countries where mass production takes place. "The skills of the sewers here in the U.S. are not as advanced as the sewers who work in countries that are manufacturing hubs," says Alvarez. "They don't have the training or the technology that Vietnam and China has, or if they do, they are very expensive." This can lead to higher costs or having to work with simpler pieces. For Temko and her brand, she chose to hire a production manager to help her find people at the skill level she needed—which came at an additional cost.
Despite the cost of labor being higher in the U.S., some brand owners feel that infrastructure is a much greater challenge to get past. "Obviously the cost of labor is much higher here than in places like China, but that cost can be mostly offset by the efficiencies related to manufacturing domestically," says Shapiro. "What really makes it challenging is the lack of infrastructure. The machines we use are not made or even serviced here in the U.S. The raw materials are not available here. Most importantly, there's no trained workforce to do what we do. Every single craftsman in our factory has to be trained from step one. Most products cannot be produced in a vacuum—there needs to be a community or infrastructure of support. By producing in the U.S., we're basically giving that up." But, if more brands were to move production to the U.S., this would directly combat the lack of infrastructure.
While there are a number of pros and cons to choosing domestic production, American-made brands have a strong sense of pride for doing so. "It means that in order to create a superior product, we're willing to do it the hard way and completely buck convention to prove that American craftsmen can make a luxury product as well as anyone else in the world," says Shapiro.
Not only do they have pride for American craftsmanship, but also for the network of manufacturers and companies—most importantly, the other people—that they work with closely to create their products. "Once we decided to stay American-made, it truly dictated the trajectory for the company," says Alvarez. "We're dedicated to being mindful, concise, and grow slowly so that we not only keep Loup alive but the other companies and factories that we've worked with for years. We're a small company, but in reality, we have a huge network of talented manufactures that depend on us, and us on them."
When it comes to the fashion brands we're shopping, we should be supporting those that work hard to keep production within the country. Not only would that mean we're supporting small—and typically sustainable—fashion labels, we're also supporting the small, family-run factories they work with. This demand could also potentially allow for more accessible training programs so that U.S. sewers are just as skilled as those based in China and India, and also help to support the end of sweatshop conditions in other countries.
But, most of all, we're supporting the brands that are truly involved and invested with the products they make and the entirety of the process that goes into creating them, from conception to final product.