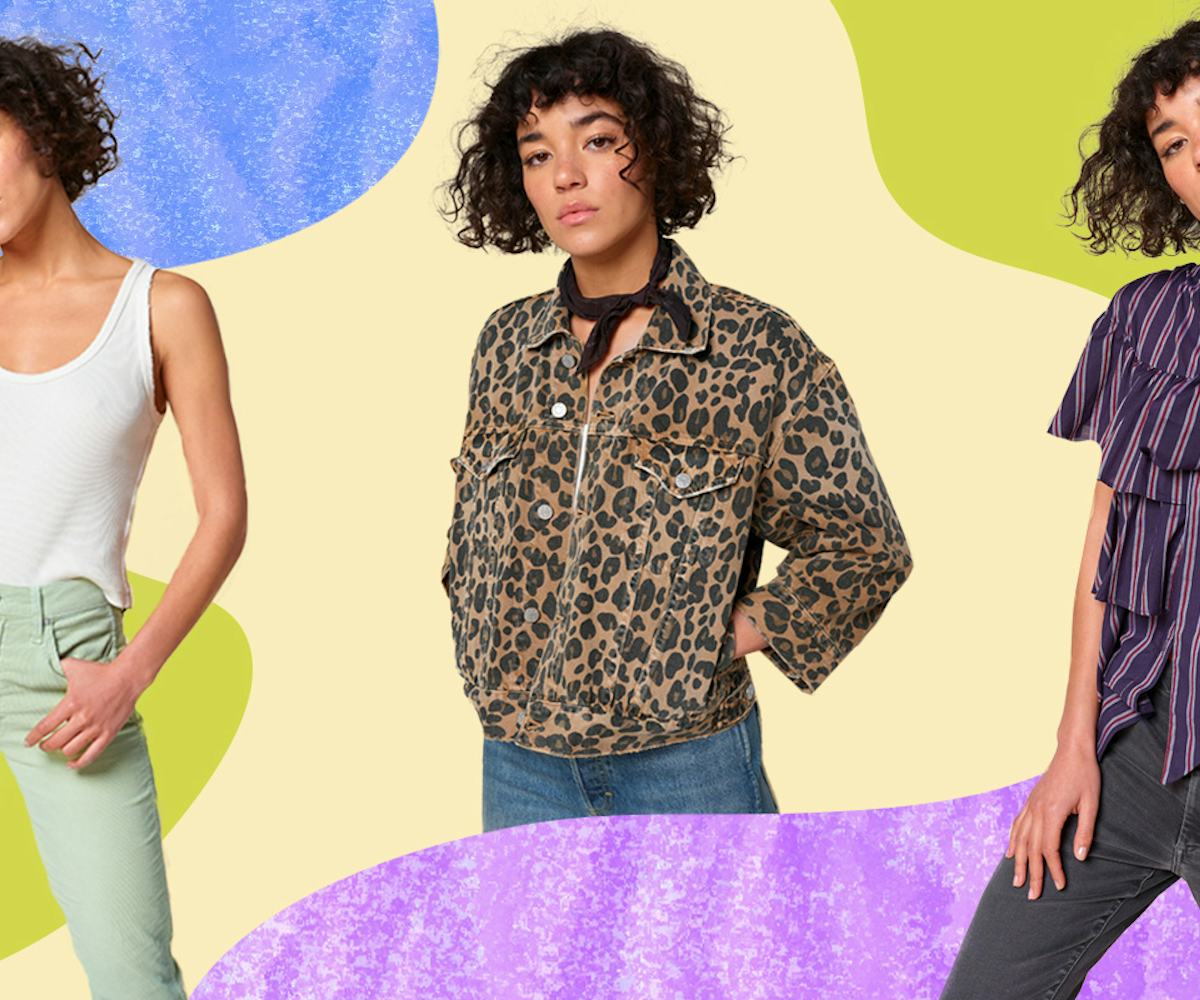 Photos courtesy of AMO
This Effortlessly Cool Sustainable Denim Label Has The Perfect Transitional Pieces For Fall
Leopard denim and wasabi corduroy? Yes, please.
Welcome to The Green Scene. Every week, we're highlighting the designers and brands working to make the world of fashion and beauty a greener, more sustainable place. The brands to support are the ones making a difference; check back every Tuesday to meet your new favorites.
Every year as fall approaches and we begin to plan out our wardrobes, there are a handful of transitional weather staples we keep our eyes out for: a solid pair of jeans (because soon, our denim cut-off days will be behind us), and a good denim jacket for when things start to cool down. This year? We have our eyes on Los Angeles-based denim label AMO.
The brand, the brainchild of fashion industry vets Kelly Urban and Misty Zollars, is focused on creating "a real pair of jeans," aka bringing back quality denim that gets better—in terms of fit, comfort, and look—with each and every wear.
Urban, who spent time designing for cult-favorite designer denim labels such as Current Elliott and True Religion, in particular, knows how the industry works and, more importantly, what goes into making a solid pair of jeans, ones designed by women for women. The brand launched with five must-have styles of denim, and has evolved to include more.
For its Fall 2019 collection, the brand has launched a series of relaxed denim pieces in classic shades of indigos and grays in addition to leopard print, as well as a number of corduroy pieces in muted purple, bold rust, and pastel wasabi. The collection also includes some (very soft-looking) tees and other wardrobe basics. Basically, it's the easygoing, effortless collection we want to wear as we kiss summer goodbye and transition into fall's cooler weather ahead. (Best believe I plan to be living in this leopard denim jacket until it's time to huddle under my winter faux furs, and will we wearing nothing other than this cozy amethyst denim boiler suit until the very first signs of spring.)
But, here's the thing… as much as we love a good pair of jeans, it's common knowledge that the production of denim is absolutely horrible for the environment, making the denim industry one of the most polluting parts of the fashion industry. So, if we're going to fawn over a denim label, it better be doing its part in turning the industry around and protecting our planet. And, as you could have guessed, AMO does just that.
Sustainability is something Urban found to be important since she was a child. "As an individual, I've always tried to lead a sustainable lifestyle, and I think that mindset naturally carries over when starting a company," she says. "There wasn't really a distinct shift to take a sustainable direction, but more of a rooted consciousness from the beginning. I've been a vegetarian for most of my life and, from an early age living in California, was raised to be conscious about water usage and recycling. I've always believed in buying less and better items that last, especially when it comes to clothing."
AMO works with a family-owned and -operated sustainable denim mill that focuses heavily on reducing waste and conserving resources whenever possible. All of the brand's denim fabrics are made with 35 percent cotton from the Better Cotton Initiative. AMO also chooses to work with other natural fabrics such as linen, tencel, and modal and avoid synthetics such as polyester and acetate. The hardware used is zero waste, using recycled alloy for metal tack buttons and rivets.
All of the brand's denim also uses Pure Indigo, meaning the dyes used during the denim dye process are free from traditional chemical fixers and additives typically used in denim production. Additionally, Pure Indigo allows for less energy and resources used during the washing process to achieve the relaxed, vintage look the brand is known for. "Denim is historically not a very green industry," says Urban. "Washing denim to get the lived-in look traditionally requires a lot of water. By using Pure Indigo denim fabrics, not only are we avoiding those chemicals in the production of the denim, but we're also able to save on water consumption during the wash process, as the Pure Indigo used chips away faster than it would if it were chemically treated. This means less time stone washing—and therefore less water—is needed to get that worn-in look."
Additionally, AMO believes in reworking old inventory and fabrics that would otherwise be making their way to a landfill into new pieces. Whether it's deadstock fabric, production shrinkage blankets, or even already sewn (but flawed) jeans, the brand aims to be as circular as it possibly can be. For example, its Kick Crop jeans in Mixed Blues are made from reworked versions of its classic style, giving its buyer the opportunity to own a one-of-a-kind (and extra sustainable) version. The brand also incorporates other deadstock fabrics into the mix when possible.
Urban and Zollars also believe in keeping production local, to reduce carbon footprint, and have done so since the brand was launched in 2015. All of AMO's cutters, sewers, and wash houses are located within a six-mile radius from the brand's Downtown Los Angeles office, allowing them to be not only hands-on during the production process and ensure factory standards are ethical, but to avoid shipping product back-and-forth overseas or elsewhere in the country.
Of course, the two are constantly looking into more ways to improve their sustainability practices, because, according to Urban, "at this point, we don't really have a choice. Every brand should be examining its supply chain and manufacturing methods and asking how they can take a more sustainable approach. It takes effort and time, but we all need to be consciously moving in that direction every day." She adds that talking openly about goals is a great start, as she speaks openly with factories, suppliers, and even employees about what they can be doing as a team to be better.
Urban wants the world to know that, when it comes to sustainability, every bit counts. "I think it's important to support brands and consumers alike that are making an effort," she says. "Everything starts small, so let's voice our appreciation for those efforts which will, in turn, encourage that individual or brand to keep going in that direction and do even more. Once you feel that positivity around sustainable choices, it almost becomes addicting. You start asking yourself what else you can be doing and sharing what you've learned with others, and that's where real global change begins."