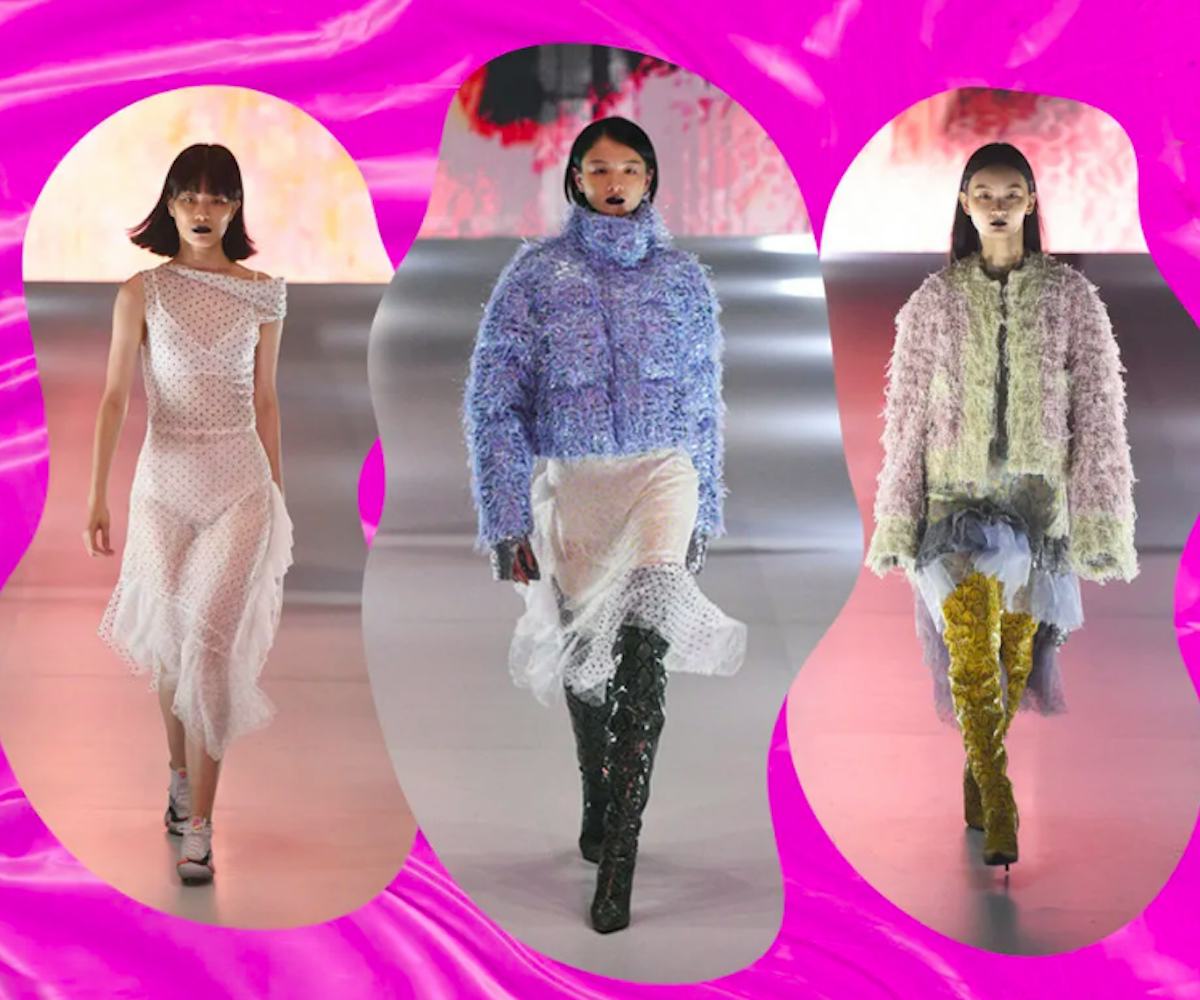 Photos courtesy of HKTDC
Meet The Hong Kong Designer Beloved By Ariana Grande, Bella, And Gigi Hadid
Anaïs Jourden is the new cool girl brand
You need to know womenswear brand Anaïs Jourden. Gigi Hadid, Bella Hadid, Priyanka Chopra, Elisabeth Moss, Emily Ratajkowski, to name an impressive famous few, already do and all have worn Jourden looks. So has Ariana Grande, who majorly rocked Jourden's "Kira Confetti" crazily-cute cropped puffer in her "7 Rings" music video. As you already know, the video is a pastel-pinks-and-purple paradise, and the choreography and song's lyrics reflect supreme self-confidence, independence, and an unapologetic penchant for obtaining, on one's own, the luxest things in life.
"Self-confident, independent, and unapologetic" is also a perfect way to describe the look and philosophy behind designer Anaïs Mak's lauded line. Just last week, the buzzed-about brand's Spring 2020 resort collection made its runway debut at Hong Kong's huge fashion festival, Centrestage, and we can confirm that it was a part-playful, part-punk, total head-turner. Mak's sartorial signature of traditionally "pretty" aesthetics, like lots of lace and tulle, juxtaposed with some femme fatale fierceness, like snakeskin heeled thigh-highs, were on full display, as models stormed the runway to a goth-techno soundtrack replete with strobe light madness. The collection was everything. Think: a Lorde or Sky Ferreira high-fashion spread—the brooding and stylish singer-songwriters have been Jourden-clad before, by the way.
Though Mak was born, raised, and currently lives in Hong Kong, she was trained and mostly shows her collections in Paris. Recently, the LVMH Prize semi-finalist announced that she collaborated with Christian Lacroix for Spring 2020, which will be revealed via runway show at Paris Fashion Week on the 29th. We expect the vibrant vibes of the incredibly Instagrammable Hong Kong, with its pastel-painted high-rises and constant chaotic movement, and the less flashy, more high-fashion-y Paris, to once again be embedded in Mak's designs. This is one of the many topics—topics which include the "feminist environment" of nail salons in Hong Kong malls—that Mak talked about when we sat down with her over the weekend in her bold and beautiful hometown at the majestic Hong Kong Convention and Exhibition Centre. Read on for our chat with the exciting rising designer, who always delivers with her bold and beautiful sartorial-slaying numbers, below.
So, the question that everyone asks… What were some of your inspirations for your Spring 2020 Resort collection?
I'm always very inspired by girly aspirations and all things feminine. I was thinking a lot about the different sentiments of girls: their strength, their courage, their pain, their vulnerabilities. I really wanted to celebrate all of these diversities in women. It was so emotional to show in Hong Kong. I actually haven't done a proper show at home at all. In six years, I've always just been showing in Paris. I didn't anticipate I would get so nervous here!
You went to school in Paris but were born and raised in Hong Kong. How has living in both Paris and Hong Kong influenced you as a designer?
I'm based in Hong Kong, and then I show in Paris seasonally; that's kind of the relationship. I went to school in Paris for four and a half years. I think Paris is important because all of the movers and shakers are there, and all of the legends that I looked up to while I was growing up. But Hong Kong for me is important for my own emotions and all of that... even my frustrations and all the energy it gives me. I need to stay here to stay inspired, but Paris is good to show your work and connect with the people.
Hong Kong's energy is truly unlike anywhere else. But there's also chill bits that non-residents probably don't think of when thinking of Hong Kong...
The hybridity of the city is always something I have felt so proud of. You have skyscrapers and really old and nice modern buildings in one place, and then the next block could be completely chaotic and messy. And then there's beaches and nature if you traveled only like 30 minutes. There's a tropical side of things too in Hong Kong.
Let's talk about Ariana Grande wearing your puffer in her "7 Rings" music video. How did that happen and how did it make you feel?
That was so amazing. It was a really huge surprise for us. We thought it'd look really nice on her, and I loved how she could put her very energetic and very sweet, but modern spirit into the piece, so we sent it to her. We didn't know she wore it until the music video was released. The music video came out with the pink palette, with the dance moves, and I was so happy to see it like that.
Your Centrestage show's soundtrack reminds me about what you said of Hong Kong's hybridity... The sonic juxtaposition of the models storming the runway to loud rave music compared to the finale's Chinese ballad. How important is selecting music for your shows?
I always try to communicate with music. For our Centrestage show, we wanted to empower the girls with very strong music on the runway. We imagined how in the '90s, the venue—the Hong Kong Convention and Exhibition Centre—used to have rave parties. It felt really surreal to know that. We wanted to put very strong music for the girls in contrast to the softer fabrics we have them wear. I really think these hard-core, aggressive techno sounds are also empowering and almost a bit emo. I tend to go for softer, more sentimental tunes for finale songs. For Centrestage, the finale track was a Cantopop Chinese song by Anita Mui, she's one of the divas from the '80s. It was the Chinese version of "Careless Whisper." The emotive power of it is something that's so unique that I can't find in Western music. I feel like in a historically colonial city, to play covers that originate from English songs is very interesting, and it's very uniquely Hong Kong.
Several celebs, from Gigi and Bella Hadid to Sky Ferreira and Lorde, have worn your clothing. Is there anyone else you'd love to dress?
ARCA. She's produced for Björk and FKA twigs and Frank Ocean and Kanye. She's the perfect combination of mainstream popular culture, but also extremely niche and crazy. I wrote to her stylist, so let's see what happens. I really like to work with musicians and music is so important to me. I think musicians give a really different vibe to the piece. I remember seeing Lorde at Fuji Rock Festival in Japan. It was quite emotional; she was up on the hill and talking about transformations and life progression and breaking up with her boyfriend and the solitude of being alone.
Okay, and this is kind of random, but I love how you always rock a wild manicure.
Thanks for noticing! Manicuring is one of my favorite activities in Hong Kong. There are lots of manicurist salons here that I really enjoy going to. They're in very, very local malls in Causeway Bay where there are lots of different ages of women, and they spend like 12 hours working daily there. Basically, I can feel such a strong bonding of women there. They have very savvy skills when they do the nails, and they're kind of a bit rude. But I really like the whole environment: They take care of each other. It's such a feminist environment. It's really the most Hong Kong thing I could think of doing. I think it's extremely extraordinary. Everyone loves decorating their nails here.
Yet at your Centrestage show, many of the looks involved oversized sleeves that covered the model's hands. Is this because there wasn't enough time for all of them to get manicures?!
Actually, I didn't think about it very conceptually! At first, I just thought it was quite cute to add a more tailored and tough detail to softer fabrics and silhouettes, to create that contrasting tough girl look. When I wear extra long sleeves, it also gives me more protection, and I feel more secure in it somehow.
Any hints of what to expect from your Spring 2020 collection that you're showing at Paris Fashion Week?
We just announced today that we're showing a collaboration with Christian Lacroix. It'll be a very fun and flirty story that we're doing, and it's a very great, great, great honor for me to work with the House and work with the archives. This will be the first time Anaïs Jourden ever shows two collections in one show, so it's extremely monumental for us. I hope people will like our story.