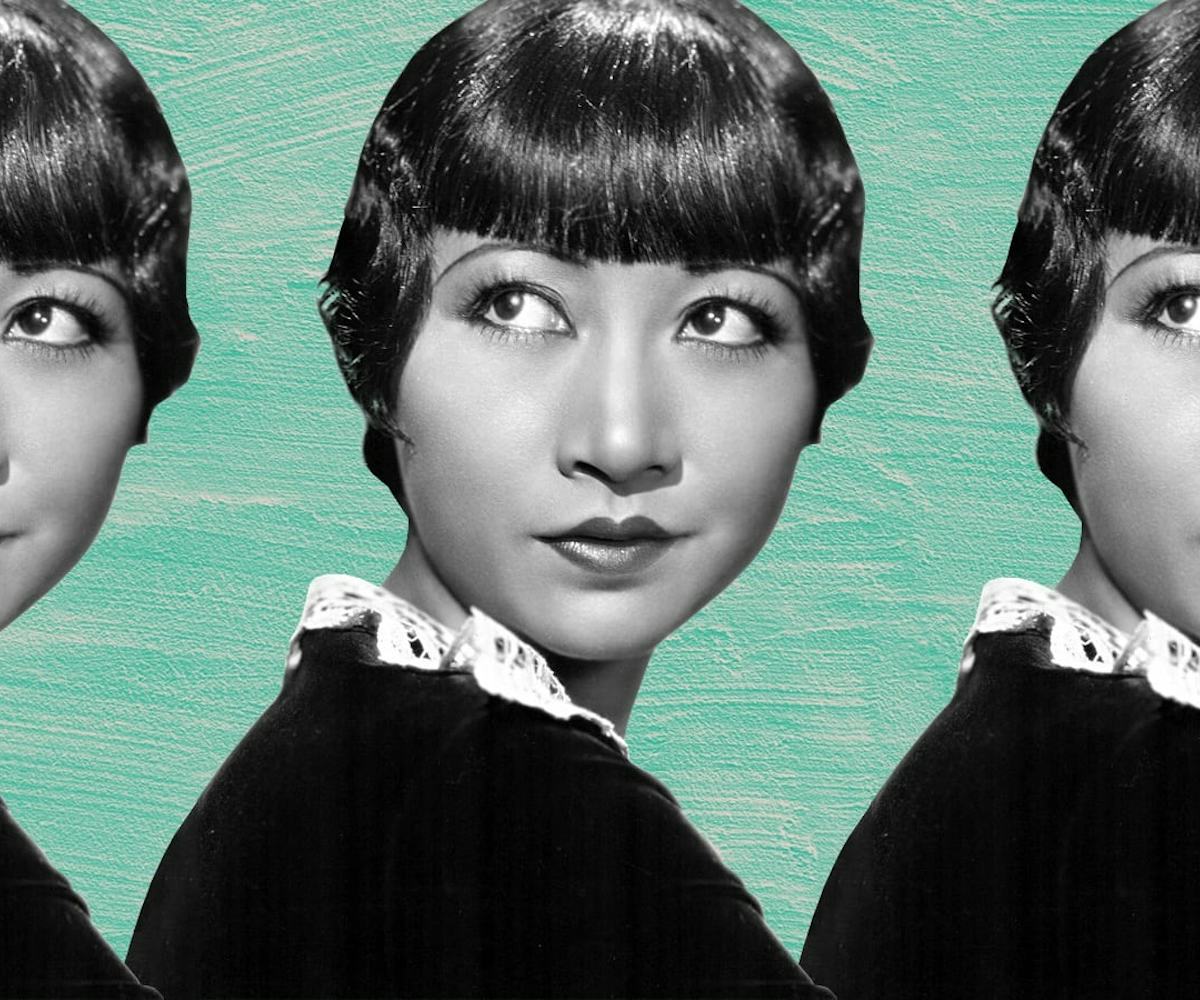 Photo from Wikipedia Commons
Two Worlds, One Dress: On The Chinese-American Qipao
Tracing Anna May Wong's visit to Shanghai, 1936
When the iconic Hollywood actress Anna May Wong arrived in Shanghai in February 1936 aboard the S. S. President Hoover, thousands of fans greeted her alongside reporters and her brother, James. At the time, Shanghai was experiencing a period of intense growth and cosmopolitanism: It was near the tail end of its "Golden Age"—while the West was experiencing a Great Depression, Shanghai was abuzz with glamour, art, and intrigue, even as the threat of civil war and foreign invasion loomed.
To the disappointment of the local Shanghai press, the 31-year-old Anna May Wong didn't speak any Mandarin. She was the first Asian-American internationally renowned movie star, born and raised in Los Angeles as a second-generation Chinese American of Taishanese descent. Though Anna May Wong's whole film career in both America and Europe pushed her to "represent" China, she had never been to China before. She intended her visit to be geared toward education—to learn Mandarin and study the Chinese theater. According to one interview, Wong wanted to "find out if [her] interpretations of China were truly Chinese." This trip was documented in a limited series and filmed by the prominent newscaster Newsreel Wong, who stayed at Anna's side during her whole visit. Wong also wrote and published a series of six columns about her trip, published in the New York Herald Tribune.
In July 2018, some 82 years later, I arrived in Shanghai, flying into the Pudong Airport from Washington Dulles. I was the same age as Anna May when she first visited Shanghai, and for the first time in my adult life I was going to live in China—my parents and I had emigrated from Wuhan to Boston when I was five. My mother was born in Shanghai in 1961, in the Jing'an neighborhood near the temple, and like me, she moved away at the age of five, not to America, but to the Hubei countryside. Though she has never returned since she left, my mother's origins still made me feel like I had roots in Shanghai. That was comforting.
For the next six months, I was going to live at the Swatch Art Peace Hotel, an artist's residency right on the intersection of East Nanjing Road and the Bund—the beautiful strip of riverside buildings whose heritage architecture has been preserved from the time of the International Settlement. From the rooftop of my hotel, one could view the Huangpu River, across it the glittering Pudong—the glowing Oriental Pearl Tower, the Jin Mao Tower, the Shanghai Tower so often covered in fog. In the evenings, the Bund glowed gold—I would walk outside, lost in the endless throngs of visitors from all over the world, in disbelief that I was there.
The Swatch Art Peace Hotel used to be the Palace Hotel, and, for a period of time, it was the South Building of the Peace Hotel. In the first week of my residency, I visited the next-door Fairmount Peace Hotel, which in Anna May Wong's day used to be called the Cathay Hotel, founded by the most famous hotelier in Asia at the time, Sir Victor Sassoon. To Sassoon's chagrin, in 1936 Anna May Wong stayed not at the Cathay but the newly opened Park Hotel, the other bookend on Nanjing Road, closer to the People's Square.
In the small upstairs museum at the Peace Hotel, I found silver from the 1930s, porcelain plates, robes, and photos of people who have stopped by the Peace Hotel over the years—Bill and Hillary Clinton, the Obamas, Charlie Chaplin, Edward Snow. Inside one of their display cases was a black-and-white photo of Anna May Wong. The caption read that she starred in Shanghai Express with Marlene Dietrich in 1932.
Four years after that film came out, Anna May Wong arrived in Shanghai, and after truly seeing for herself the reality of China, she changed her public image permanently. It was a move that was risky, in the racist American Hollywood machine: She stopped taking on non-Chinese roles, resolving to take only sympathetic roles.
* * *
For many Chinese-Americans, or people belonging to a Chinese diaspora, China can be a paradox: at once close, and at once far away. To some Chinese-Americans, it is hard to know whether visiting China is an arrival or a return. And in 1936, a time when the Chinese Exclusion Acts were still written into the laws of the United States, it was even more complicated for Anna May Wong. To be caught between two worlds, one of which rejected the other, how could one negotiate identity? In Wong's account of her visit to China, she declared, "I am going to a strange country, and yet, in a way, I am going home. I have never seen China, but somehow I have always known it...Chinese in the United States suffer from a lifelong homesickness, and this somehow is communicated to their children, even though the children know nothing about their ancestral homeland."
Watching the footage of her trip, I sensed a fretfulness that was familiar to me. Even if she described a "lifelong homesickness" for China, Anna May Wong stood out on those streets—and she looked at times bewildered, at times full of wonder. That disorientation—her eyes darting everywhere, her brisk stroll, her glances—mirrored the distinct feeling I had living in Shanghai, walking everywhere in a daze. It's true that in 80-plus years, this city has experienced one of the most dramatic transformations in history, but Shanghai still represents the same thing in our time and in Anna May's time: a city whose rapid change, cosmopolitanism, and development epitomizes Chinese modernity. According to historian Karen J. Leong, "Wong's bewilderment at the modernity manifested by 'the East'—the factories and pollution of Tokyo, Kyoto, and Shanghai, the cosmopolitanism of the cities and sophistication of their inhabitants—demonstrates how American orientalism could not imagine China's confronting the same issues of urbanization and industrialization as the United States."
Chinese reporters, critics, and officials treated Anna May Wong with a mixture of interest and disdain. They decried the roles she had to play—in particular, the shame she caused the country playing evil stock characters in Hollywood that cast China in a mocking light. According to Anna May's account of a reception in the Department of Cinematography in Nanjing hosted by the Kuomintang government, the Chinese officials "all took turns berating [her] for the roles [she] had played." Yet, it was also clear that Anna May Wong had a reverence for China, a desire to understand it, to fully connect and engage, using her newfound knowledge to cement her future as an actress who will portray the real China. It was more than just a personal longing—she was visiting for career-related purposes.
In Shanghai, I found myself tracing Anna May's footsteps—I visited the Park Hotel where she stayed, sliding through its rotating doors the way she did in video footage day after day, smiling at the camera. Each time she exited the hotel, Anna May wore a gorgeous qipao.
Sartorially, Wong's lack of belonging across America and China compelled her to assert a new identity for herself. In the footage from her initial journey to Shanghai on a boat, Anna May draped herself in a luxurious fur coat and donned a black wool hat. On the street, she wore a long qipao and black leather gloves, with a fox fur draped around her. In this same outfit, she visited the Yuyuan Gardens, walking through a portal that I've walked through myself when I visited. She was a tourist, essentially—but in a sense, she was also observing the street scenes of Shanghai, taking on the role of a female flaneur and participating in its urban life with her movements and her style of dress. If Anna May Wong's film roles expressed a series of stereotypes, a set of tragedies, or a lack of agency, then fashion has always been Anna May Wong's assertion of her identity, her sense of connection to her culture, and consequently, her agency.
* * *
Before this trip to Shanghai, I never owned a qipao. Growing up in Silicon Valley, I did not perceive my Chinese culture as something beautiful or desirable—even among Chinese-Americans. In the early 2000s, I remembered an insurgence of chinoiserie in fashion and pop culture: cheap and scratchy mandarin collared shirts at Forever21, machine-stitched dragons and arbitrary Chinese characters emblazoned onto T-shirts. The commodification of Chinese culture was more lazy approximation than a true representation—and this could intensify the alienation and shame that Chinese-Americans might feel, especially growing up.
In 2015, the Metropolitan Museum of Art opened its China: Through the Looking Glass exhibition, curated by Andrew Bolton. Anna May Wong was a prominent part of the exhibition—the museum displayed some of her costumes, including the dress she wore as Tu Tuan in Limehouse Blues. Movie stills and photos of her were placed in mirrors above the dress displays. "Chinese-style" dresses by the likes of Valentino, Roberto Cavalli, and Tom Ford were displayed alongside traditional costumes. The exhibition copy read, "The China that unfolds before our eyes is a China 'through the looking glass,' one that is culturally and historically decontextualized." The subtext, of course, was that China's cultural and historic reality did not have inherent beauty, and it was not glamorous or stylish on its own—Western interpretations of China were deemed chic or "high fashion." The fact that many of these designer dresses were displayed alongside real Chinese costumes and art indicated that they were interchangeable—that their coded references didn't matter as long as it fulfilled some kind of Orientalist fantasy. Asserting that a "culturally and historically decontextualized" China exists implied that the Chinese objects and dresses actually displayed had no history behind them, that they were to remain inscrutable to Western museumgoers. The implication was that on the fashion totem pole, the fantasy of China was more valuable than Chinese culture itself.
In the fall while I was in Shanghai, Dolce & Gabbana released a series of advertisements called "Eating with Chopsticks" in what shanghaiist described as an "epic and embarrassing public relations catastrophe." The ad featured a Chinese model in a red sequined dress and heavy gold jewelry, trying—and failing—to eat pizza with chopsticks, then cannoli, then spaghetti. The ad was set to stereotypical Chinese music, and it was meant to promote their fashion show, "The Great Show," to be set in Shanghai. The fallout from the racist mockery of a Chinese woman escalated quickly—disparaging comments about Chinese people from co-founder Stefano Gabbana leaked, and the show was canceled. Later, as Chinese celebrities and the general public began a boycott of the brand, Dolce & Gabbana's founders apologized, claiming their Instagram was hacked, that they "respect the Chinese culture in every way possible." But respect comes from learning the history and reality of a culture. The refusal of the fashion world to understand or contextualize clothing references from Chinese cultures reinforces the shame that Chinese-Americans may feel at wearing garments like qipaos. And it's a shame there's such shame, because the beauty and complexity of qipao are unmistakable.
* * *
I never wore a qipao for the same reasons I developed a knee-jerk reaction to strangers saying "nihao" to me or people asking me where I was really from: I always feared that by owning my identity as someone born in China, or wearing the traditional dress of my ethnic background, I would somehow "expose" myself as an object to be derided, ridiculed, the same way. It would draw attention, and perhaps the most unwanted kind of attention. Though I wonder—in rejecting the part of myself that is Chinese, in recoiling at the sound of "nihao" and declaring firmly, "No, I am from California," do I erase something valuable? Do I erase something that is actually inherently beautiful, contrary to what the outside world tells me? Or do I reject the stereotype implied when a white person greets me with "nihao"—the presumption of strangers approaching me with their assumptions, and their personal perceptions of China?
I don't believe the false binary between retaining an ethnic culture and "assimilation"—only the reductive model minority myth implies that assimilation means fitting into a white status quo. When I took a hard look into why I believed I would be ashamed of wearing a qipao, I realized that it is because I, like many Asian-Americans, am conscious when it comes to the white gaze, and any flagrant or obvious display of my cultural identity was going to be misread, misinterpreted, cheapened.
In Shanghai and Hangzhou, Anna May Wong hired tailors to make a whole wardrobe of qipao for her to bring back to America. She inventoried them and even wore them on television. She could have easily downplayed the Chinese part of her identity, by emphasizing that her true origins were American and she hadn't been to China before her 30s. Though she was essentially rejected from both parts of her identity—excluded by white America and resented by China—Anna May Wong invented a place for herself with having her qipao made. According to Sean Metzger, author of Chinese Looks: Fashion, Performance, Race, "Wong uses the qipao to connect to a constructed Chinese 'tradition' to maneuver through China's epochal shifts during the late 1930s. Her sartorial acts manifest new ways of thinking about commodification and racialization." These new sartorial ways of thinking were Anna May's attempt to challenge white American racism, white American sexism, and Chinese patriarchy, all of which have impacted her. It was her way to assert she had a right to belong.
* * *
The first qipao I acquired was a turquoise one from small silk shop in Hangzhou. I bought the dress on a whim—it fit me snugly, and I loved the way the sheen on the dark turquoise pattern of chrysanthemums caught the light. It reminded me of Maggie Cheung's iconic qipaos in In the Mood for Love—their sumptuous patterns and flowers, their tight fit. One of my Chinese friends mentioned that qipaos were supposed to stretch over your belly, much in the style of Eileen Chang, probably the most famous woman writer of Shanghai.
The second qipao I bought was from Shanghai's world-famous South Bund Fabric Market: It was a black silk sleeveless dress covered in gauze, which was embroidered with hundreds of gold, red, and purple metallic threads in the shape of a peacock. It reminded me of the Shanghai Ladies I saw everywhere since arriving in Shanghai—paintings of modern women draped in silk qipaos and furs, which proved to me that Chinese glamour was indeed something to covet, something to be in awe of.
The third qipao I bought in Suzhou, the capital of silk production in China. I tried it on, and it fit me, but I hesitated, asking the friend I was shopping with, "Where on earth would I wear this? Where on earth would I wear any of these qipao?"
"Everywhere," she answered. So we did.
* * *
When Anna May Wong returned to America, she made an appearance on MGM's variety show Hollywood Party, where she modeled the gorgeous qipao she bought on her trip to China "to signify her new status and cultural consciousness," according to Metzger in his chapter "Anna May Wong and the Qipao's American Debut." He goes on to say, "Wong developed a subjectivity as a Chinese American woman. Wong manifests her new agency through dress, as evidenced in her celebratory onscreen fashion show." Karen Leong agrees with this take, asserting that Anna May incorporated "China's critique of Hollywood portrayals into her American image, both behaving and appearing more decorously and visibly Chinese. When she returned from China, as a symbol of cultural pride she abandoned the latest American or European fashions in favor of gowns that Chinese women were wearing."
It is this Chinese-American subjectivity and pride that I want our community to reclaim—and to manifest newfound agency around our sartorial choices. With so many Chinese-American designers currently making significant milestones in the fashion industry, this is entirely possible. Two years before the "China: Through the Looking Glass" exhibition at the Met, there was another exhibition at the Museum of the Chinese in America called "Front Row: Chinese American Designers," curated by Mary Ping, that featured "the unique visions of 16 designers amidst a larger narrative of social and cultural forces that accentuated and cultivated this group's rise." The designers included Anna Sui, Derek Lam, Phillip Lim, Vivienne Tam, and Vera Wang, as well as Mary Ping, Melinda Eng, and others.
What could be the updated, contemporary version of a "Chinese-American" aesthetic? While I was in Shanghai, I wanted to find dresses to wear for my book tour in the U.S. Specifically, I wanted to find pieces that tied me culturally and emotionally to China's rich history—fashion that gave the culture both respect and reverence, and understood it on a deeper level. In Shanghai's French Concession, I wandered into a shop in Tianzifang and came across a rack of colorful dresses and jackets. I tried a few dresses and fell in love with the modern Asian aesthetic—dresses using an epic cartoon print of Nezha, a protection deity in Chinese folk religion, also known as "Third Lotus Prince." Another dress featured gauzy comic book panels of a warrior woman brandishing a sword, trimmed with fur. The name of the label is Muzkin, based in Hangzhou, helmed by the up-and-coming designer Kate Han Wen and her husband George Feng Guang. I felt that these clothes exemplified the cultural richness, diversity, and complexity of China—behind each piece there was a ton of research on Chinese stories, myths, traditions, innovations. Muzkin's collections are poetically named: Jade in the Snow, Chaos of the Mountain and Seas, the Theater of Mao'er—in the tradition of ancient Chinese poems. It riffs on traditional elements such as the qipao collar, the bell sleeve, the schoolgirl uniform, but updated them to streetwear. When I returned to the U.S., I ordered a White Rabbit candy jacket from the label. Wearing it feels like wearing my childhood, wearing my nine-year-old toothaches and pleasures and dreams. At the time, I wasn't proud of loving those White Rabbit candies, just like I wasn't proud of wearing a qipao—but today, these are badges of truth.
If our clothes could reflect our identities—if we could wear them proudly, as modern, sophisticated women—if we could learn to move beyond the anti-Chinese racism we've internalized through centuries of cultural conditioning, if we can dress ourselves with the clothes truly meant for us, then surely we could carve out who we are, move past the pains of not belonging. Surely we could be free—the 21st century equivalent of the role Anna May Wong played for her whole life: the Chinese American icon.
Sally Wen Mao's new book, Oculus, is available for purchase here.
NYLON uses affiliate links and may earn a commission if you purchase something through those links, but every product chosen is selected independently.