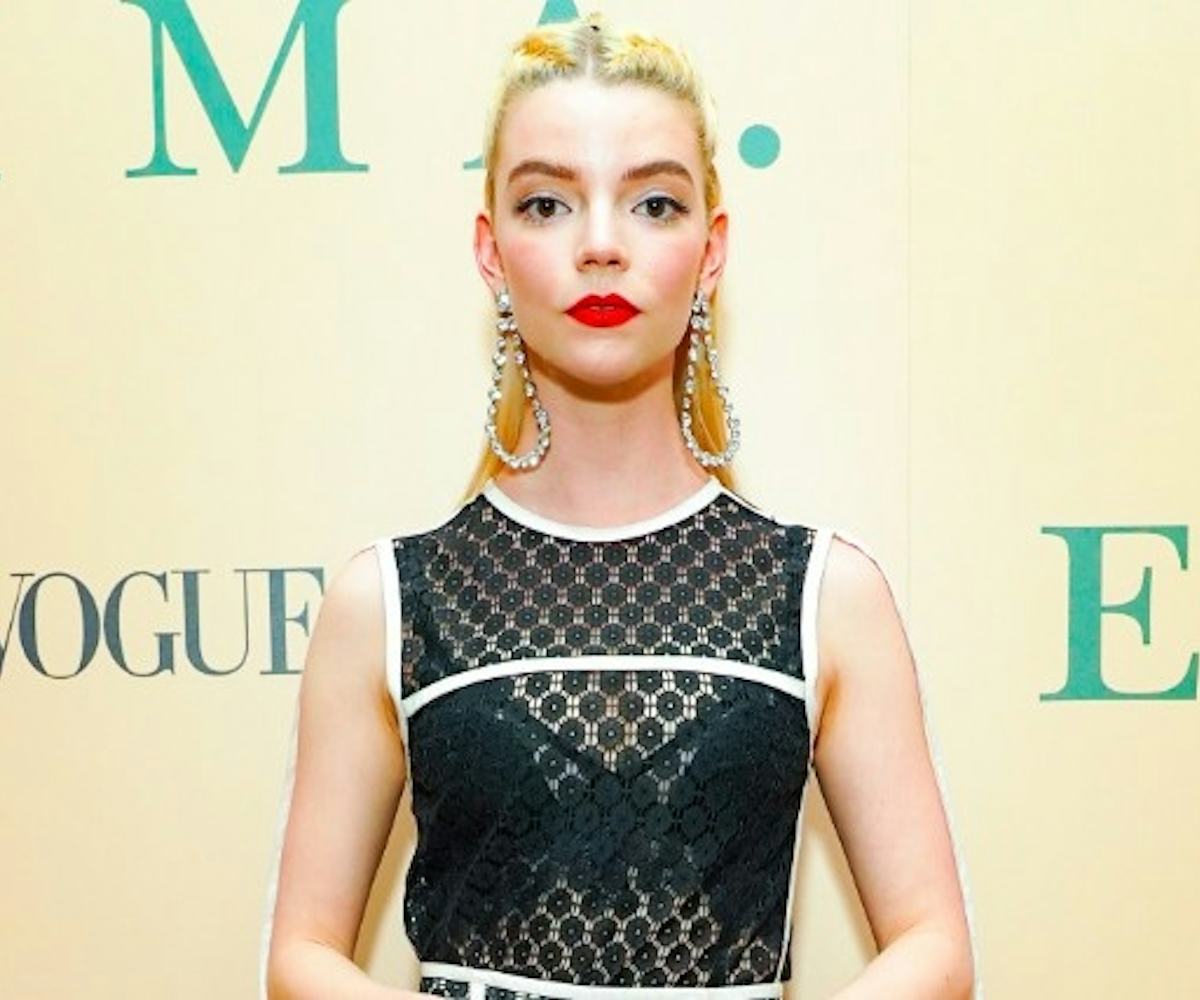 Photo by Sean Zanni/Patrick McMullan via Getty Images
Anya Taylor-Joy Is A Modern-Day Jane Austen Character In Loewe
Emma would totally wear this
On Tuesday night, Anya Taylor-Joy attended the screening of Emma in New York and she's steadily becoming a red carpet star to watch, as her latest outfit proves: She wore a matching top-and-skirt lace set from Loewe with a pair of long, tear-drop-shaped rhinestone earrings by Rainbow Unicorn Birthday Surprise.
The skirt's basque silhouette is fitting for the actor, who stars in the upcoming period comedy, based on the book by Jane Austen and arriving in theaters on February 21. While Taylor-Joy transformed into the character seamlessly, she isn't exactly the Keira Knightley type, as she recently explained to Vanity Fair.
"I used to be a huge rave kid. I just loved being in a space where you could just lose yourself and meditate through dance," she told the magazine last March, adding that she also enjoys experimenting with her style and beauty routine.
"I had hair that was long and super blonde my entire life. I remember it was a source of identity for me. I dyed it pink, and then I chopped it really, really short when I was 18," she said. "My hair was pretty much black when my career started taking off, and it almost felt like a nice front to have: 'This is the way I'm portraying myself.' I actively fought against going back to my roots. Now I'm in that period of my life where I'm like, 'No, I'm pretty okay with who I am' — or I'm getting there. I'm going to be a dark redhead by the end of the year, and I was copper last year, which I loved, so I'm very curious to see what a deep auburn feels like."
For now, Taylor-Joy is back to blonde, which is definitely not boring. How can you be in a Loewe look like that?