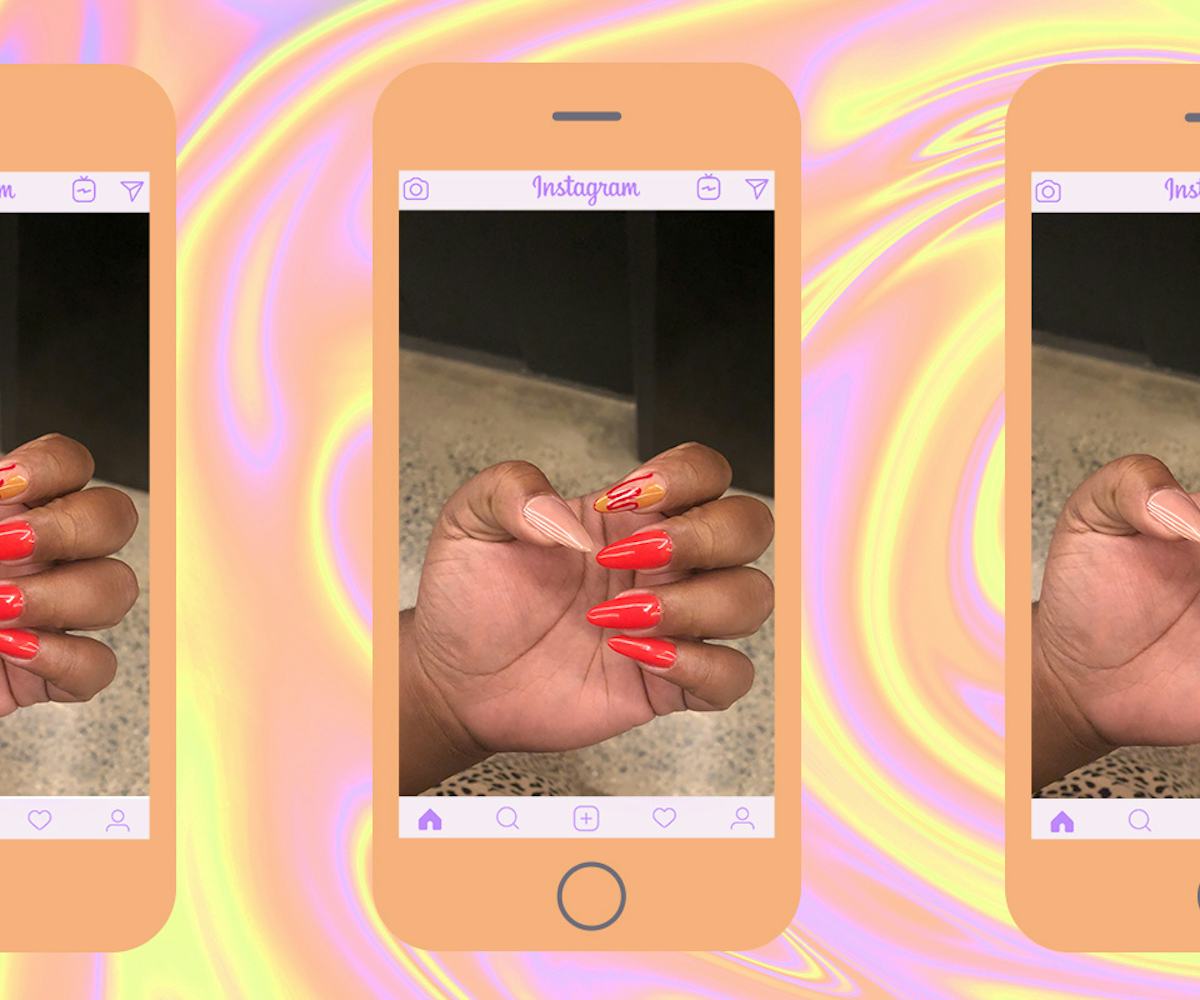 Instagram Made Me Break Up With My Acrylics For Gel Extensions
It's probably the hardest thing I've ever done
Welcome to the latest installment of Instagram Made Me Do It, where we subject ourselves to the (sometimes ridiculous) trends blowing up on the 'gram.
Hi, my name is Tembe, and I'm addicted to my acrylics. Seriously, I can't function without them. I'm obsessed with the click-clack of typing out a text, the instant boost of confidence I get after a fresh set, and the secret sisterhood of acrylic-wearers who understand what it's like to be due for a fill. That isn't to say it's an easy life—just ask anyone who has cracked a nail down the middle—but, my very scientific survey says that, in the end, it's all worth it.
I got my first full set senior year of college (shout-out to Jack at Breezy Nails), a light lavender, solid-colored mani that made me feel instantly beautiful. Not that I didn't feel beautiful before—but I hadn't given my hands much attention. They were functional at best and stubby at worst, my fingers too fat for most rings but great at opening up tight jars. They were intermittently frustrating—but, with three inches of acrylic, they were worthy of admiration. Suddenly, I was the recipient of endless compliments, strangers clasping my hands in theirs to get a closer look. "Who does your nails?" they'd ask, commenting on the shape, the length, my superior color choice.
Slowly, acrylics became a fixture—a line item in my budget furnished by a part-time job at Nordstrom and refund checks. I was loyal to Jack, my OG nail tech, then Gabby, months later. It didn't faze me when my ring finger nail snapped in half just moments before I was set to go on vacation (I was trying to shut an overfilled makeup bag), nor did the articles that warned against acrylics' long-term effects on my nails stop me from going back to the salon again and again. Even the looming threat of hazardous chemicals held no sway. I'd picked my poison, and I was willing to see it through.
But then, in a twist of fate, Aprés Gel X nails floated onto my Instagram feed, taunting me with their ultra-flat, natural look. I'd always been attracted to thin sets that mimicked my nail's natural thickness, so my interest was instantly piqued. To add fuel to my traitorous fire, the system is beloved by everyone from Instagram nail art darling Betina Goldstein to celebrities like Janelle Monáe and Ariana Grande. Further research revealed that they were healthier for my nails too. Made out of the same materials as gel polish, the tips add length without the chemicals present in acrylics, and lasts just as long. But is it too good to be true? I had to take them for a spin.
I chose to cheat on my nail tech with Kia, Aprés Gel X specialist and owner of nail wellness brand LuxK. I'd met her months ago, and she'd offered to free me from my acrylics. Back then, I was too far gone, solidly under the acrylic influence. But now, I was ready to revisit the offer, and luckily she had some space in her usually booked schedule. Prior to my visit, I removed my acrylics at home, revealing a tragic scene underneath. My nails might have looked long underneath my acrylics, but without the overlay, they were broken and inflamed.
During the appointment, Kia imparted upon me additional benefits of non-toxic nail care, like being able to utilize the service during pregnancy, and growing healthy, strong nails underneath. I'd long surrendered my natural nails to my acrylics—I'd just accepted that extensions meant weak, brittle nails—but Aprés Gel X promises something different. A quick scroll through Kia's Instagram reveals her client's impressive natural nails—some have been wearing extensions for years. I was excited for the prospect of versatility—and fly nail art, too. Together, Kia and I settled on a design inspired by artist Bianca Bello, turning her intricate line work into miniature works of art on my pointer and thumb. The rest of my nails were painted a shocking, orange-red, complementing the reds and yellows on my other fingers. Unsurprisingly, I loved everything about them. It was a refreshing change from my usual sets, and my hands looked particularly feminine, too. A few days in, one of my nails lifted, which Kia assured me was due to it being my first time, but otherwise, the rest of my nails stayed intact (I'm typing with them now).
Now for price. I ended up paying $160 for the set, a significant jump from my usual $50 fills. In my opinion, though, it's worth it if you can swing it—especially if you prioritize nail health and natural-looking sets.
So would I get them again? It depends. Even though I adore them, as a borderline millennial/Gen-Z'er who's statistically unlikely to own a home and drowning in student loan debt, regularly forking over close to $200 on my nails seems irresponsible. But you never know, I just might make it work.