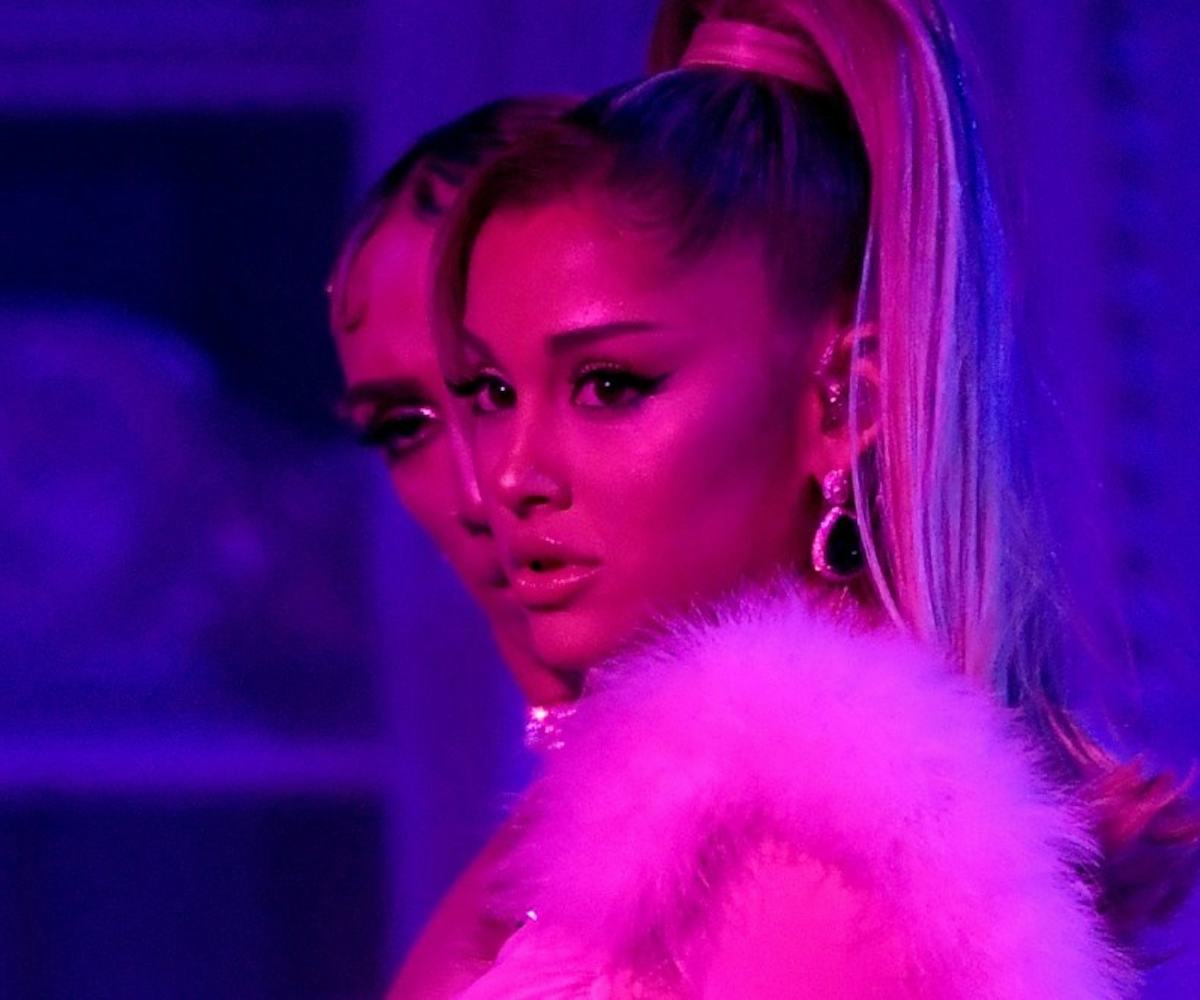 Photo by Kevork Djansezian/Getty Images
Ariana Grande Took Off Her "Engagement Ring" In Grammys Performance
After pulling out of her performance last-minute in 2019, Ariana Grande returned to the Grammys this year with a theatrical three-song-medley of "Imagine," "7 Rings," and "thank u, next" on Sunday night at the 62nd Grammy Awards. Taking the stage in a flowing gray ball gown against a purple moon backdrop, the singer opened with the delicate notes of "Imagine." Using "My Favorite Things" as a transition interlude (and cue to rip off her skirt), Grande moved into a bedroom stage-set for a sultry "7 Rings" performance, before closing her set with an emotional "thank u, next" rendition. If all that wasn't enough, she also hit the literal splits on stage, and made a point to take off her engagement ring and put it back in its box. Sorry to this man (Pete Davidson).
As mentioned, Grande was scheduled to perform at the 2019 awards ceremony, but pulled out last minute. She ended up not attending the ceremony at all, due to reported disagreements with the show producers. At the time, Grammy producer Ken Ehrlich claimed that Grande pulled out because it was "too late for her to pull something together," but she later slammed Ehrlich on Twitter writing: "i've kept my mouth shut but now you're lying about me. i can pull together a performance over night and you know that, Ken. it was when my creativity & self expression was stifled by you, that i decided not to attend. i hope the show is exactly what you want it to be and more."
She also added that she had offered three different song choices, insinuating that perhaps Ehrlich had something else in mind for her performance. "it's just a game y'all.. and i'm sorry but that's not what music is to me," Grande tweeted.
There's clearly no more bad blood, though, as this year Grande both attended and performed at the awards show, where she was nominated for four categories, including Record of the Year and Best Pop Solo Performance for "7 Rings," Best Pop Duo/Group Performance for "Boyfriend," and Best Pop Vocal Album for thank u, next.
See the full list of Grammys winners and the best red carpet looks.