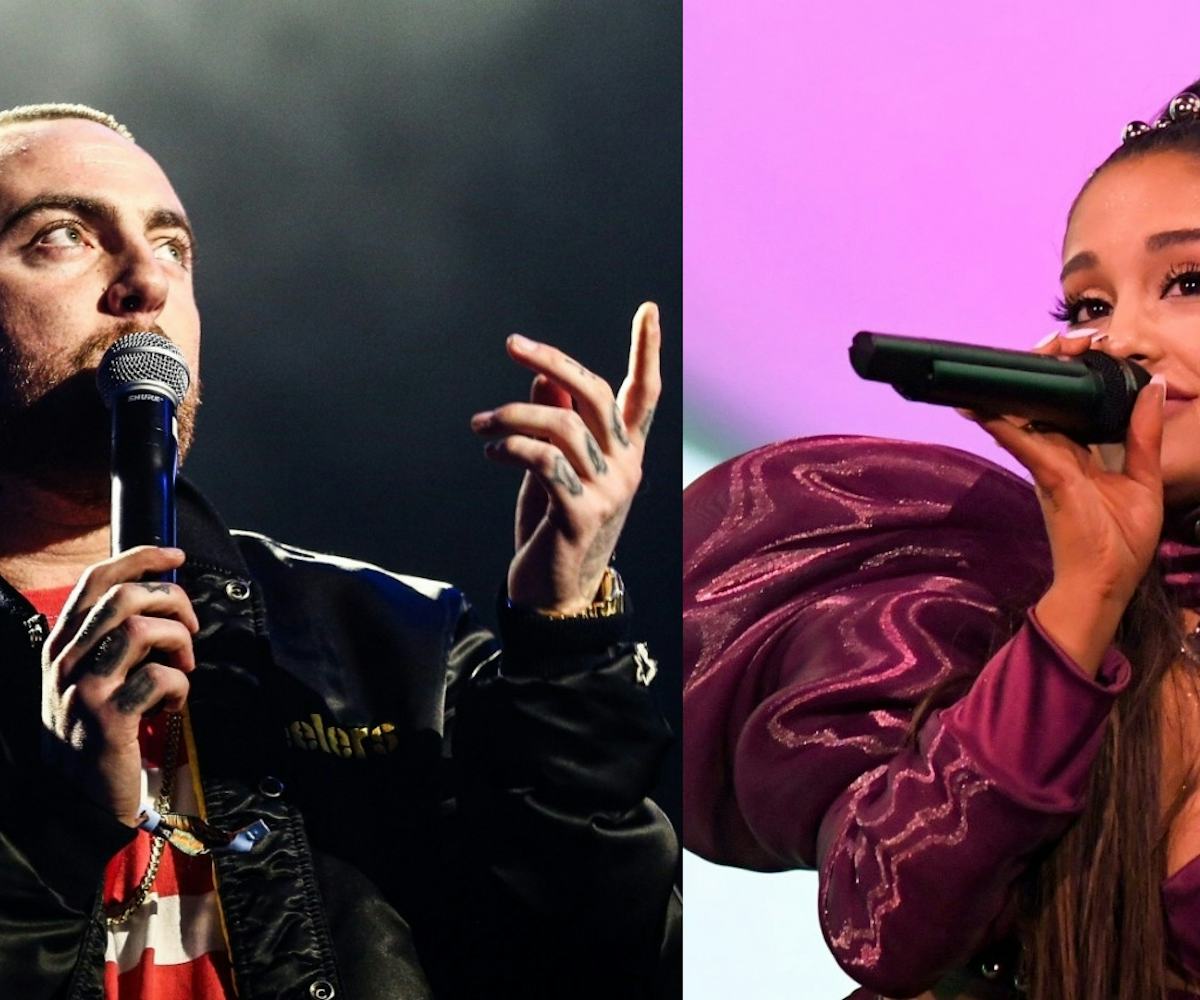 L: Photo by Rich Fury/Getty Images; R: Photo by Kevin Mazur/Getty Images for AG)
Is Ariana Grande Secretly Featured On Mac Miller's 'Circles'?
Is that Ariana harmonizing on "I Can See"?
Mac Miller's posthumous record and possible final studio album, Circles, dropped on Thursday at midnight, and there's already speculation that Ariana Grande could have a small but notable presence on the record. On the mid-album track "I Can See," fans have noticed that the harmonies in the hook sound exactly like Grande, which, if it really is her, is a heart-wrenching revelation. Though Grande and Miller had broken up long before his death, the pop auteur has since very publicly expressed her love and gratitude for his presence in her life, even tweeting her frustration when his last record, Swimming, didn't win the Grammy for Best Rap Album. So, it wouldn't be too much of a surprise if Grande did contribute her vocals for the new album.
Grande and Miller dated from 2016 through 2018, though their friendship stretches all the way back to 2013 when he appeared on Grande's early hit "The Way." Throughout the length of their relationship, the two seemed like a tight unit, with Miller even taking time off of his tour to support Grande after the May 2017 Manchester attack. Shortly after their breakup in which some fans began blaming Grande for Miller's DUI, Grande defended herself in a statement in which she called their relationship "toxic" and that "I have cared for him and tried to support his sobriety & prayed for his balance for years." Though, following Miller's accidental and ultimately fatal overdose in September 2018, Grande posted photos and videos of Miller on her Instagram, remembering him as "the kindest, sweetest soul with demons he never deserved."
Circles was first announced at the top of January by Miller's family via Instagram. The 12-track album was conceived to be a sister project to Swimming, and Miller was reportedly well into the making of it when he died. Producer Jon Brion, who also worked on Swimming, finished Circles based on "his time and conversations with Malcolm," according to the statement released by Miller's family.
Representatives for Mac Miller have not immediately responded to NYLON's request for comment regarding Grande's inclusion on the record. Listen to Circles below.