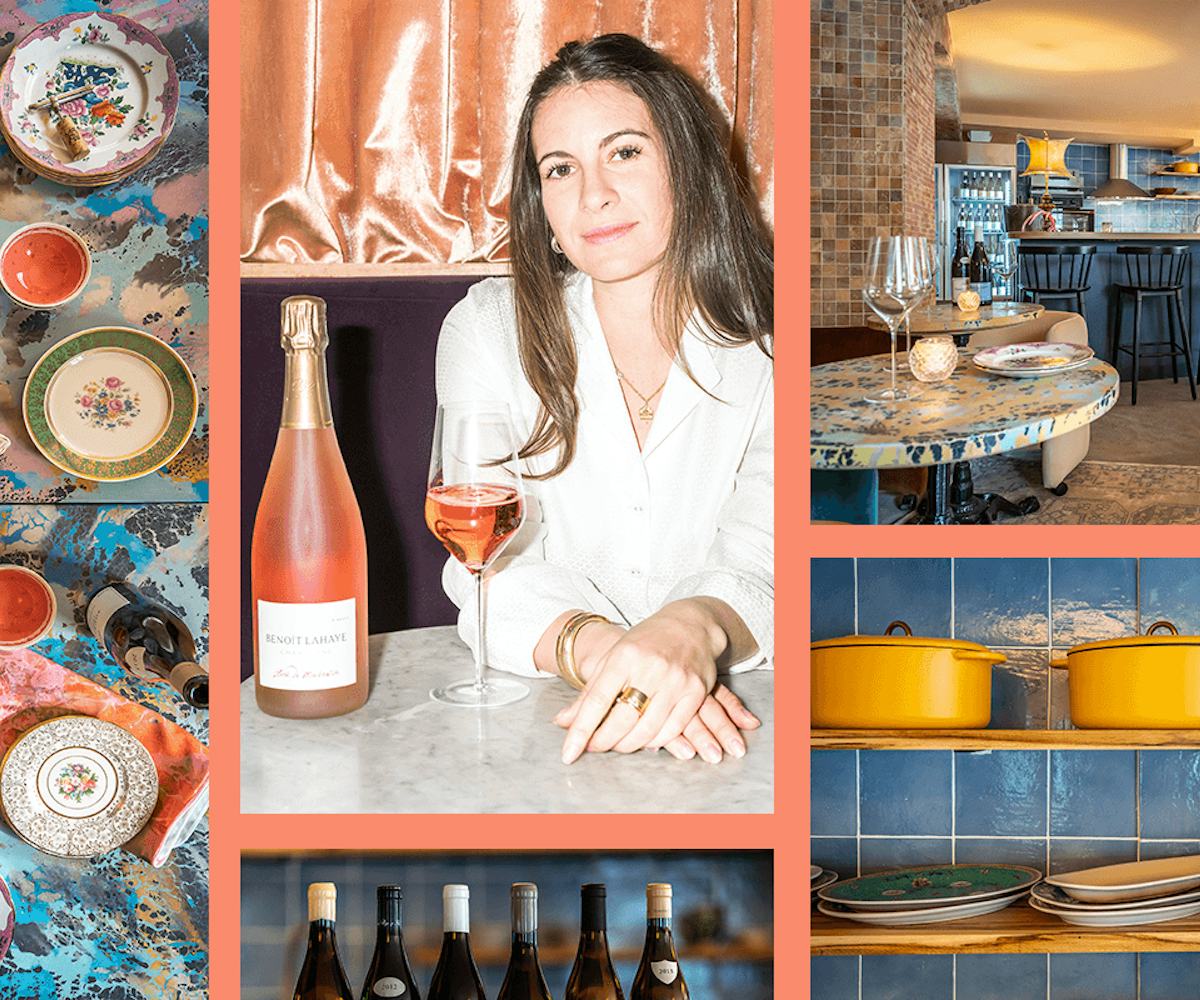 Photos by Noah Fecks
Meet The Woman Behind The Latest Restaurant Trend
Following Tokyo Record Bar's success, Ariel Arce opens a wine bar that hosts a dinner party every night
Ariel Arce is not afraid to fail. "The only way you can actually succeed is to fail, so I failed a lot and learned a lot and now I just know what that feels like and it doesn't scare me," she told me when I asked how she comes up with such unique concepts for each of her food and drink ventures. "Probably a lot of people have a lot of great ideas every day and decide not to do them because they're scared. What scares me is if we can't actually do the things that we say we can do."
What can the 31-year-old New York restaurant owner do? She can open Tokyo Record Bar—a Japanese eatery where diners pick the playlist from a collection of records and end the night with a slice of pizza—just months after opening Air's Champagne Parlor—a bar where glasses of bubbly are treated with the same approachability as still wine and craft beer—just because a space opened up in the same building. She can design the restaurants mostly with just help of her father, sourcing the most minuscule of details, like Manga that features wine and Champagne for a bathroom. Just a year and a half later, she can open a homey "Sedona chic" wine bar and restaurant, Niche Niche, where every single night a different host throws a "dinner party."
Arce credits her love for entertaining to her parents and growing up in a home where "dinner parties were a norm," saying it was the inspiration behind Niche Niche. "There's nothing more fun than being invited into someone's home, having them cook and pour drinks for you. Why not think about a restaurant who does that?" she says. For $40 at the 25-seat SoHo bar, customers are able to taste four different wines selected and introduced by a rotating group of "winemakers, producers, people who sell wine, people who curate wine lists, people who write about wine," who are all given the same budget for their respective night.
Still, given the range of hosts and their varying backgrounds—from RAMONA wines founder Jordan Salcito to Delicious Hospitality Group's (Charlie Bird, Pasquale Jones) wine director Grant Reynolds—an entirely new experience is guaranteed each night. "A lot of wine tastings aren't necessarily about tasting older things or more expensive things, but more about getting an overview of something," says Arce. "I think this gives a lot of leeway and room for our hosts to really be able to choose a gorgeous variety and selection." It's that desire to educate, by having guests try a few different wines instead of sticking to one or two glasses that they would typically order in one sitting at a bar, is what ultimately inspired Arce to start Niche Niche. "A lot of people, when they go out to dine, don't particularly want one plate of food," she says. "In this culture recently, of having lots of different plates of things and lots of different tastes of things, I don't see why we can't apply that to wine."
Speaking of plates, for another $40, guests can get a family-style meal tailored to each night's pairing. Instead of vying for attention though, Arce sees the food as "a support vehicle for the wines"—though don't let that lead you to believe that the meal is an after-thought here. "Before the new week, we sit down and we look at all of our hosts that are coming in, and we discuss the wines that they've chosen and if they're thematic or if they have a style, a varietal that really kind of stands out," she says. "Then, we look at what some regional cuisine would be really nice to pair with that."
A Champagne tasting that fell on Mardi Gras, for example, inspired a Southern Cajun meal that complemented the elevated wines, while French and Italian menus will end the month based on what the hosts have selected. Regardless of the cuisine though, according to Arce, "the food is intended to reflect if you were to come in for somebody's house. There's a bunch of little snacks for you when you first get there and then there's a plate of food that you eat in close proximity to other people." The night I attended, the most delectable shared plate of charcuterie, cheese, and condiments and bread served as the first course, a plate of pork and a bowl of salad served as second, and an apple crumble rounded out the night—all paired perfectly to organic and natural sparkling wine hailing from France, Germany, and Czech Republic selected by sommelier Veronica Rogov.
As a former actor and film student, Arce wants all her restaurants to be more akin to a "theatrical experience" than a traditional dinner out. "We have a million restaurants in NYC, and some of them really stand out to you. To me, that's because they have a true authenticity and purpose," she says. "Just to open a restaurant for restaurant's sake… I don't know why anyone would do that. It's such a hard business."
Despite following this philosophy and offering something new with every project of hers, she will never not be concerned that her restaurant won't succeed even though almost two years later Tokyo Record Bar still needs to be reserved a month ahead. "I am always going to be terrified that people will not show up to my dinner party. I will always be that person. I'll be the girl that's texting everybody the morning of just like, 'Reminder. Party at my house tonight,'" she says. "And then, because of that, I end up inviting more people than I really should." Case in point: When Arce sent out a pre-opening reservation sign-up for Niche Niche to Air's and Tokyo Record Bar regulars, she got 500-plus emails overnight. (Reservations are booked at Niche Niche for tastings through April, though guests can try walking in without a reservation or coming at 10pm and onward when it turns into a traditional bar with a wine list.)
"I'm a really impulsive excitable person, and I can get excited about any idea. If I think it's fun and I would want to do it, then I'm excited about it. And I have a real challenge because I will then just go do it, and sometimes I don't even test it out," she says. This spontaneous nature can explain how she is currently opening another concept underneath Niche Niche, Special Club, a supper club that will host live musicians (predominantly playing blues, soul, jazz) and serve Asian-inspired food, sake and wine, and shochu-based cocktails. And yet with almost four restaurants under her belt, Arce is not planning on slowing down or settling at just that, with numerous ideas in her head that she might one day act upon should the right opportunity come along.
"We had a North Star when we opened Tokyo Record Bar, and it was that we just want to be the most unique dining concept in New York," she says. "Every time someone says to me, 'That was so unique,' I'm just like, 'Okay. We did the thing that we said.'" And as long as she keeps on doing what she sets her mind to, she won't be afraid of what's next.