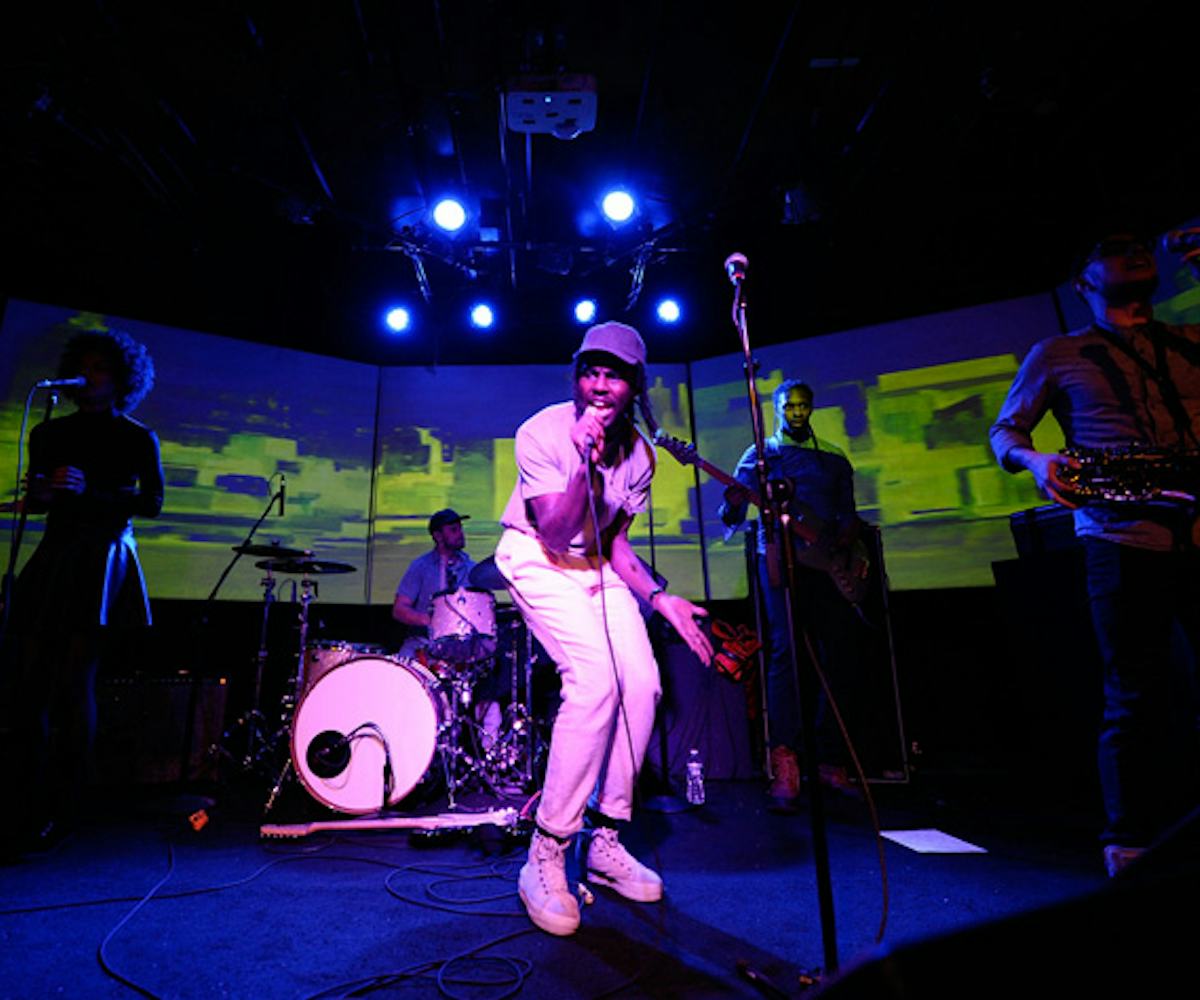 The 10 Best New Year's Eve Parties in the Whole World
More often than not, New Year's Eve means overpriced tickets, cramped clubs, and bad champagne.more But in these ten cities, ten unique parties are redefining how we celebrate NYE. Whether you're seeking high-class chic, all-night raves, or something more eclectic, the NYLON Guys Guide to NYE has you covered.
New York City - Skrillex + Diplo at Madison Square GardenWhat better way to bring in the new year than with an ear-shattering bass drop? Diplo and Skrillex have been wowing audiences together as Jack Ü all year, so this highly-awaited show is an essential opportunity to catch EDM royalty at the top of their game. Add in supporting acts Rudimental, A$AP Ferg, and Yellow Claw, and you've got the perfect setup for fist-pumping your way into 2015.
Los Angeles - Let's Party NYE with Blood Orange, Classixx, and moreWhen it comes to sheer numbers of musical guest stars, AOK Collective, KCRW and IAMSOUND Records' NYE party at LA's Legendary Park Plaza Hotel takes the cake. While some of 2014's buzziest acts, including soft rock sweethearts TOPS and London funk maestro Kindness, are on the setlist at this exclusive bash, the real draw is a rare live show from Blood Orange. He'll be performing a set of all-new, unreleased material, unmissable for fans of his excellent 2013 record, Cupid Deluxe.
London - Black Butter Records NYE Special at Electric Brixton2014 has seen the Black Butter family storm the charts, with top ten records from Gorgon City and Jess Glynn making waves internationally. The London-based label is bringing it home this NYE with a dance-heavy rave-up at Electric Brixton. Featuring Kidnap Kid, My Nu Leng, and many more on the decks, along with live performances from Bipolar Sunshine and Sam Sure, this party makes up with tunes what it lacks in bottle service. Make sure to stay for Zed Bias' set, marking the end of his 25 year career in the UK electronic scene. Tickets are sold out online, so turn up early to buy them on the door.
Paris - New Year's Eve with Acid Arab at MonseigneurIf Middle Eastern beats and gourmet bites sound attractive, then Acid Arab's all night party at Paris' intimate Monseigneur Club is for you. The infamous duo will be spinning the trademark Arab and North African dance that has made them two of the city's hottest DJs, while the club offers a free buffet between 10pm and midnight. With a shockingly cheap cover (€25 on NYE?!), Monseigneur is the place for low-cost, high-energy fun.
Berlin - New Years Eve MasqueradeAs befits a city known for its DIY spirit, the most exciting party in Berlin this New Year takes place in a reclaimed Czech cultural institute with panoramic views across the Mitte. Spread over three floors and a retrofitted movie theatre, the Masquerade showcases the talents of more than 12 DJs, including house heroes Tiger & Woods. Partygoers also get a chance to make their NYE a literary one, as local author Michael Nast starts off the celebrations reading some of his humorous short stories about Berlin nightlife.
Stockholm - New Year's Eve at BernsFor a refined New Year's celebration, go no further than Stockholm's elegant Berns Hotel. Once a temporary home to stars ranging from Marlene Dietrich to the Supremes, Berns is now a go-to location for NYE luxury in Sweden. After a choice of two five-course meals from the hotel's Asian restaurant and bistro, attendees will see in the new year with a live jazz band and sets from local DJ Johan Netz. The setting may be classy, but it doesn't mean the party won't get wild. Celebrations go on until 4am, and the hotel hosts exclusive after parties for its guests.
Moscow - New Year's Eve Party at DoolittleIt's only been open for a month, but Doolittle is fast becoming one of Moscow's most distinctive clubs. With a dancefloor in the men's toilets and a cava bar in the women's, it's a wonderfully surreal place to start off 2015. The theme for the big night is disco, with '70s costumes and thick moustaches especially welcomed. In keeping with the venue's inherent weirdness the owner will performing a live set at the bar, while partygoers willing to brave the cold can dance around the Christmas tree outside.
Sydney - FACT New Year's Eve 2015 Rooftop Session at MCA ~Sydney's Museum of Contemporary Art boasts gorgeous views of the Harbour, so catching the fireworks from its rooftop terraces is a must. The party isn't too shabby either, with a live set from UK dance legends Crazy P and support from rising Australian DJ collective Start:Cue. Even with all that dancing, there's little chance of getting hungry: unlimited gourmet canapes are included in the ticket price. Bringing in the new year with beef tataki and wagyu po boys sounds like a foodie's dream.
Hong Kong - Shine On NYE at W HotelW Hong Kong's theme for 2015 is 'All Shimmer No Filter', so you can bet that their NYE party is a straight-up luxurious affair. Ticketholders receive 3 glasses of champagne, while groups can sample two bottles of G.H. Mumm, David Guetta's preferred champagne brand. The hotel's stylish Woobar is set to transform into a boutique club, soundtracked by W Hong Kong's in-house DJ team led by W Music curator and Boiler Room alum Flora YTW.
Tokyo - Sound Museum Vision Countdown to 2015One of Tokyo's largest clubs, the subterranean Sound Museum Vision has the city's best and most diverse lineup for NYE. Canadian electro house dandy Tiga will be manning the main stage, while Japanese house legend and former Chemical Brothers collaborator Shinichi Osawa will be performing back to back with techno pioneer Ken Ishii. More leftfield are gangsta rapper Zeebra, one of Japan's most popular and long-established hip-hop artists, and DJ Emma, whose name refers to the Buddhist King of Hell. If your New Year's resolution is to listen to better music, this would be a start.
Text by Noah Jackson. Lead image via Getty.