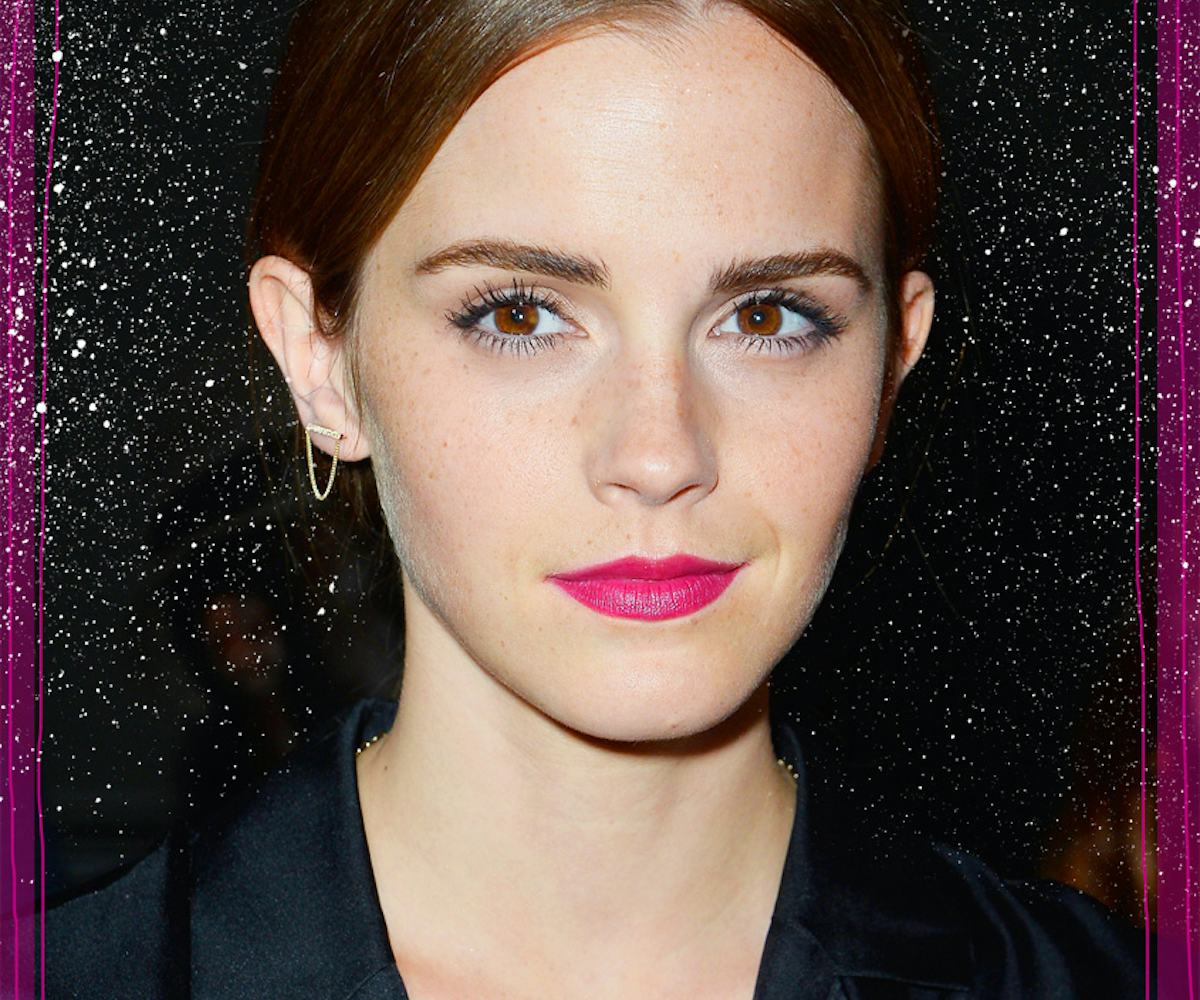 Photo by Getty Images
10 things that prove that emma watson actually is hermione
are our two favorite girls actually one?!
There are some actors that play characters with a high degree of believability—and then there are actors that actually may be their characters. The latter applies to our favorite female in Hollywood, Emma Watson, and her name-making character, Hermione Granger. Not only are the two some of the most tenacious personalities in Hollywood and the wizard world, but collectively, they have helped shape feminism and the futures of young women across the globe. Although the Harry Potter film series may have come to an end, there's no doubt that Watson is continuing (and expanding upon) the legacy of her frizzy haired counterpart alive and well. Here are ten things that prove that Emma Watson is actually Hermione:
1. She used to mouth Daniel Radcliffe and Rupert Grint's lines 
As she revealed in a W Magazine Screen Tests with Lynn Hirschberg video, Watson used to memorize her Harry Potter and the Sorcerer's Stone co-star's lines. "If you watch carefully in some scenes, you can see me mouthing Harry and Ron's lines, as well as my own," Watson said. "Because that's just what I was like. I was... I was crazy." Watch a screen test below to see.
2. She is a fervent feminist
Hermione certainly wasn't a secondary character—she was fiercely strong, independent, intelligent, and played a pivotal role in Voldemort's demise. Watson herself embodies all of the aforementioned attributes. She was voted the Celebrity Feminist of 2014 and continues to fight for gender equality through her work with #HeForShe.
3. She's a total bookworm
Watson entered Brown University in 2009, the same year she was named the decade's highest-grossing actress by the Guinness Book of World Records. She graduated last year, where she received a Bachelor's degree in English literature. "I love books so much," she told us in our October 2012 issue. "I can't begin to tell you..."
4. She understands time management
Watson starred in seven feature films during her time at Brown. SEVEN! Whether or not she had a time turner like Hermione, we'll never know...
5. She is the Hollywood equivalent of a Muggle
As the daughter of two lawyers, Watson is not related to any film industry insider. When she was 9 years old, she was chosen from a school assembly to audition for the role of Hermione Granger. After nine callbacks (read: a lot of hard work), Watson's natural talent landed her the role. "I just felt like that part belonged to me," she told Interview. "I know that sounds crazy, but from that first audition, I always knew." Similarly, it was Granger's natural skills and her strong personality that led her to Hogwartz.
6. She is extremely articulate
When you think about it, it seems as if Watson has never (as of late) said "Umm..." or "Uhh..." Like her fictional counterpart, she may be one of the modern-era's most eloquent women. No doubt she'd pronounce "leviosa" correctly from the beginning.
7. She's not afraid to try new things
In Perks of Being a Wallflower, Watson took on an American accent for the first time on screen. Though she says it was terrifying, she went through with hit and nailed it (duh). Early scenes from the film even landed her the lead in Sofia Coppola's The Bling Ring. Hermione, like Watson, goes into things full-force. But that doesn't mean they both don't study up beforehand...
8. She is "constantly thinking three, four moves ahead"
In an interview with HitFix, Watson said, "I'm very heady in the same way that she is; I'm constantly thinking three, four moves ahead. I try to intellectualize a lot, which she does as well, obviously. I'm very determined as well... I feel so much of me went into her and so much of her went into me. I can't really differentiate too much anymore it's all a bit of a blur."
9. She wants to make the world a better place
According to Stephen Chobsky, Watson signed onto Perks of Being a Wallflower (in turn, helping the movie get green-lit) for a noble reason: "Because I think this movie can prevent someone from killing themselves," Chobsky recounted her saying (in our October 2012 issue). Also, her #HeForShe initiative, mentioned earlier, promotes gender equality. Hermione, as well as fighting the dark forces in the wizard world, fights for the rights of the downtrodden. She founded the Society for the Promotion of Elfish Welfare (S.P.E.W.) after witnessing the mis-treatment of house-elves. 
10. She's a great role model
If Watson and Hermione have taught us anything, it's that despite seemingly unconquerable forces, anyone with ambition and determination can accomplish anything with a little hard work.