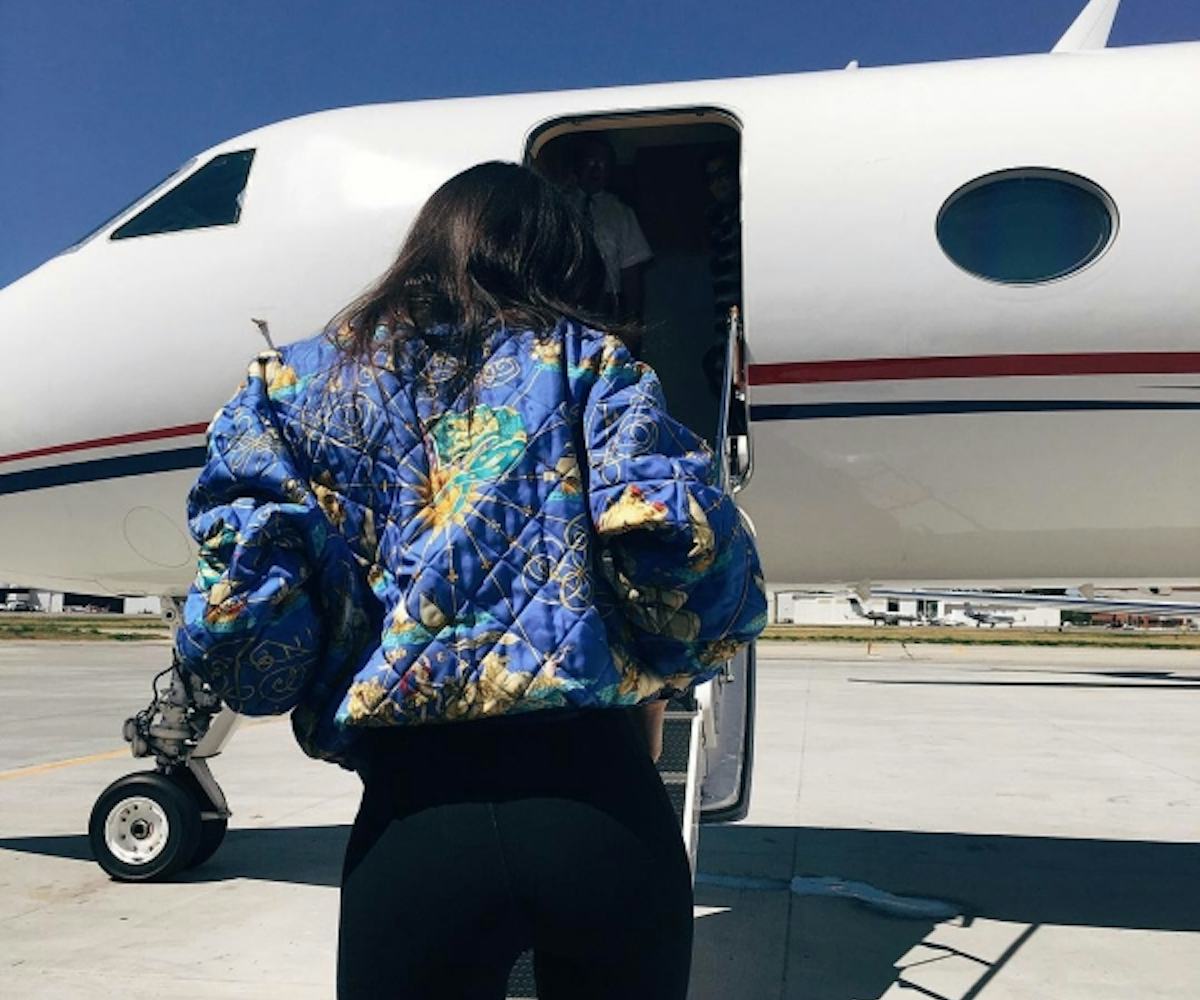 Photo via @kendalljenner Instagram
13 Hacks For Traveling Like The One Percent At No Cost
Tips and tricks from our friends at The Zoe Report
Curated by Rachel Zoe and her team of editors and stylists, The Zoe Report is not only your stop for all things fashion and beauty but all-around lifestyle as well. Check out their site for everything from shopping tips to dating advice, to the latest in celebrity news.
This week, we received a bit of good news when it comes to our summer travels—airfares will hit their lowest mark in seven years, which means that our warm-weather vacations are going to be cheaper than they have been in almost a decade. As travel-obsessed and cash-strapped millennials, however, we want to further reduce our travel expenses as much as possible without compromising the quality of our trips. This is where travel hacking—or the art of getting to travel for free—comes in, and while we may not have the time to get as extreme in our quest for freebies as some bloggers, we did manage to dig up several fairly simple ways to (legally) game the system. Here, 13 of our favorite ways to travel like Kendall Jenner on a civilian budget.
[RELATED: Where All The Cool Kids Are Going This Summer]
There's zero harm in signing up for a wide variety of airline mileage (and hotel loyalty) programs. If you want to accrue free travel, however, you'll want to stick with one program as often as you possibly can. According to Us News & World Report, Alaska Airlines, American Airlines, and Southwest Airlines have the best mileage programs (the same report considers Marriott Rewards to be the best hotel loyalty program). To keep track of all of the points and miles you accrue, we suggest using the AwardWallet app.
Mileage hacking is a full-time profession for some—for a truncated crash course, read this article on how to get started as a mileage hacker and this article for creative ways to earn mileage. The big takeaways here are as follows: If you want to start flying for free, you should be putting every purchase on a rewards-earning credit card if you can pay it off each month (they recommend the Chase Sapphire Preferred); you should be purchasing everything you would normally purchase in your daily life through mileage malls whenever possible; and you should be looking into earning miles in unexpected ways (by signing up to get monthly wine deliveries from Club W, booking spa treatments through Wellness 365, or signing up for restaurant Rewards Network programs, for example).
Sometimes, paying a yearly fee for a card can pay off, even if you're rarely using that card. The Chase Sapphire Card is $95/year, but they give you 50,000 miles after your first three months as a customer, which equates to a $625 value. (This is true for hotels as well. The Hyatt Card, for example, costs $75/year, but in that year you are allowed one free night's stay worth $250. If you know you will use that stay, the card will be worth the expense.)
Note: When using miles to book a flight, you'll want to do some simple math to determine whether or not you're getting a good value, or if you'd be better off saving the miles for another trip. To determine the value of your miles for specific flights, divide the cash value of the ticket by the number of miles required for the flight. International, premium cabin flights are generally the best value, mileage-wise.
If you love last-minute travel, you will love it even more when you're doing it on a private plane. Companies like JetSuite offer empty seats on their jets at the last-minute for coach prices (and sometimes, even less!). We suggest you follow their Twitter account ASAP to be in-the-know.
Another trick to try if you're feeling antsy this weekend and want to get out of town? Call local private aviation companies a few days before your desired departure date and ask them if they have any deals—you may end up flying private to Vegas on a dime!
If you're planning to bounce around Europe, Asia, or any other continent on your next trip, you probably want to look into purchasing a single-continent pass like the ones offered through the Oneworld Alliance. Pricing will be much cheaper than if you were to book each leg of your trip individually (think $150 versus $750 a flight), and you can book everything but your first flight at the last-minute. This might not literally translate into free travel, but it will potentially allow you to hit up multiple destinations for the price of one flight.
If you think you might pick up a sizable amount of souvenirs wherever you go, be sure to hang onto your outbound ticket for the duration of your trip. If your bag is overweight when you check in to head back home, you can give the agent your original ticket number so they can look it up and see whether or not you were initially charged for your bag. If you weren't, most of the time they will agree not to charge you on the way home. Note: This only works if you're flying on the same airline or partner airlines for both legs of your trip.
Mr. and Mrs. Smith offers three levels of membership, each of which entails its own travel perks. Free of charge, you can become a "Blacksmith" member, which means you'll get access to exclusive hotel deals, you'll receive a free "extra" upon arrival at any hotel you book (e.g. a free spa treatment or a bottle of champagne), and you'll be awarded upgrades or other perks when available. If you travel frequently, you might want to consider investing in one of their larger memberships, which can include everything from cash-back on every booking to half-price deals on hotels that have been newly added to the site.
There's a sweet spot for hotel check-ins if you're hoping to score a room upgrade. Check in too early, and you'll get stuck with the accommodations you booked, as many rooms will still be occupied or not yet cleaned. Check in too late, and you'll get whatever is leftover. Check in when the desk is busy, and the clerk will feel too harried to bother hooking you up. Try checking in midday, after the morning rush and before the nighttime influx, and do your best to be discreet so other guests don't overhear you and blow your chances.
At this point, hotel receptionists are on to guests who try to get upgrades by pretending it's their anniversary. Be creative with your plea, but avoid sob stories. You can say you are celebrating your divorce, for example, if you are with a group of girlfriends who seem to be down for a very good time, but we wouldn't recommend showing up to a hotel alone in your pajamas and trying that line—while the desk clerk may be sympathetic, chances are he or she will also just try to get you checked in as soon as possible before your dark cloud rains on the entire establishment.
If you want to be given a bigger or better room, it almost always works to return to the front desk immediately after check in and say you're disappointed with some aspect of your accommodations, whether it be the size, location, noise level, or et cetera. Hotel staff will often suddenly produce a better room in order to ensure your happiness, but be sure to be polite when expressing your displeasure!
If you have a sizable social following, it can be helpful to post something to Twitter or Instagram broadcasting your excitement about wherever it is you're about to stay, or your enjoyment of the vacation while you're still on the premises. Sometimes, hotels will see these posts and hook you up with a better room or other perks.
Hotels are great—as is Airbnb—but what if you could stay at someone's house for absolutely no charge? It turns out, you can. Try a site like TrustedHousesitters.com or Mind My House to get started. Most of the postings we've seen involve cat-sitting, which is pretty much the easiest thing you can be asked to do in exchange for free housing.
Many cities worldwide offer tourist cards that, when purchased, allow you free, unlimited public transportation, comped entry into museums, and other perks.
Local residents often know the best things to do, and many of these tend to be less pricey than tourist traps. We love 12hours, which features 12-hour guidebooks to cities all over the globe as curated by in-the-know locals.