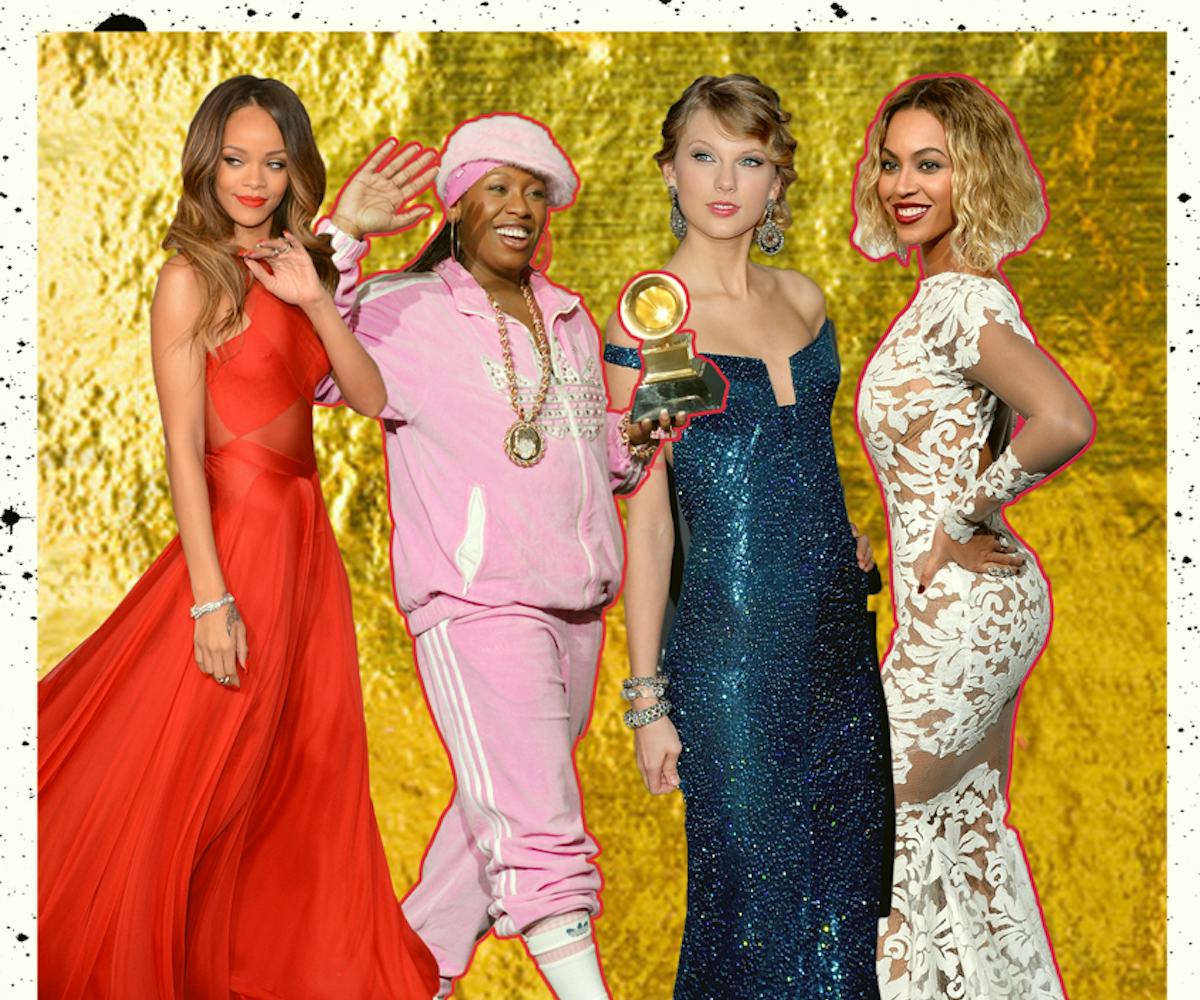 photo via getty images
the 15 best grammy looks of all time
because there are some dresses you just can't forget
As most of us with computers already know, awards season is underway—and the Grammys are right around the corner (this weekend, to be exact). One of the best parts of the entire show has to be the preliminary red carpet arrivals. At this point, we feel like we've seen it all, but who knows what can happen? This Sunday, as the 57th Annual Grammy Awards floods our social media feeds with the best (and worst) of music, our eyes will be on the fashion. 
So in a fit of nostalgic rage, we've decided to look back on some of our favorite red-carpet glam moments from Grammys past to get us ready for the big show.
Click through our slideshow and let us know if you agree! See you Sunday.
Alicia Keys, 2004
If you're cognoscente of Alicia's Grammy looks prior to this one, you'll agree with us when we say this was a major upgrade.
Beyoncé, 2014
This stunning gown created the illusion of white flowers painted right on Mrs. Carter's body. Speaking of her body, that year's awards show came right after her 22-day vegan challenge. The more you know. 
Daft Punk, 2014
Okay, not exactly the most jaw-dropping Grammy red carpet moment of its time, but undeniably one of the coolest.
Erykah Badu, 2003
The fact that she's wearing a Dead Prez shirt at the Grammys says it all.
Florence Welch, 2011
Everything about this look gave new shape to "business in the front, party in the back." In addition to her long locks, the citrus color of her dress could only be seen from her backside, leaving a blunt front for the cameras.
Rihanna, 2011
In true Rihanna fashion (pun intended), this dress was practically made for her. No, literally. How else would it appropriately cover up all of her parts? Not that Rihanna really cares about being appropriate, but...
Taylor Swift, 2010
Perhaps one of the only times Taylor took a less-is-more approach and still looked like a million bucks.
Jennifer Lopez, 2001
Iconic.
Kelly Rowland, 2013
Perhaps one of the most underrated Grammy looks of all time that only Ms. Kelly could pull off.
Lady Gaga, 2010
And to think this was just the beginning...
Missy Elliott, 2003
The hat, the chain, the sock cameo, the pink(!)... Need we say more?
Florence Welch, 2013
The singer proved the third time really is the charm yet another custom-made reptilian showstopper.
MIA, 2009
Let it go on record to say that this was one of the only times we were left speechless.
Rihanna, 2013
Simple. Classic. Elegant. This was a breath of fresh air in the midst of the singer's 'Unapologetic' reign.
Pharrell Williams, 2014
Consider this the hat that broke the internet.