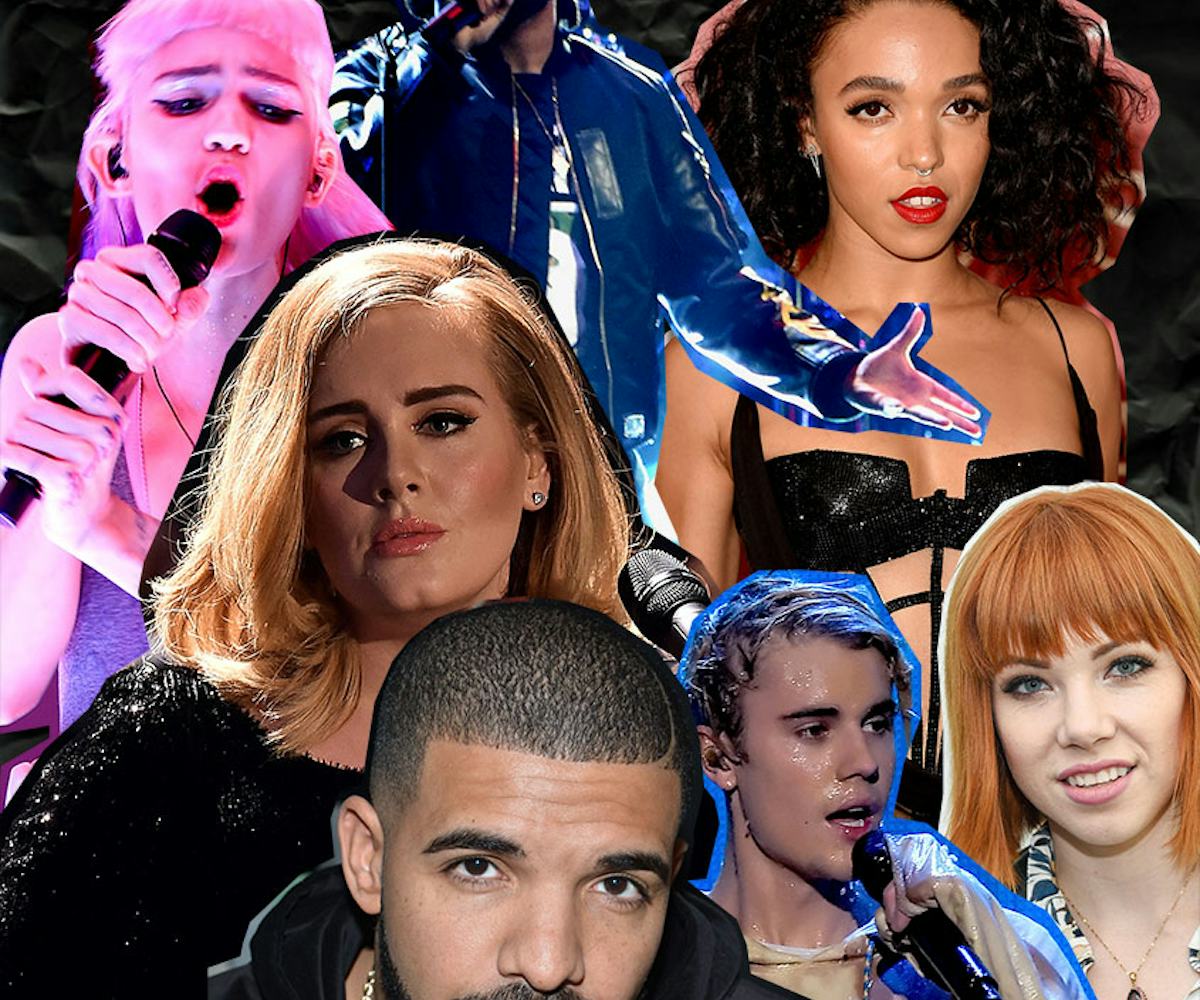 Photos by Jason Merritt, Mike Coppola, Grant Lamos IV, Nicholas Hunt Sascha Steinbach / Getty Images
The 20 Best Songs of 2015
By our calculations there were 391,233 songs released into the world in 2015, so choosing our 20 favorites seemed unfair at best, and impossible at worst. How do you choose a winner from a Grimes' album full of them? And how does only one of Drake's culture-defining anthems make the list? It wasn't easy, and you're more than welcome to disagree. That's what these lists are about, after all. 
Grimes, "Kill v. Maim"
CHVRCHES, "Clearest Blue"
Drake, "Know Yourself"
Major Lazer & DJ Snake (feat. MØ), "Lean On"
Carly Rae Jepsen, "Run Away With Me"
The Weeknd, "The Hills"
Jamie xx (feat. Romy), "Loud Places"
Kelela, "Rewind"
Justin Bieber, "What Do You Mean?"
Rihanna & Kanye West & Paul McCartney, "FourFiveSeconds"
Erykah Badu, "Cel U Lar Device"
FKA twigs, "In Time"
Blood Orange, "Sandra's Smile"
HANA, "Clay"
Courtney Barnett, "Depreston"
Adele, "When We Were Young"
Tame Impala, "The Less I Know the Better"
Drake & Future, "Jumpman"
Missy Elliot feat. Pharrell Williams, "WTF (Where They From)"
Kendrick Lamar, "Alright"