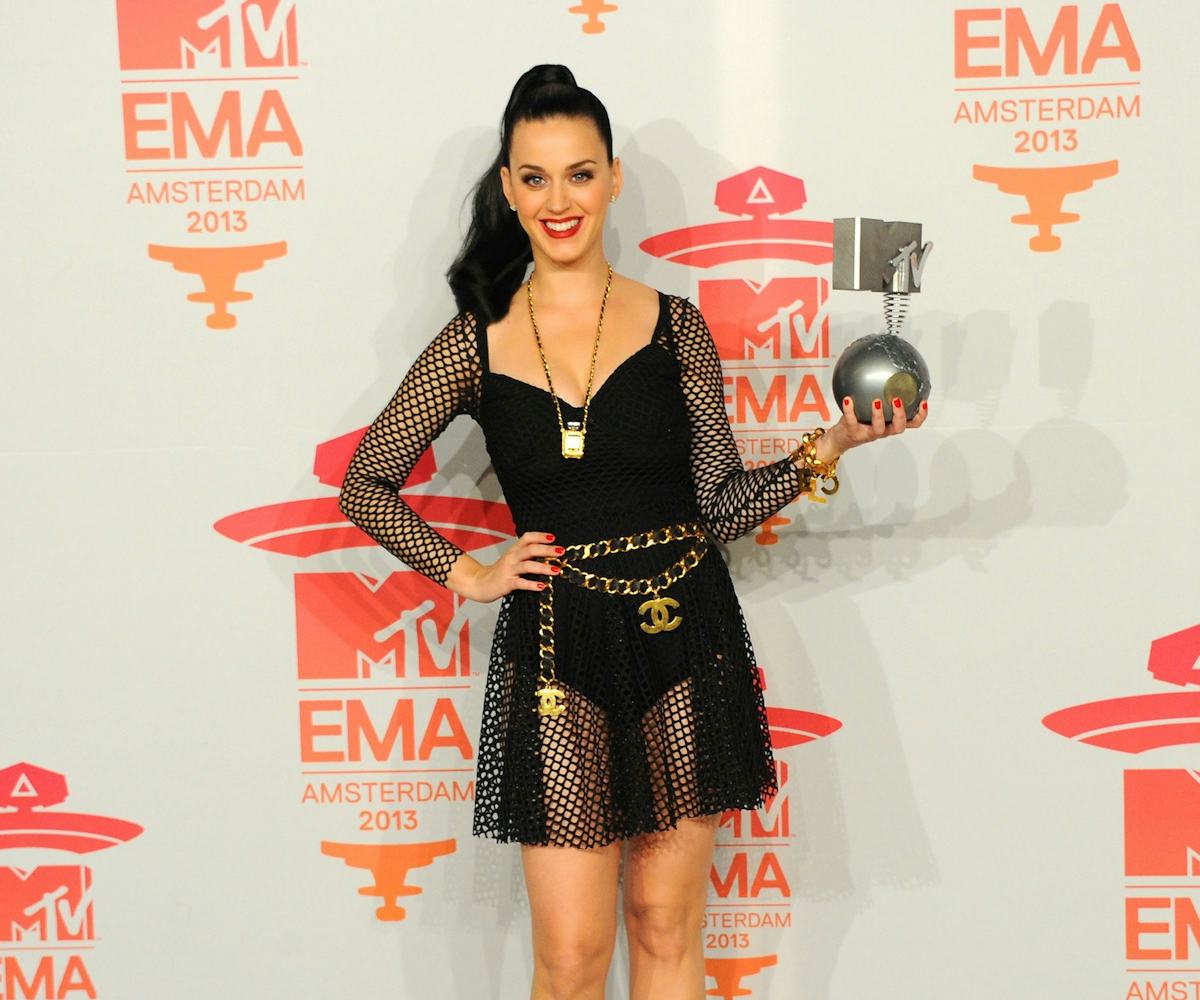 photo by getty images
2013 ema superlatives
all the best moments from mtv's party across the pond.
There are some times when a straight-up Best Dressed list just won't do, and last night's MTV European Music Awards definitely is one of those times. We normally think of our Best Dressed tally as the coolest, cutest outfits that we'd give anything to have in our own closets--like Ashley Madekwe's plaid suit or Atlanta de Cadenet Taylor's overalls--but even though the EMA fashion wasn't so practical, it was no less awesome. 
Considering the awards show is a.) from MTV and b.) Europe's answer to the VMAs, you can always count on things to get a little bit ridiculous, fashion and otherwise. (Need we remind you of that foam finger?! Didn't think so...) 
Katy Perry, Iggy Azalea, Icona Pop, and yes, even Miley Cyrus turned up in Amsterdam to rock out this weekend, and nailed it with over-the-top ensembles and multiple performance outfit switcheroos. Whether it's Azalea doing her own interpretation of Angie's Right Leg with a high slit or Ellie Goulding baring (almost) everything in sheer lace, our favorite ladies and dudes didn't disappoint in giving everyone plenty to talk about this morning. And while we might not be incorporating the clothes into our wardrobe this week, that's still not stopping us from obsessing--there's no better time to go big or go home. 
Think of these MTV EMA superlatives as the wild and out versions of the ones you left in your high school yearbook. So which stars got what? Find out below...and tell us your favorites here!
Biggest sartorial message: Miley Cyrus' "Please stop the violence" custom vintage dress, stamped with The Notorious B.I.G. and Tupac Shakur.
Biggest trend: the high slit. See Iggy Azalea, who took the whole Angie's Right Leg thing up a notch, forgoing the hot pants seen on Dilek Hanif's runway for a seriously NSFW look.
Most peekaboo: Ellie Goulding's lace Dolce & Gabbana gown, which she paired with a bra and panties.
Best hair: Jared Leto. No explanation needed.
Biggest outfit ADD: Katy Perry, who changed a whopping four times throughout the night.
Katy Perry in Zac Posen.
Katy Perry's bejewled bodysuit for "Unconditionally" performance.
Katy Perry draped in fabric.
Most tame: Ariana Grande. Maybe the best strategy to stand out at an awards show like this one is to look, well, normal?
Most method: Will Farrell, who really dug deep into his new Anchorman 2 role with a deep red suit. Paging Ron Burgundy...
Most classic: Rita Ora, who went for a Marilyn throwback with her slinky black Calvin Klein gown.
Best coordination: Icona Pop