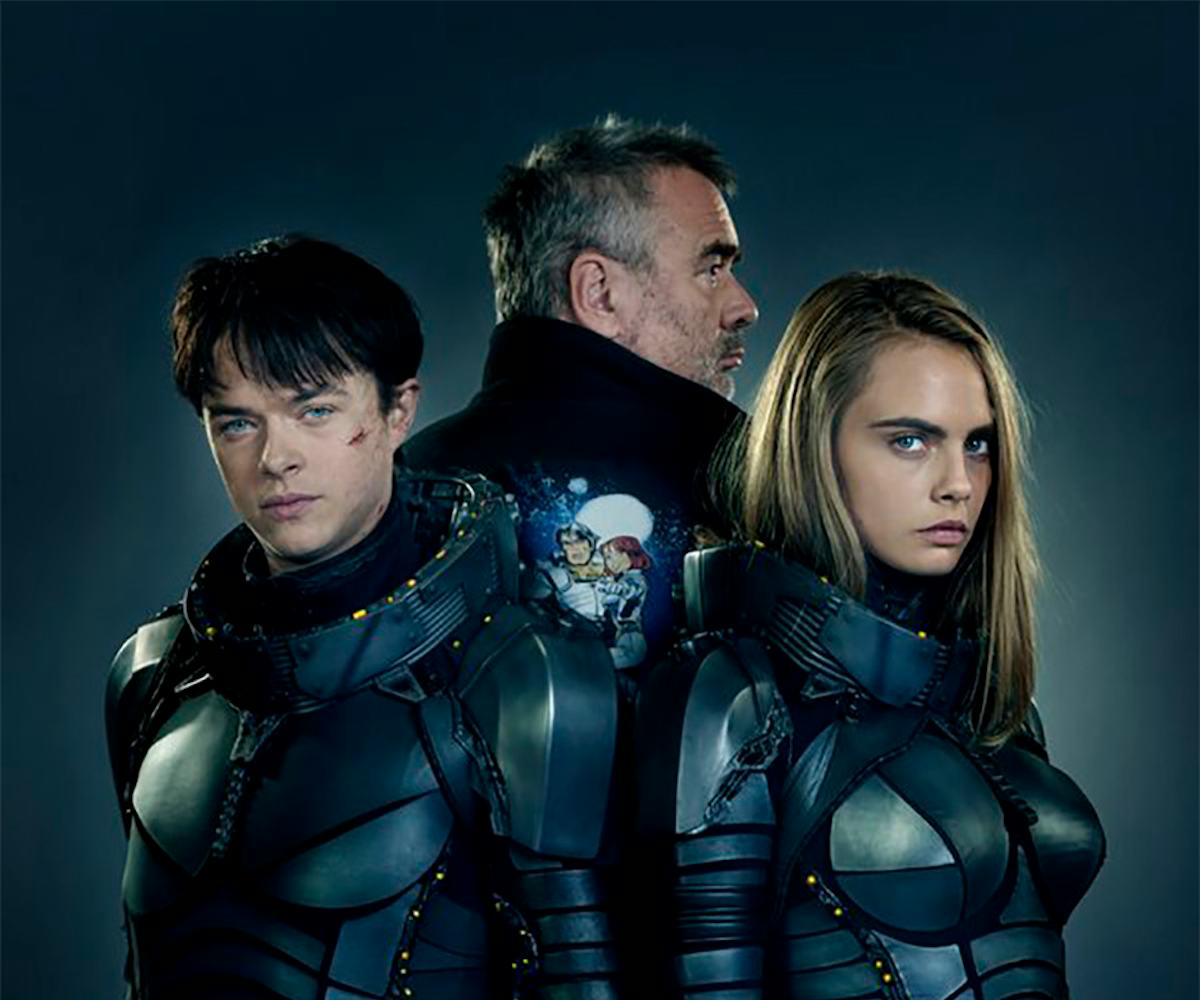 Here Are 15 Movies That Should Have You Very Pumped For 2017
As this disappointing summer movie season sputters to a close and another round of awards-hungry movies lurk just around the corner, we figured we'd look ahead to some of next year's most anticipated releases. From Luc Besson's stylish return to sci-fi to a Blade Runner sequel 30 years in the making, here are 15 movies coming out next year that, if they live up to their promise, should get you to the multiplex in 2017. 
It (Part 1)
After a troubled, stop-start history that saw Cary Fukunaga come within months of shooting the project before abandoning it, a big screen version of one of Stephen King's most lasting tales is finally on its way. The ambitious project will unfold in two parts, as a group of kids battles against a sinister force that terrorizes them, and then reunites many years later when it returns. Bill Skarsgård, of the genetically blessed Skarsgårds, is playing Pennywise the clown, made iconic by Tim Curry in the 1990 TV miniseries. As you can see by the photo, that's good casting.
Spider-man: Homecoming
Another Spider-man movie?!! Yep, another Spider-man movie. That's what happens when a character's previous movies gross more than $2 billion worldwide. But this time, Marvel, with its nearly spotless track record, is in control, and the studio has promised to take the character back to his high school roots. Some early footage from Comic-Con put out strong John Hughes vibes, and young star Tom Holland is already in contention for the best Spidey after just 10 minutes of screen time in this summer's Captain America: Civil War. Add to that a wonderfully diverse cast that includes Zendaya, Donald Glover, and Hannibal Burress, and you have our attention.
Rock That Body
It's been five years since Bridesmaids and we're still feeling the ripple effect (that's a good thing). This R-rated ensemble comedy stars Scarlett Johansson, Zoë Kravitz, Ilana Glazer, Kate McKinnon, and Jillian Bell as a group of friends who must deal with a male stripper's dead body after their bachelorette party goes off the rails. The premise is very similar to the 1998 cult favorite Very Bad Things, but the cast is dynamic enough to elevate this film into something that is uniquely its own.
Blade Runner 2
It's been over three decades since Blade Runner wowed audiences with its iconic and influential portrayal of a dystopian Los Angeles. The fact that we're finally getting a sequel with Harrison Ford back as Richard Decker means there is someone up there who cares about us. Director Ridley Scott has been replaced by Denis Villeneuve—one of the best directors working today—and the cast not only features Ryan Gosling and Robin Wright, but also is stacked with up-and-coming talent like Mackenzie Davis, Ana de Armas, and Carla Juri.
Wonder Woman
The Coldest City
Charlize Theron is back in peak badass mode (we're beginning to think it's the only mode she has) as an undercover MI6 agent sent to Cold War-era Berlin to solve a mystery involving double agents. There is no way this won't be good.
Valerian and the City of a Thousand Planets
We were already here for Fifth Element director Luc Besson's return to sci-fi, but after early footage earned a rapturous response at Comic-Con, we're starting a petition for this movie to come out tomorrow. Sign it, won't you?
Star Wars: Episode VIII
Duh.
T2: Trainspotting
Anticipation for the sequel to the cult classic hit extreme highs (pun intended) when the first official trailer dropped earlier this week. Miraculously, the original cast all returned 20 years later, and Danny Boyle, who has since become an Oscar-winning director, is back at the helm. There is no reason not to have very high hopes (again, pun intended).
Fifty Shades Darker
By all accounts, Fifty Shades of Grey was a massive hit. So it came as a surprise when director Sam Taylor-Johnson was essentially pushed off the project in favor of James Foley, who hasn't directed a movie since the forgettable 2007 Halle Berry thriller Perfect Stranger (he's been working in TV for much of the same decades). The good news is that audiences aren't coming to this sequel for the filmmaking. They're coming for the... acting.
The Dark Tower
This long-gestating Stephen King adaptation—it was originally going to be a television series produced by J.J. Abrams—is finally coming to theaters with Idris Elba as the mysterious (and very lethal) Gunslinger, who must reach something called the dark tower in order to save the fictional Mid-World. On his trail is the villainous Randall Flagg aka The Man in Black aka Matthew McConaughey, who is as terrifying as he sounds (except for the Matthew McConaughey part).
Beauty and the Beast
The latest in Disney's live-action reimaginings of its animated classics, Beauty and the Beast is deeply intriguing for many reasons. How will they portray the titular beast (in human form, he's played by Downton Abbey stud Dan Stevens)? Will the musical numbers be able to outdo the visual spectacle of the animated original? And how will you continue to breathe after Emma Watson takes your breath away as Belle? That, we do not know.
Ghost in the Shell
This adaptation of the legendary anime saga is already mired in controversy after accusations of whitewashing followed the casting of Scarlett Johansson as the lead (in the original, the character is Japanese). But beyond that, you should get very excited for the cyberpunk vision director Rupert Sanders—a brilliant visualist—will bring to the screen. And although the movie's plot according to IMDb sounds deceptively simple—"A cyborg policewoman attempts to bring down a nefarious computer hacker"—Ghost in the Shell is actually a complex tale with enough trippy sci-fi concepts that will likely melt your mind.
Life
If someone asked us, "Would you want to see a movie starring Jake Gyllenhaal and Ryan Reynolds as astronauts on the International Space Station who discover life on Mars?" The answer would definitely be fuck yes.  
Guardians of the Galaxy Vol. 2
No one expected the first Guardians of the Galaxy to be one of the funniest, most heartwarming, and blazingly original blockbusters to come out in years, but that's exactly what it was. It also gave us Groot, made us care about a talking raccoon, and turned Chris Pratt into an unbreakable movie star. Director James Gunn has said that part two will be bigger, bolder, and better, and we're inclined to believe him.