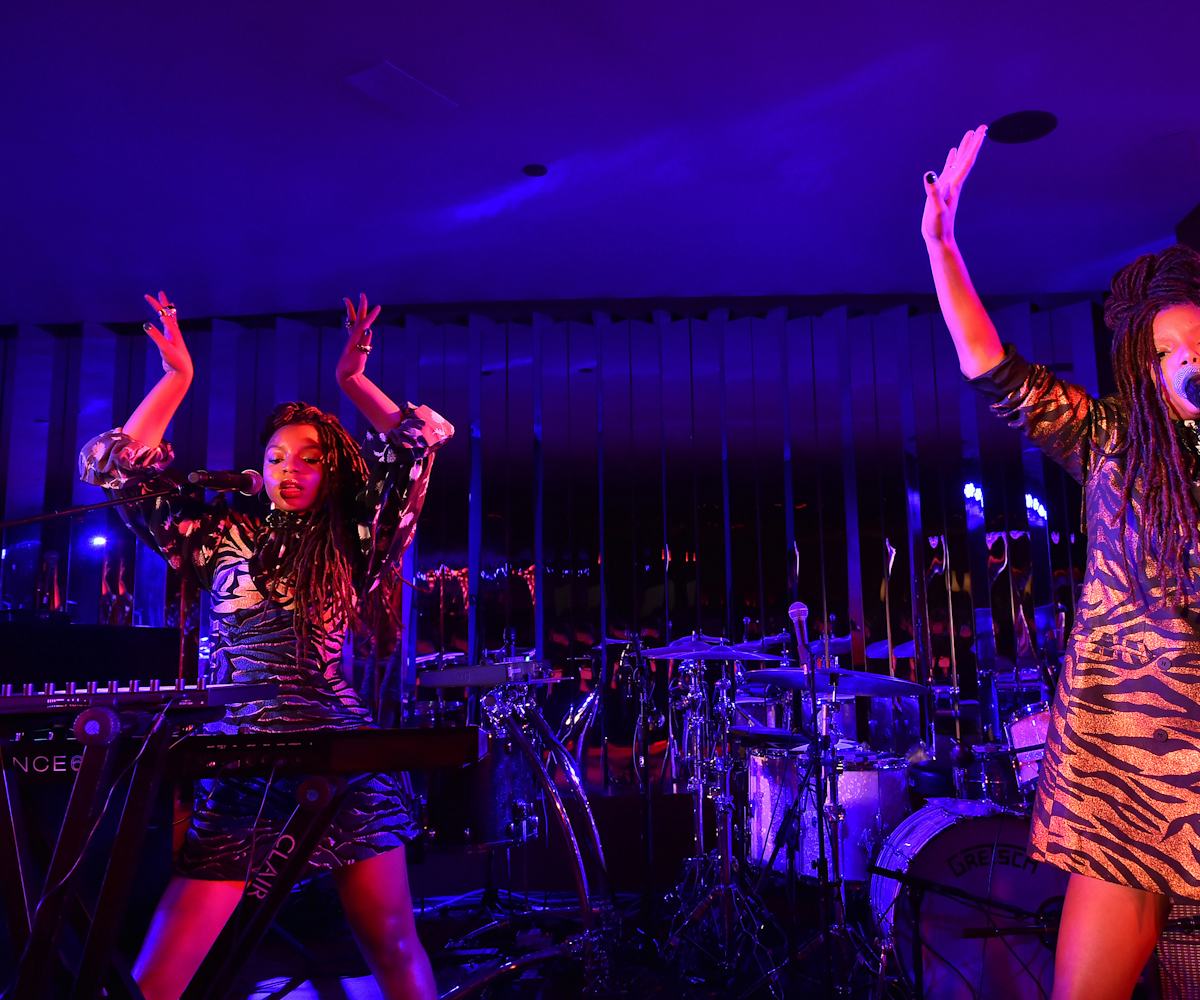 Photo by Mike Coppola / Getty Images
21 Cool New Artists 21 And Under
It's almost hard to believe that there are artists on the come-up that were born in the new millennium. The next generation of game changers has arrived, and they demand to be heard loud and crystal clear.
We rounded up 21 of the coolest new artists that are 21 years old or under. Their musical talent will completely blow you away, and make you wish that you had tried a little bit harder to chase your dreams when you were their age. 
Be inspired by the youth in the gallery, below.
Dua Lipa
Been looking for a singer that combines the ethereal vibes of sister duo Say Lou Lou and the '80s pop sounds of Carly Rae Jepsen?
is here to save your day. Juxtaposing '70s aesthetics with power pop records, this 21-year-old singer is for sure going to make it big in 2017 when she drops her debut album.
KLOE
Scottish singer-songwriter Chloe Latimer, aka 
, is a 19-year-old with big dreams that expand beyond her hometown of Glasgow. When we interviewed her earlier this year, she told us that she doesn't want to be "
." After listening to her dream-pop tracks, we're pretty sure she's anything but mediocre.
Julia Cumming
This 19-year-old is the lead singer of the Brooklyn-based band, Sunflower Bean. Confessing to the
New York Times that as a child she watched videos of Alice Cooper on VHS until the tape broke
, Cumming channels '80s and '90s alt rock with her soft voice.
Chloe x Halle
This sister duo has barely broken out of their teenage years but , at the tender ages of 16 and 17, they're already a huge deal in the music industry. Mentored by Beyoncé, these two are as big a deal in the fashion world as they are in the music world. Setting Florence Welch-like vocals to R&B beats, these sisters are sure to be the next HAIM.
Leaf
This 21-year-old rapper and New York native makes us think of Ciara and Missy Elliott circa 2009. Yes, we're talking "1, 2 Step." Unafraid of entwining rap and feminism, 
also heads her own art collective called MBM (Money Before Men and Magnetic Bitch Movement).
Zuri Marley
This 20-year-old is an artist, singer, and student who gets to call Ziggy Marley her dad. Obsessed with "
prom, football, cheerleaders—'cause we didn't have any of that in Jamaica
" and Andy Warhol, Marley recently lent her vocals to Blood Orange's album,
Ravyn Lenae
This Chicago-based funk/pop singer began singing in middle school, which isn't that long ago, considering Lenae's only 17 years old. Demonstrating a vocal maturity way beyond her teenage years, the singer belts out soothing pop tracks reminiscent of those played during the height of America's disco days. Which, is quite perfect, seeing as the '70s are all the rage right now.
Jorja Smith
This 19-year-old ex-barista fuses house music with Adele-esque vocals. Following in the footsteps of her dad (
who was once a neo-soul singer in Jamaica
), the lyricist and singer delivers interesting musical takes on the daily life of a complex teen. 
Mabel McVey
This 20-year-old singer-songwriter is no newbie to the music industry.
Born to songwriter Neneh Cherry and producer Cameron McVey
, Mabel didn't let her family know she was singing and songwriting until she was 16 years old. Thank god she did, because we don't know what the world would be like without the singer's distinct '90s-esque R&B tracks.
Sara Hartman
This 20-year-old Long Island native is about to be the next staple on any high school girl's Spotify playlist. Reminiscent of Regina Spektor and Ingrid Michaelson, the singer's calming voice easily flows between folksy guitars and heavy drum beats. Citing Radiohead and Jack Garratt as major influencers, Hartman is for sure set to be the next indie pop icon.
DonMonique
The 20-year-old rapper combines influences ranging from Foxy Brown to Earl Sweatshirt to create "thirst trap" tracks. Hailing from Brooklyn, New York, DonMonique went against her parent's wishes and pursued music—and we're so happy she did. T
he rapper's sophisticated pop culture-referencing lyrics bounce off intricate beats, and the results are sure to be a perfect asset to party playlists worldwide.
Raye
Not many up-and-comers can say Charli XCX directed one of their music videos, but then again, not many up-and-comers are Raye. The U.K.-based singer-songwriter, a contemporary of Kehlani, cranks out midtempo pop-based R&B anthems. Signed to Universal Music Group last year, this is just the beginning for the teenager.
Connie Constance
This 21-year-old Londoner is reviving the tradition of powerful soul pioneered by the likes of Etta James. Constance adds a modern pop twist to the old-school tunes she sings (she's a Rihanna superfan), and for that we're grateful. Effortlessly crooning poetic lyrics, the young singer and avid reader draws inspiration from the books she devours.
Ella Mai
Recently dubbed the "New Queen of the Breakup Anthem," this 21-year-old R&B singer collaborated with TyDolla$ign on her latest single, "She Don't." Part of the upcoming music scene in London, Mai's big on writing about raw emotion, just like her biggest influence, Lauryn Hill. 
Justine Skye
Signed to Jay Z's Roc Nation, you can't miss this purple-haired R&B singer. The 21-year-old been feeling brand-new ever since she released her latest batch of singles, and we're into her sound. Her debut album is ready to drop any day now.
Daya
You might not know Daya's name, but you definitely know the 17-year-old singer's voice; after all, she's the teenager behind this summer's massive pop hit "Hideaway." Daya's unique voice provides a welcome texture to the bubblegum pop songs she sings—the same ones we can never get out of our heads.
Killavesi
Fresh out of high school with a head of bright pink hair, this young rapper is another force to be reckoned with from Chicago. Her partner, Adamn Killa, is also blowing up, and the two of them starred in the latest 
for WeDidIt. (Casual, we know.) Don't sleep on her, these tracks are fire.
Kita Alexander
We're definitely not deserving of Kita Alexander's folk-pop musical chops. The 20-year-old Australian singer unabashedly props up Australian surf-rock culture within her beachy boho visuals, but the singer sounds more like an '80s pop version of folk singer Lissie than The Jungle Giants. Established in her home country of Australia, expect the up-and-comer to make a splash over here soon.
Willow Smith
Since her explosion onto the music scene in 2010 with the much referenced "Whip My Hair," the 15-year-old has proved that nepotism has nothing to do with her record deal. Recording beat heavy electro-pop, the youngest Smith sibling drops truth bombs that challenge notions of gender and normality on her tracks, much like her philosophical brother, Jaden.
Babymetal
K-Pop's enjoying a serious surge in popularity here in America, so why can't heavy metal J-Rock ride that same wave? Vocalists Suzuka Nakamoto, 18, Yui Mizuno, 17, and Moa Kikuchi, 17, make up Babymetal, a Japanese heavy metal pop band super popular in Japan right now. Sure, Babymetal's music varies from K-Pop in that it's more Slipknot than Fifth Harmony, but once you give it a chance, you'll be hooked.
Sophie Beem
Raised on the same streets upon which the iconic show
Gossip Girl
filmed, Beem's music isn't Upper East Side conservative. Instead, the 17-year-old, who just recently landed a record deal with Beyoncé's Parkwood Entertainment label, sings indulgent pop tracks that aren't afraid of seeming inane. The teen brings to her simple records a voice that has the same substance that made Christina Aguilera's voice legendary.