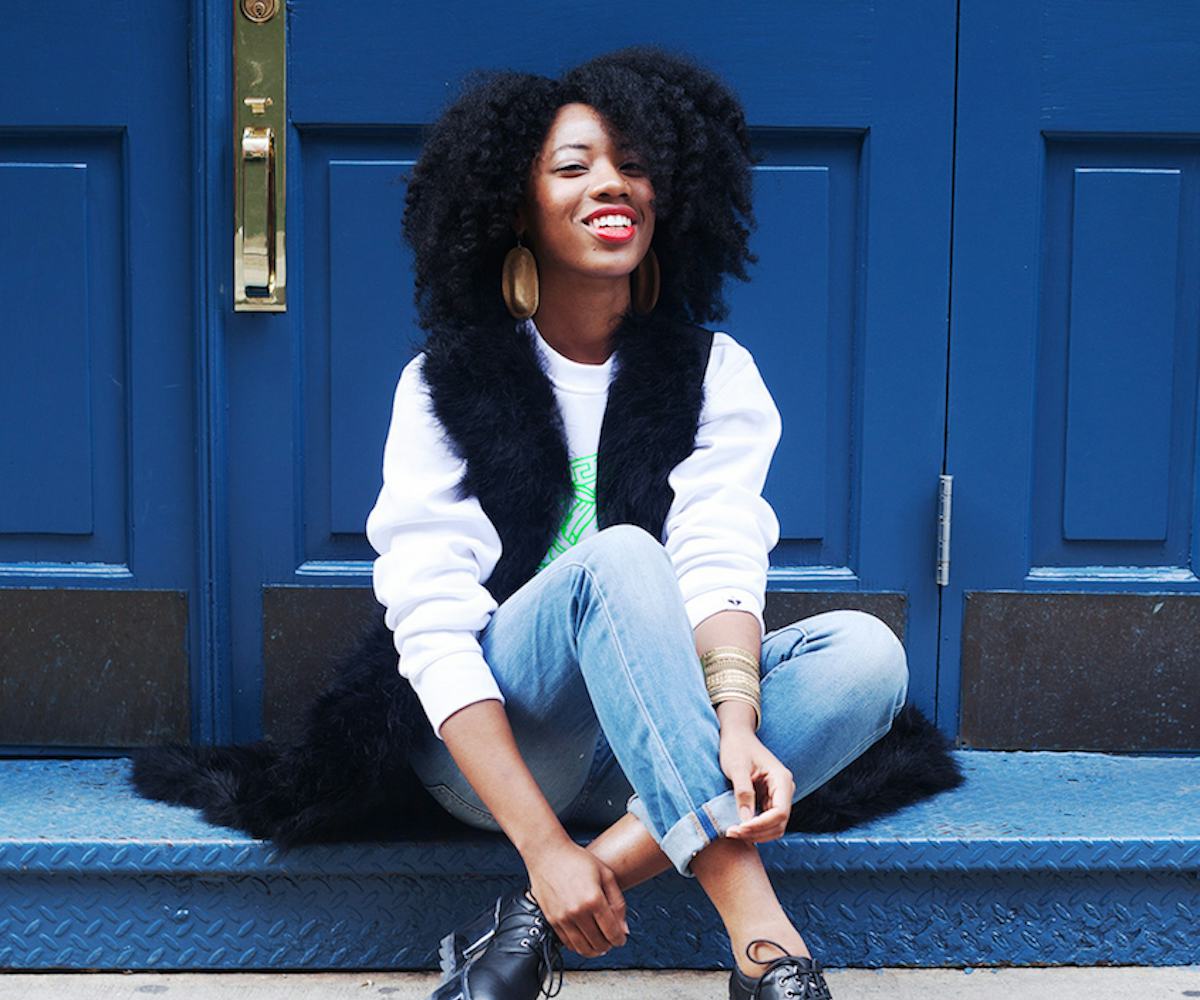 photos by suzanne darcy
3 awesome ways to wear a crewneck
sweaters just got way cooler.
Calling all crewnecks! It's officially time to kickstart the layering process, and a reinvented basic is the best way to do it. Our model Tamika Wilkins, (@mydsignerdreams), is rocking three different takes on everyone's favorite staple, showing us exactly why it needs to be your next fall wardrobe essential. Browse the gallery for some killer sweatshirt stylin' inspo and be sure to shop the looks at NYLONshop!
Look 1: Do biker chicks wear crewnecks? NYLON biker chicks do. Pair your fave black sweatshirt with some full-on fringe for a badass look that'll have you killing it all autumn long. Don't forget your bold red lip if you're going for those extra styling points.
Look 2: Do the sporty basic justice by maintaining an athletic-inspired ensemble. Give a whole new meaning to the word "sweatpants" with our ridiculously cool faux leather version, and complete the look with your fly-est pair of kicks.
Look 3: Still convinced that crewnecks can't be fashionable? Nothing says "glamour-girl" quite like a feather vest and some Versace-inspired street wear. Put these two elements together and spice it up with some gold accessories for a major It Girl moment. 
wild & free pullover, gypsy warrior, $44. (available here.)
sabbath motorcycle jacket, ruby starling, $199. (available here.)
wild & free pullover, gypsy warrior, $44. sabbath motorcycle jacket, ruby starling, $199. (available here.)
don't drake & drive, nala los angeles, $45. avadi ikat jacket, gull + marie, $90. (available here.)
faux leather jogger, married to the mob, $84. (available here.)
atsu sunglasses, coco & breezy, $150. sugar rush swirl sneakers in white, pastry, &65. (available here.)
white vice versa neon crewneck, lifestab, $69. (available here.)
feather black midi vest, never fully dressed, $159. (available here.)
qloud 2091 platforms, yru, $150. (available here.)