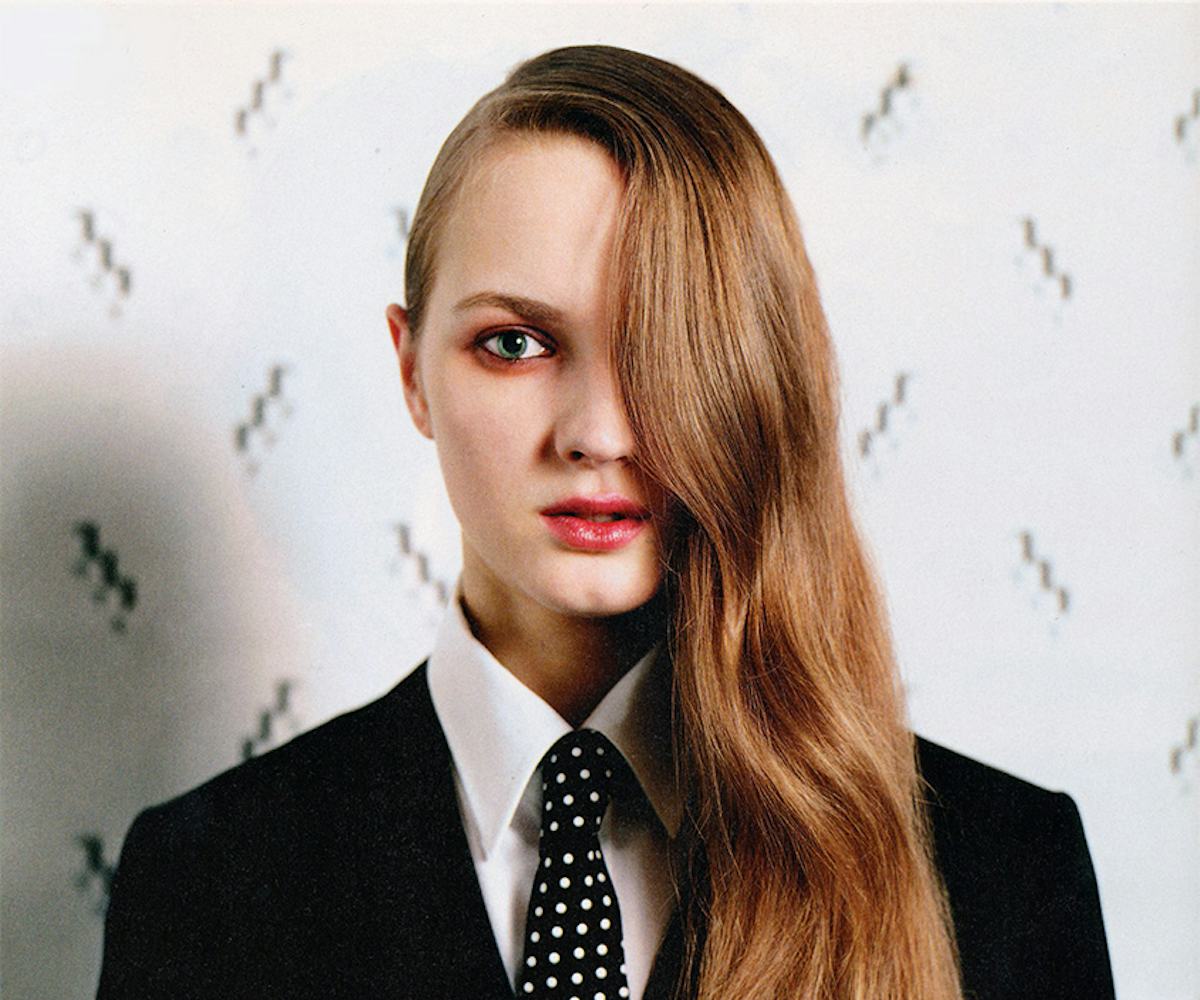 Photo by Tina Tyrell
5 Ways to Make Yourself Seem Older During a Job Interview
Finding your passion—and turning it into money—is tricky for anyone, but especially for women. The persistent gender wage gap, the lack of top female executives, and the dearth of mentorship present unique challenges. Luckily, our friends at Levo League give young women the tools and resources they need to navigate the workplace and to feel empowered and challenged in their careers. Check out their site for tips, tricks, and generally pretty wonderful advice about how to get the job you deserve.
In a world that embraces the fresh ideas and ever-evolving skill sets that Millennials have to offer, it should come as no surprise that youth is becoming more and more respected and valued in the workplace. That said, there are still some professional settings in which age, maturity, and experience reign—including job interviews.
So, what's the secret to being taken more seriously as a young person (and especially as a soon-to-be grad)? We asked three recent college graduates to share their best advice for giving off an air of experience in an interview when, well, you just don't have it. Here, our five favorite tips and tricks:
[Related: 5 Ways to Be Memorable in 30 Seconds or Less]
1. Clean up your social-media profiles.
That's right—seeming older in your interview actually starts long before you sit down in the hot seat. "It's crucial to maintain a professional presence both in person and online," says Sara Driscoll, 23, a copywriter for an ad agency in Chicago. "Employers look at these things very closely, and poor taste in what you post to social media could be a deal breaker."
The perfect finishing touch for your professional profiles? A mature-looking, high-quality profile photo. Before you snap a selfie, consider hiring a professional photographer and following these seven easy tips for looking older. Then, voila! You have an awesome profile pic to use across all your social platforms—including on your Levo profile.
[Related: Is social media causing us to lie online?]
2. Speak clearly and concisely. 
It's been said before that young people—and young women in particular—tend to fall into bad speech habits such as upspeak (turning statements into questions) and vocal fry (ending sentences with a low, vibratory tone). If you fall into one of these speech traps during a job interview, then it can indeed make you seem younger or less experienced than you really are. So, how do you stop these bad habits before they happen?
"Make an effort to slow down, enunciate, and avoid filler words," says Claire Boston, 21, a finance reporter in New York City. "These are especially useful things to think about if you're like me and speak faster or trip over your words when you're nervous." For more advice on how to improve your speech for interviews, check out these 10 tips for sounding super-confident.
3. Switch the focus from what you haven't done to what you have done.
When you've never held a "real" job, it can be hard to feel confident when talking about your past work experience. To combat any insecurities, Alexis Reliford, 22, an editorial assistant in New York City and one of Levo's College Grad Correspondents, recommends mentally pinpointing a highlight from each of your previous gigs pre-interview. "With every job or internship on my resume, I think of something unique, innovative, or out of the ordinary that I did while I was there—no matter how small it may have seemed at the time—and I speak using tons of details and passion," she says.
The best part about this technique? You can use it to help your age work in your favor. Because you're younger (and a whiz at most technologies), you might know how to use a tool that your interviewer doesn't. For example, Reliford says her knowledge of various social-media platforms—and even her experience styling Instagram photos—has impressed interviewers in the past. "These particular platforms aren't always things seasoned employers have used or even heard of, so instantly, I sound creative and more advanced," she says.
[Related: What All Your Favorite Podcast Stars are Working on Right Now]
4. Research, research, research.
You've heard it before and you'll hear it again: It's imperative that you do research on the company before the interview. Doing so will make the interview easier on you, help you seem as prepared as the interviewing pros, and ultimately impress the heck out of your interviewer.
Take it from Driscoll: "I had an interview where I was asked about the work the company did for their clients and which portfolio pieces I found most interesting. I reviewed this company's online portfolio the night before my interview, and I was able to compose a thoughtful, honest answer about specific pieces—all because I did my homework." You go, girl.
5. Come prepared with questions.
"Do you have any questions for me?" You'll hear the interviewer ask this at the end of every interview, and an older, seasoned candidate (even if you're faking it!) always has a few Qs in her back pocket.
Asking questions shows that you care about fitting in with the company just as much as your interviewer wants to see if you fit in, too. "This is as much of a job interview for you as it is for them," Driscoll says. "Showing interest and investigating whether or not a company is the right fit for you is essential to your success." Try using one (or more!) of these 10 questions to ask before you take a job.
[Related: How to Be a Great Friendtor]