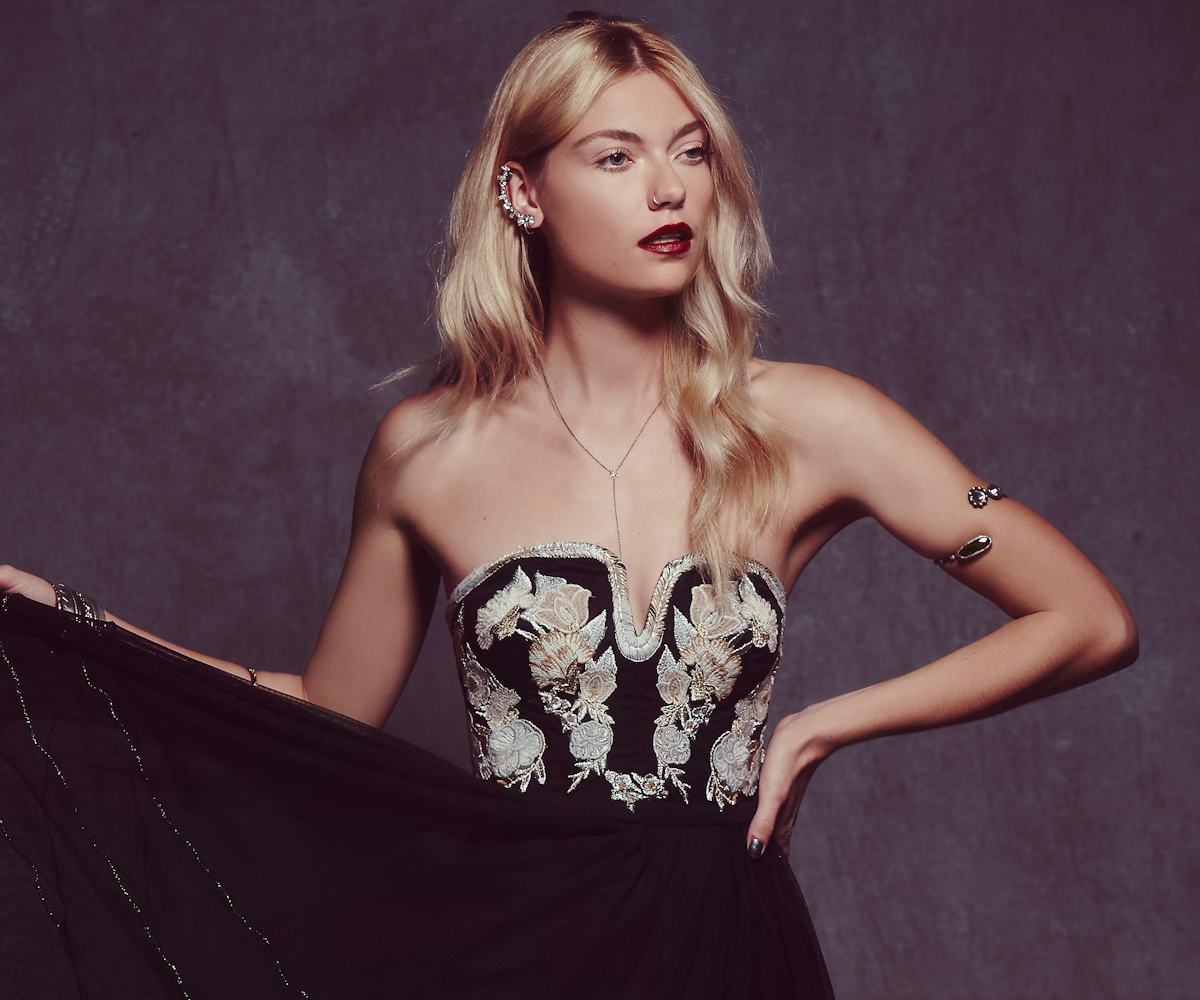 photo courtesy of free people
50 stellar holiday dresses
by yasmeen gharnit + marissa smith
By now, you've probably encountered many, many posts about how the holidays are "the most joyous time of the year, but can certainly raise your blood pressure." We get it: The holidays are stressful. And while there's not much that can be done to prevent uncomfortable dinner-table conversations and inevitable family tiffs, there are some ways to alleviate the emotional hassle—like with pretty, relatively trivial things, such as holiday-perfect dresses. 
That's why we've rounded up 50 super awesome holiday dresses (sans all the sequins) to show up your holier-than-thou cousin and distract your grandmother from the fact that you don't currently have a significant other. To make it all sweeter, you can totally wear all of them in 2015, too. Click through the gallery to see our picks. 
Motel Meadow Slip Dress In Iridescent Green, $68.
The Reformation Hall Dress, $298.
Free People Floral Bodice Mini Dress in Black, $250.
Stylestalker Drive All Night Dress, $149.
Motel Sally Mae Shift Dress in Burgundy, $89.
Stone Cold Fox Denver Dress (With Slip), $385.
Marialia Velvet Babydoll Dress, $86.
The Reformation Jolie Dress, $218.
Missguided Elodia Velvet Midi Dress Black, $37.98.
ASOS Metallic Shift Dress, $142.13.
Yumi Kim Dutch Crocus Silk Maxi Dress, $198.
Stone Cold Fox Dotted Marrakech Dress, $380.
Modcloth Sing Me to Sweet Dress, $84.99.
Kendall & Kylie for Pacsun Bell Sleeve Lace Babydoll Dress, $54.95.
Abercrombie & Fitch Mandy Velvet Skater Dress, $58.
& Other Stories Pearl Print Collar Dress, $65.
BCBG Max Azria Julianne Ruffle Asymmetrical Pleated-Drape Dress, $99.20.
Azalea Paisley Velvet Dress, $79.
Topshop Foil Pleated Hem Slip Dress, $125.
Zara Sequinned Striped Dress, $79.90.
Kate Spade Saturday Lightbeam Dress, $175.
ASOS Plunge Dip Back Skater Dress, $142.13.
Express Drop Waist Necklace Dress, $59.
COS Organza Layer Dress, $175.
Solace London Tyler Cutout Dress, $136.
Topshop Strappy Sequin Dress, $125.
Helmut Lang Ruched Stretch-Jersey Mini Dress, $195.
Anna Sui Printed Silk-Georgette Dress, $340.
Elizabeth and James Shaelene Cutout Stretch-Jersey Mini Dress, $365.
By Boutique Lace Collar Velvet Shift Dress, $240.
Solace London Kimi Mini Dress, $102.
Oh My Love Square-Neck Lace Velvet Skater Dress, $89.
Keepsake Borderline Dress, $172.
Pixie Market Mercer Red Lace Cocktail Dress, $120
Forever 21 Sequin Fit & Flare Dress, $29.93.
Madewell Silk Tee Dress in Ascot Grid, $99.99
Christopher Kane Lace-trimmed Floral-Print Dress, $1,449.
Illustrated People Lippy Conny Dress, $95.
Love Sadie Metallic Midi Dress, $89.
Modcloth Glamourous Gathering Dress, $31.99.
Ryu Expression of Elegance Dress in Noir, $114.99
Modcloth Midtown Margaritas Dress, $36.99.
Alice & Olivia Mandy Shift Dress, $298.
Kate Spade Saturdays Open Back Dress, $190.
Boss Orange Dress in Multi Illustrated Circles Print, $397.95.
True Decadence Stripe Jacquard Dress with Drop Waist, $85.28.