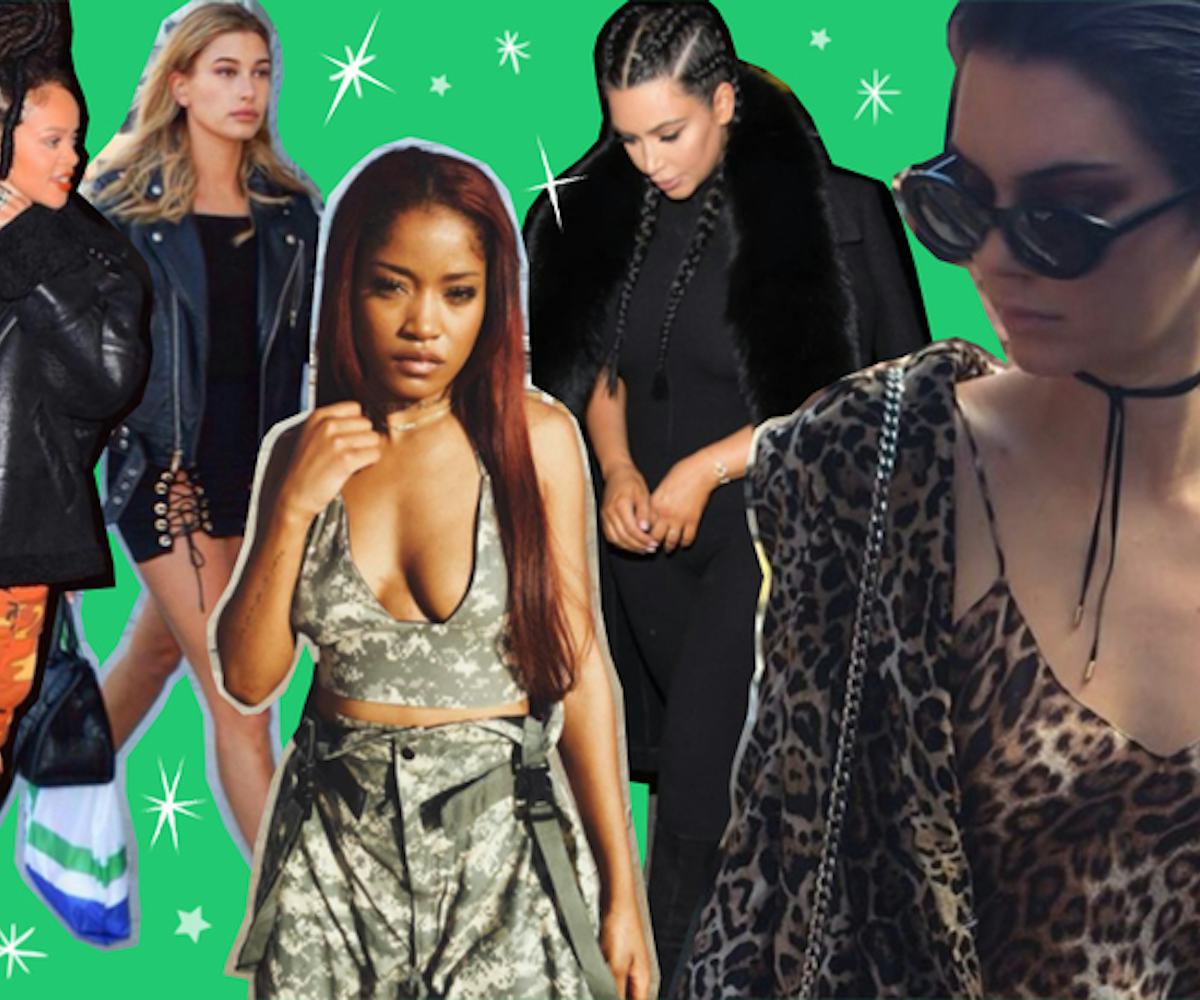 Illustrated by Jihyang Lim
Meet 6 Designers Responsible For The Looks Of All Your Favorite It Girls
"You never know what can happen if you actually try, and you'll always know the outcome if you never do"
From the way they style their hair to the clothes they wear, It Girls are the people who determine what's hot right now, and what's... not. And whether or not you actively keep up with what trendsetters like Rihanna, Keke Palmer, or any one of the Kardashians are wearing, you are doubtlessly still influenced by their style because, well, everyone else is.
Behind all these style mainstays are the women responsible for designing the clothes they wear, and it's these fashion aficionados that we recently spoke to, in order to find out the secrets behind some of today's It Girls' best looks. 
From Rumi Neely's dainty and minimalistic collection ARE YOU AM I to the angelic jewelry of Sophia and Daniella Ventrone's Ventrone Chronicles, the following six designers revealed how they got started, who their muses are, and their experiences in styling our favorite celebrities. The best part? These brands won't break your bank, so you can steal the exact styles of your favorites at affordable prices. See what the designers had to say, below. 
Rumi Neely, owner and creative director of ARE YOU AM IAs seen on: Kendall Jenner, Hailey Baldwin, Selena Gomez.
What are some things that you learned about since launching ARE YOU AM I in 2014? What are some things that you still do to this day?I've learned so much that it's staggering to think about. If I had known the challenges that would face me before I started, I wouldn't have thought I had it in me to get to this point. The technical side is where I've learned the most, because the creative is what comes to me naturally. But what I still do to this day is only design pieces that I'm absolutely obsessed with. That very specific vision is what sets ARE YOU AM I apart.
What are some things you've learned about building a business?The number of elements that create the whole being is far greater than what I could have imagined.
How does your work challenge you?In what feels like every way possible. Building something that is based wholly around my vision and aesthetic ideal means that it needs to be immaculate in every way. Making sure that it's executed correctly takes a lot.
What are you inspired by?My life, what I want to wear every minute of every day, and elevating the minutiae of my little world.
Tizita Balemlay, CEO of PluggedNYCAs seen on: Rihanna, Noah Cyrus, Keke Palmer.
PLUGGEDNYC has only been around since 2016 but grown so quickly. What are some things that you've done in the past year? I'm really grateful that my brand has built such a big name for itself in just one year. Pushing out this brand felt like pushing out a baby—I sleep and breathe Plugged, and put my all into it. For this past year, I've been doing everything myself: shipping, celeb pulls and requests, designing, sewing—all of it. Now, I'm looking to expand my team, but being able to trust people in this industry is a big thing. I still do the majority of the things myself today, because I'm such an independent person and like things to be done in a specific way. 
What are some things you've learned about building a business that you might not have known before?No one really wants you to win. That's the truth; no one wants you to win unless they have already won. Also, people are quick to call you out, only because you're that much better! 
How does your work challenge you? It doesn't challenge me—it inspires me! The more people try and crush me and my dreams, the more I fight and stand for it. When you know you're great, you don't stop until everyone knows you're great. Throughout your life, many things will discourage you, but take that as blessings in disguise. God only throws things at you because he knows you can catch it. Nothing in life comes at you because it was an accident—it's your destiny.
How has the brand remained true to its aesthetic over the years? Who are your muses? Street chic is both the movement and aesthetic of my brand. I'm someone that can be the biggest tomboy one day, then also be snatched to the gods the next. I feel like every woman has two sides to her, so I want my brand to embody both. Solange and Zendaya are my ideal muses, and, of course, my girl Rihanna, who has been spotted wearing my designs. I'm still grateful to have accomplished that in my first year.
Do you have any advice for young women looking to start their own fashion line?Don't be afraid to be the person that you believe you are. I'm here to tell you, you are that person, and don't stop until everyone is aware of it! If you want to be a designer, or greatest singer in the world, or greatest basketball player, or lawyer, or doctor, or more, be that! Don't stop for anyone. You are who you have always thought you were. God is the only one with you on this journey. Also, we exist in a generation where social media and technology makes it so much easier for us to be young entrepreneurs, so take advantage of that.
Sophia and Daniella Ventrone, CEOs of Ventrone ChroniclesAs seen on: Emily Ratajkowski, Cailin Russo, Kendall Jenner.
Ventrone Chronicles has been around since 2014. Have you done anything differently in the past three years?Sophia Ventrone: We have always been working toward the same result and growth since the beginning; it's almost like we've been snowballing in the same direction since we started VC. 73, our inspiration posts, or I guess you could call them moods or themes, was the first part of our site—and the only part for a while! That later turned into the store and us working with soft material and making chokers, which turned into hard material and collections of jewelry, which is now becoming what we hope to be garments. So, all in all, we basically have been doing the same things from the start, just with a lot of new stuff alongside it.Daniella Ventrone: We have really mastered how to take care of VC like our own baby. We have a true understanding of what we must do to constantly make things better and more efficient day after day. Also, we've really gotten to know our customer, which I believe really is the key. We've accessed them the same way we all do with our close friends; we know what they want to wear, how they shop, and what they're willing to spend. From the beginning, we just knew we wanted to be affordable, and inclusivity is a vital part of VC.
What are some things you've learned about building a business from scratch?DV: You will work harder than you ever have before, and it's barely even a conscious choice. When it's your own business, it really is a part of you that you can't shut off, and one I wouldn't ever dream of shutting off. I was always a hard worker, but I never knew I could call myself to this extreme without even blinking. You are always, always working, and if you're not working, you're thinking about how to improve and progress; that's what being an entrepreneur is all about. Also, I learned a whole lot about taxes. A good accountant is, hands down, the best advice you could ever receive.SV: I am definitely so much more aware of how much the cost of a product is. It's really important for us to be fair with the way we price things to the actual cost of them. Daniella and I are really trying to make our future clothing line affordable, but also fair to us while keeping all manufacturing in NY or L.A. It's so far been a challenge, but we're nowhere near discouraged.
How has the brand remained true to its aesthetic over the years? Who are your muses?SV: I don't know if I can quite say that our label has remained true to its original aesthetic over the years. I believe that VC grows and changes alongside us. We are constantly growing, shifting, and evolving. Since its birth, it's been synchronized with us and has remained truthful and honest. It is all of our feelings, all of our places, all of our memories. Those are our most powerful muses. Those feelings, things, places, and our favorite art and artists, greatly inspire us. We love museums so much—Daniella and I both love the same kind of art! Lots of Cy Twombly, Matisse, Tracey Emin, and Dalí all funnel through our minds all the time.DV: Ventrone Chronicles started as a creative endeavor; it was simply a blog truly built on aesthetic. Then, the next step presented itself to us. We have remained true to our original aesthetic of self, because it's very specific and something that comes from within us. Sophia and I are very environment-sensitive people. The way we both get inspired is more of thinking like, "What do I want to be wearing in the Amalfi Coast?" Then that thought creates a feeling, and we try our best to translate that into a style. Our use of mood boarding and inspiration photos is another way to convey those feelings, rather than the photos themselves inspiring style and designs. We don't really look to others for total inspiration. Having said that, personally, my ultimate style icons have always been Jane Birkin and the Olsen twins. In my eyes, there's just no better than those three. I think what the Olsen twins have done with The Row is so alluring and inspiring. Not many can create a style of life, and that's what we're trying to do. It's so much more than just selling things.
Do you have any advice for young women looking to start their own business or fashion line?DV: I truly believe that, as humans, we create our own destiny. If you're going to do it, do it, and stay as true to yourself and your heart as possible. You can't let fear hold you back from your passion. Two years ago, I was miserable working a corporate job in the wholesale end of the industry. If Sophia and I didn't have the courage to start this, I would be in that same place. I always knew Ventrone Chronicles would be something one day, but it really was having the courage to do it. You never know what can happen if you actually try, and you'll always know the outcome if you never do.SV: My advice to young people, in general, would have to be that you cannot fear anything going into it. Be open and ready to accept whatever possibilities await you. You could succeed, or fall flat on your face; you and your creative ideas could be respected by everybody, or you may run into people who will take advantage of you. Anytime you start a business, you open yourself to any and all possibilities that could take place under those circumstances. It's really all about being prepared for anything to happen, and never giving up. A big part of being an entrepreneur has to deal with allowing yourself to remain undefeated by those trying to push you down. Some people suck, and will do anything they can so a person does not to succeed. I hate to say it, but haters are definitely real. If you are doing something honest that feels true to you, don't ever stop doing it. Stay in your own lane and focus on what works for you and you only. Do not pay attention to what other brands are doing, or who is benefitting from what—just stay true to who you are. People love authenticity, and we do, too. Also, Think and Grow Rich is an amazing book that I suggest you read.
Briana Wilson, CEO of MATTEAs seen on: Kim Kardashian West, Bella Hadid.
MATTE has significantly grown since your start. What are some things that changed since 2014?A lot. In the first year, MATTE evolved from a boutique that carried custom pieces from multiple young designers/seamstresses into a brand, with myself as the designer working with L.A. manufacturing companies. At the beginning of 2017, I transferred my production overseas, which has been a big change as well. For example, I've gone from physically sourcing—and lugging around!—hundreds of yards of fabric to now simply placing orders for fabric based off of content/weight, then dyeing them to my custom color palette. Fulfillment—packing, shipping, customers—has also changed a lot this year. In my first two years, I responded to every email, shipped every package and was in the post office practically every day. Now, I work with a fulfillment company that ships my pieces and handles customer service. I made these changes so that I would have more time to focus on design, and so that I could have the capacity and funds to create more of the ideas I have.What are some things you've learned about building a business that you might not have known before?I didn't know all that I was capable of. I've had to be the CEO, COO, CFO, marketing director, photographer, editor—I really do everything. I learn as quickly as I need to. If a photographer will take longer than one day to edit the picture, I will just edit them myself. I like things done a certain way, so once I figure out how to do it, it's hard for me to give the responsibility to someone else.How does your work challenge you? There is always a problem to solve. And even when they're all solved, I'm still not Gucci or Dior, so I've got more work to do. I am never satisfied, which can be both a good and bad thing, and I set goals as quickly as I meet them.
It seems that over the past few months there's been a rise in indie brands being plagiarized by more mainstream designers, celebrities, and companies. What has been your experience with this? How does MATTE combat or prevent these things from happening in the future?I've been ripped off by so many companies, big and small—some are even my favorite brands. I'm learning, unfortunately, that this is the business. If you have something hot, other people are not going to stop themselves from selling it or being "inspired" by it. It sucks because million dollar fast fashion brands make more money off my designs than I do. I can't lie, it is very uninspiring because it doesn't seem like there is a way to prevent it. I know now that the new ideas I have will be copied... I'm just getting smarter on the business side of things.How has the brand remained true to its aesthetic over the years? Who are you inspired by?The goal for MATTE has always been to make a woman feel sexy. I love to take something basic and make it subtly sexy, and I think that has been consistent in everything I do. Most of my designs are inspired by what I want to wear and what I like at the time, but seeing it on other women, and the confidence they have while wearing it, is how I knew I was really onto something.
Do you have any advice for young women looking to start their own business or fashion line?No matter what type of business they're getting into, make sure it is something they're passionate about. Starting a business is not easy, and you will want to quit or at some point it might seem impossible, but when you're passionate about it, and you believe in your dream, nothing should stop you.
Selangie Arlene Henriquez, CEO of Sel ArleneAs seen on: Azia Celestino.
Sel Arlene has significantly grown since its start. What has changed?I've grown a lot by getting a small team together to help me, so that I can get some time to myself. I still do a lot of the work myself, like designing, hand -picking fabrics, creating mood boards, all the fun stuff. Sometimes, I still like going over everything from the money, emails, packaging, speaking to clients/customers, etc. Teamwork makes the dream work! 
What are some things you've learned about building a business that you might not have known before?It's definitely not easy, and there's so much more than meets the eye. You're your own accountant, marketer, manager, PR, designer, business owner, sometimes photographer, all in one when you're first starting out, and you need to know the ins and outs of each field to make sure you don't fail.  
How does your work challenge you? My work isn't really a challenge for me, I knew what I was getting myself into when I started. This is something I've been interested in since I was five. I don't really follow trends, I like making the trend. I like to know I've started something, that my creativity is spreading, that means someone is watching, and it's getting me closer to achieving my dreams. 
How has the brand remained true to its aesthetic over the years? Who are your muses?My brand is very glamour chic. I've always remained true to my aesthetic, but I'm thinking of trying something new this fall. I've been working so hard to keep it a secret, which is so hard for me because I like telling my buyers what's coming, BUT that's also how ideas get stolen, so it's quiet time for me. My muse is Victoria Beckham—she was my favorite Spice Girl because of her sexy outfits. She's always had her own sense of style, which I always found to be so intriguing. I love her even more now because of her chic looks and she's a designer of course! Also, Carrie Bradshaw. I think every girl can relate to Carrie, but I'm not sure that they can relate to her shoe and designer obsession like myself! Carrie had the best silk dresses, I've done a whole collection of silks inspired by her. 
Do you have any advice for young women looking to start their own business or fashion line?Don't take anything on that you cannot handle. I think you have to be very selfish to be in this business. Also, don't be afraid to fail. It happens, but you get back up and work 10 times harder. 
Shai Sudry, CEO, and Morgan Vanderwall, COO, of Revice DenimAs seen on: Miley Cyrus, Kendall Jenner.
Revice has significantly grown since its start. What are some things that you have done differently business-wise in the past few years? Shai Sudry: The direction we've gone with Revice's business model is entirely different from the way I've done business in the past. I come from a background of doing the wholesale model of business. Creating a product, doing trade shows, fulfilling big orders from buyers, etc. With Revice, it's a total 180. We shifted our focus into the direct-to-consumer mindset, so no wholesaling, no trade shows, no big orders from department stores or boutiques to fulfill. We chose to go this route because, as a business, we're far more interested in our individual buyer than the mass shopper. We want to connect with those individuals and hear what they have to say, rather than with the buyers who represent them.
What are some things you both learned about building a business in this day and age?SS: Because of social media, so much has changed when it comes to growing your business. it's not just about creating a desirable product anymore, and trusting that orders will come in. It's entirely about how you market yourself, how you tell your story, and how personable, as a brand, you can be to your consumer. I've realized you can't rely on just one marketing channel to grow. With Instagram, Facebook, Snapchat, you have to create a presence on all of them to get through to your consumer. I've also learned to always look to the future of business and move in that direction, rather than be boxed in by the tradition of business.Morgan Vanderwall: This is my first go-around in this industry. So everything I've done with Revice has been a learning and growing experience for me. That being said, one of my biggest takeaways so far is that it doesn't matter how "cool" your brand may be—if you don't have a heart and soul behind it, and you don't share that heart and soul with your customers and followers, you're not going to grow as rapidly as you'd like to. People crave connection, that's why we're buried in our phones and social media all day long. So it's important to be a brand that has a face, has a voice, is playful, warm, fun, inviting, and kind of acts like your consumer's best friend. Creating stories, videos, relatable content, that's all important for penetrating the market in a memorable way.  
What's a challenge that you face in this business? MV: The challenge is always to create a product that people love, and then create an image for the brand that does justice to representing that product in a beautiful way, all while being sure to remain true to the brand's essence. You have to remain true and consistent to the heart of the brand. Otherwise, it's just going to create confusion for you and your consumers. 
It seems that over the past few months there's been a rise in indie brands being plagiarized by more mainstream designers, celebrities, and companies. What has been your experience with this?MV: Our business model is based on creating high-quality products, sold at comfortable price points. Because we are a direct-to-consumer brand, we're passing our savings onto our customers, so they can have beautiful clothing without breaking their bank. Because we are constantly creating great designs at fair prices, our experience with plagiarism and competition in that realm has been very minimal. Our target market is full of price-conscious buyers, so when it comes to our jeans versus those higher-end designer labels, they just can't beat what we offer at the price and quality we offer it at. 
How has the brand remained true to its aesthetic over the years? Who are your muses?MV: Our designs revive a very loved era of fashion. We take a lot of queues and inspiration from the '60s and '70s when denim design and trends were at an all-time high. But no matter where the trends go, we will always bring our designs back to that American classic vintage denim, since the '60s and '70s denim has become staple in everyone's wardrobes. It's a look that never dissolves. We've found that if we stay true to the '70s vibe of denim, you will always have a customer. We've created the brand around the idea of that '70s quintessential carefree, fun-loving, Southern California girl style. She's confident, sure of herself, daring, and has that cool-without-even-trying type of vibe. But if we had to bring it up to date, we'd say that Bella Hadid is a muse. 
Do you have any advice for young women looking to start their own business or fashion line?SS: If you believe you have something to say in the fashion world, and you have the management skills and talent to get your point across, then don't let anyone tell you you can't. MV: You have to be adaptable. You must grow with your business because if it takes off running and if you don't run after it, you'll lose control quickly. You have to be teachable, even if you believe you are the absolute expert at something, understand there is always more to learn. With that mind frame, you'll be bound for success. And as always, be confident.